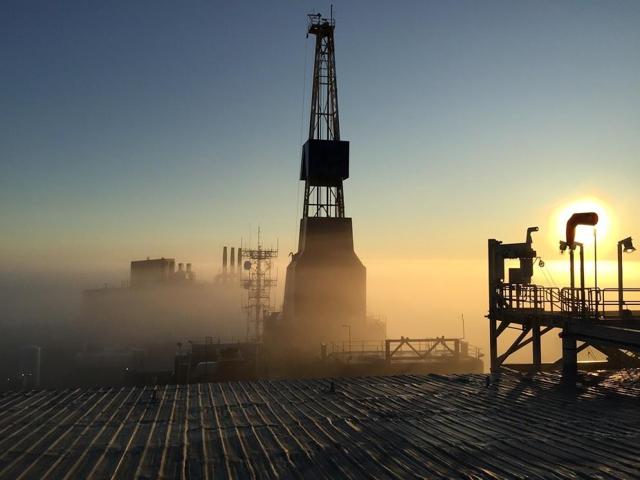 Source: Stock Photo
Pioneer Natural Resources (NYSE:PXD) has enjoyed a nice run lately, gaining momentum on the oil rally, which when accompanied by its strong balance sheet and liquid position, has increased the bullish outlook for the company within the energy sector.
Even so, the reality there isn't going to be a production freeze from OPEC and non-OPEC competitors has put a damper on the momentum the price of oil enjoyed, and that means companies like Pioneer Natural Resources will be valued more by the fundamentals.
With no near-term catalysts in play to justify a positive outlook for oil prices rebounding anytime soon, it remains to be seen whether the quality reserves of the company, strong hedges and low-cost production can offset the weakening oil environment through the remainder of 2016.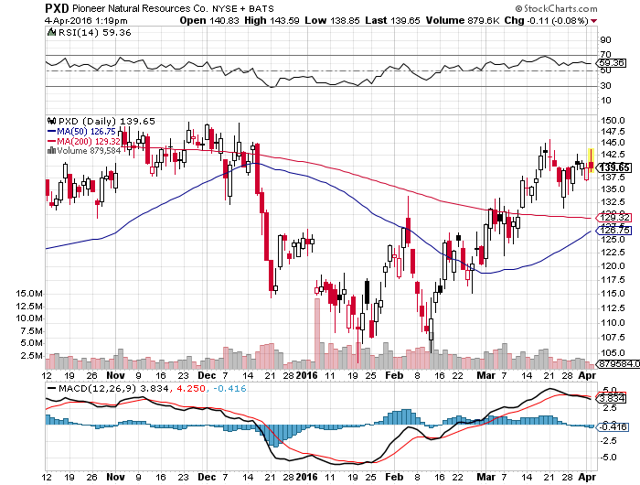 Source: StockCharts.com
Production growth strategy
It appears some investors have taken a bullish stance on PXD because of its more aggressive production growth strategy as measured against its peers. Seemingly, it suggests strength in the company from managements' decision to be more assertive in this area.
Even so, it has cut back on initial growth trajectory of 15 percent, scaling it back to 10 percent for 2016. What is positive is it will still lower the number of rigs in operation to 12 by the middle of this year. That means lower costs and higher production.
It has also decided to lower capital expenditures from $2.2 billion to $2 billion, a significant downward adjustment from the $2.4 billion to $2.6 billion it had planned for not long ago. With its overall budget for 2015 coming in at $2.2 billion, it reverses the direction in capex, which suggests it isn't as bullish as it was last year concerning the price of oil.
Oil production accounts for about 53 percent of all production, and is expected to grow to 56 percent this year.
I believe Pioneer Natural Resources needs to rethink its production growth strategy, even with solid hedges in place. Perception accounts for a lot, and giving the impression of a bullish outlook will work for a period of time, but the fundamentals have to align with realities or the company will get punished the longer oil prices remain subdued.
Cutting back on its growth trajectory appears to have been interpreted as a positive by the market.
Hedges for 2016
To give an idea of how strongly hedging has helped PXD, it averaged just over $23 per barrel in the 4Q15. Minus hedges it came in at $37.92 per barrel. That represented the average price was up over 60 percent during the quarter. Its 2015 Form 10-K revealed gains came in at $879 million as a result.
Looking ahead for hedging in 2016, the company's hedges on NYMEX WTI crude oil quarter by quarter sequentially are 54,484 barrels, 43,000 barrels, 112,000 barrels, and 112,000 barrels. On March 30, PXD had hedged 85 percent of its total oil production for the year.
Taking into account the March 30 price of $38.28 per barrel, quarterly prices sequentially will be $59.38 per barrel, $61.67 per barrel, $56.76 per barrel, and $56.76 per barrel. This is some of the strongest hedging in the sector. This accounts for some of the bullishness concerning the company.
While it's obvious this is one of the reasons the company is increasing production at a time when its competitors are cutting back, I don't see the market not understanding this is a temporary situation that isn't sustainable.
That said, it does show management positioned the company to stand out against its competitors with the successful implementation of its hedging strategy.
Liquidity
Pioneer Natural Resources has improved its liquidity with a secondary offering and selling off non-core assets. This has provided the cash it needs to continue to grow without incurring additional debt.
While this is obvious, what's not as obvious is PDX has more non-core assets it could sell to generate more cash if it needed to in 2016. The question is whether or not the low-price oil environment is conducive to getting the value it wants of these assets.
Larger companies seem to be loading up with capital, such as Exxon Mobil (NYSE:XOM), in order to go on some spending sprees. If all of Pioneer Natural Resources isn't an acquisition target, many of its non-essential assets definitely would be.
If these assets are more valuable than the market is attributing them to be, it could surprise to the upside in 2016, assuming the company pulls the trigger on them.
The point is PDX has more cash options if it wants to maintain its strong liquid position while continuing to grow at a more modest pace. It would increase the strength of its already solid balance sheet.
It's possible Pioneer Natural Resources could be considered an acquisition target. But for now, I don't think that is offering support to its share price. If some of the larger companies start making offers for some of its peers, that could quickly change.
Conclusion
There has been debate on whether or not the valuation of PXD is warranted; it has been trading at a premium.
When considering the high quality core assets of the company and its low-cost production, combined with its solid balance sheet, 2016 hedges, and strong liquid position, it does for now, seem to be justified.
With the price of oil now expected to once again stay lower for longer, a company with lower leverage like PDX will be rewarded against its peers. And the market has in fact responded positively to the debt position of the company. The latest earnings report showed it had a debt-to-equity ratio of 44 percent. Since then its secondary offering generate $1.6 billion and the company is expected to add about $500 million more in the middle of the year from the sale of its midstream business in Eagle Ford. After adjustments, the net debt-to-operating cash flow ratio will plummet to a miniscule 0.2x on a pro forma basis.
Basically, the company has done what it can on the efficiency and strategy side to endure a prolonged period of low oil prices. Nonetheless, like all companies in the industry, much of its performance will be determined by how long oil prices remain low.
For now, Pioneer Natural Resources should be able to keep its premium status against most of its competitors, but over time, a weak oil environment will weigh on the performance and outlook of the company. It will do well against many of its peers, but investors will start looking outside the energy sector if prices continue to get worse, or at best, remain where they are.
It think PDX is a good bet for the long term if investors want a position in this sector, but it does come at a cost that when measured against other industries, may over time, be considered too steep to pay.
Disclosure: I/we have no positions in any stocks mentioned, and no plans to initiate any positions within the next 72 hours.
I wrote this article myself, and it expresses my own opinions. I am not receiving compensation for it (other than from Seeking Alpha). I have no business relationship with any company whose stock is mentioned in this article.