Luxottica Group (NYSE:LUX) (OTC:LUXGF) is the world largest eyewear company with 55 years of activity. The company is actually the largest Italian company in the fashion industry if measured by revenue.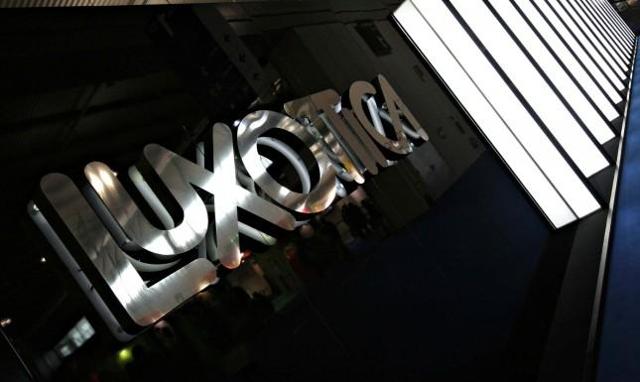 We know that the China slowdown, the slow growth environment in the EU, and the recessions in some emerging countries such as Brazil and Russia have created a lot of uncertainty and pessimism towards companies in the fashion industry, resulting in low valuations for many stocks in the fashion industry.
Luxottica stock, however, seems to be much less sensitive to these kinds of fears, with the stock usually trading at high multiples, but recently it has had a correction of 28% from the top reached in August 2015. The decline took place in a contest of broad market correction helped by the recent missing of earnings estimates (US$0.27 against US$0.30 consensus). Currently, the stock trades at a P/E multiple of 25.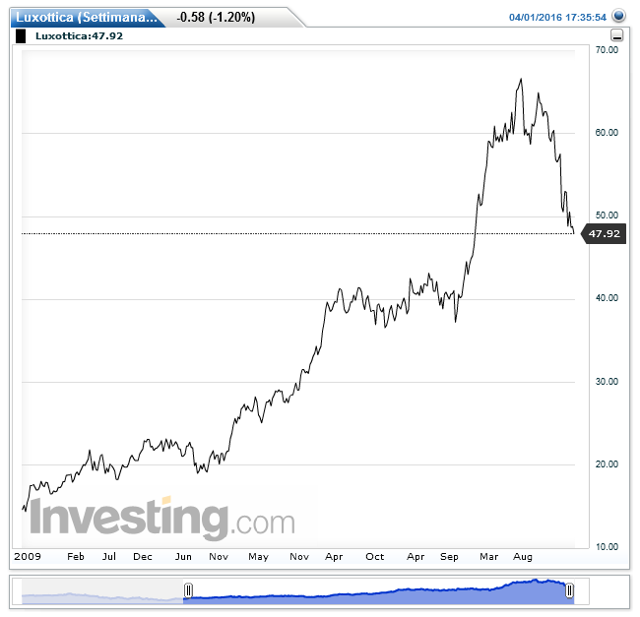 I tried to assess whether the stock valuation is appropriate, considering the company's competitive strengths and growth potential.
The company's financial performance and competitive strengths
The company has registered good growth rates in both revenue and earnings during the last decade.
The only year of negative revenue and earnings growth was 2009, after the global financial crisis, when the company saw a decline in revenue from €5,202 million (US$7,272 million) in 2008 to €5,094 million (US$7,293). In that year, net income declined from €380 million (US$531 million) to €315 million (US$451 million).

The first thing I usually look for in fashion companies is a good gross margin. I do so because a high gross margin is a strong signal of pricing power, one of the main signs of the attractiveness of fashion brands. I feel comfortable in knowing that the company's gross margin is constantly above 65%, and it's quite normal given the number and the importance of the company's brands.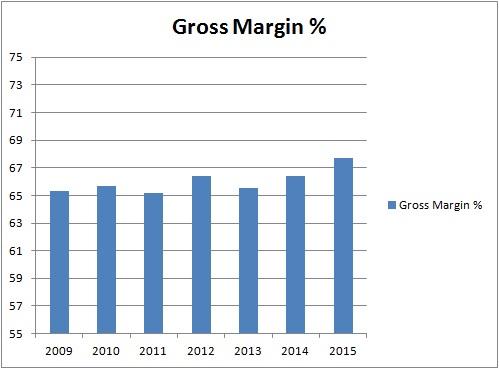 Luxottica's portfolio of eyewear brands is rich. On one side, the company owns Ray-Ban, the most famous brand in the eyewear industry, Oakley, Persol, Alain Mikli and several others. On the other side, it has a huge number of licensed brands such as Bulgari, Giorgio Armani, Chanel, Prada (OTCPK:PRDSY) (OTCPK:PRDSF), Michael Kors (NYSE:KORS), Burberry (OTCPK:BURBY) (OTCPK:BBRYF), Coach (NYSE:COH), Dolce & Gabbana, Versace, Tory Burch and many more. One of the risks that is felt in this period is related to the possibility that some fashion brands could actually start to drop their licensing agreement with companies like Luxottica. I don't think this is a big threat, and Luxottica's business seems to be working the other way around, with the number of licensing brands actually increasing. After the renewal of several licensing agreements in 2015, such as the ones with Prada and Burberry, the company has recently signed a licensing agreement with the famous Italian fashion firm Valentino.
A peculiar characteristic of the company's business model is the high level of vertical integration. Luxottica manages all the stages that go from production to retail sale. In fact, it owns several retail brands such as Sunglass Hut International, Sears Optical, Target Optical, Lens Crafters and many others. I firmly believe that this kind of vertical integration constitutes a strong competitive advantage that gives higher cost control and better access to customers. These two points are in my opinion related to each other. Given the large retail network and the high level of control Luxottica have over distribution channel, I find extremely unlikely a move towards higher integration of fashion brands. What I mean is that companies that would like to internalize eyewear production should take into account that the level of control that Luxottica has over distribution channels is not easy to replicate. I believe that licensing agreements are very cost-effective ways to leverage the profitability of brands, and given the competitive advantages of Luxottica, I think that the number of fashion firms that will start this kind of partnership with Luxottica will only rise.
Recent results
The company has recently disclosed the full-year results (2015), showing good revenue growth in all the main markets:
In North America, despite a slowdown in mall traffic and tourism, the company was able to grow its revenue by 22.9%, helped by a weak Euro. In constant currency terms, the growth rate is 3.7%. In Europe, despite a slow growth and boring consumer spending environment, the growth rate was 7.8% (6.5% on a constant currency basis). Asia-Pacific delivered an interesting +12.2% (5.5% on a constant currency basis) and Latin America, despite the Brazilian recession delivered a good +7.3% (15.1% in constant currency terms).
Globally, the growth rate registered in 2015 was +17.0% (5.5% on a constant currency basis), a very good result in a slow growth environment.
Growth prospects and valuation
On the retail side, Luxottica is not sleeping for sure. The company has recently signed an exclusive agreement with Macy's (NYSE:M) for the opening of up to 500 LensCrafters shop-in-shops by 2018. The agreement strengthens the already successful and old strategic partnership between the two companies. So far, Luxottica has already opened almost 700 "Sunglass Hut" locations within Macy's stores. The recent move can be a nice boost for both companies, but especially for Luxottica, that will have the possibility to reach a higher penetration in the optical retail industry in the US through the utilization of its partner distribution network, with hundreds of millions of potential customers.
In the rest of the world, the company predicts growth in all the markets, especially in Latin America and South East Asia, China and India, while it's working to enter new markets such as Japan and South Korea. Opportunities for growth are many and the company is working to exploit them, so I wouldn't be scared of the company's future prospects. What we should assess is whether the current valuation is appropriate for the company's potential.
The company is expected to grow earnings by an 11-12% CAGR over the next decade. The current PE multiple at 25, despite much less than the 33-35 averaged by the stock between 2013 and 2015, seems fair at most.
We could run some DCF calculations to help valuation. We can start from EPS estimates for 2016 at €1.96 (US$2.17) and run the calculations with different growth assumptions. In both cases, I will use a 9% discount rate.
In the first case, we could suppose that growth expectations are too optimistic and suppose the actual growth rate to be a good but not exceptional 8% for the next decade, with a terminal growth rate of 4% (used for 10 years more). The value of discounted cash flows would be €32.80 (US$36.70), that become €44.1 (US$49.40) if we add book value per share.
In the second case, we will suppose that the company actually grows by 11% for the next decade, with the same terminal growth rate (4%). In this case, the value of DCF would be €39.7 (US$44.46) that become €51 (US$57.12) if we add book value per share.
The company seems a little bit overpriced if we use modest growth assumptions, and more efficiently priced if we expect better growth. In both cases, the difference wouldn't be much. Given the wide moat the company enjoys, I think valuation is appropriate and that the stock can be added to portfolios that aim to long-term growth. Anyway investors who look for bargains with good margins of safety should probably wait for the stock to fall more.
Conclusion
Luxottica is the unquestioned leader of the eyewear industry. The company enjoys a wide moat given by its portfolio of brands, its high level of vertical integration and its huge retail network.
The stock has many opportunities to grow in both developed markets and emerging economies, and it's trying to take advantage of strategic partnerships to expand its customer base.
The current valuation doesn't seem to give a good margin of safety, but the stock can still be a good addition to portfolios that don't seek extreme returns but a constant growth over a long time frame.
Disclosure: I/we have no positions in any stocks mentioned, and no plans to initiate any positions within the next 72 hours.
I wrote this article myself, and it expresses my own opinions. I am not receiving compensation for it (other than from Seeking Alpha). I have no business relationship with any company whose stock is mentioned in this article.
Editor's Note: This article discusses one or more securities that do not trade on a major U.S. exchange. Please be aware of the risks associated with these stocks.