Introduction
The deal whereby the Belgian beer company Anheuser-Busch InBev (NYSE:BUD) has proposed to acquire SABMiller (OTCPK:SBMRY) could be 'the deal of the year' in 2016 as these mega-mergers don't happen too often. Despite all the optimistic expectations about the acquisition of SAB by AB InBev, I did (and still do) have my reservations, and in this article I will explain why shareholders of AB InBev should remain cautious after the deal closes.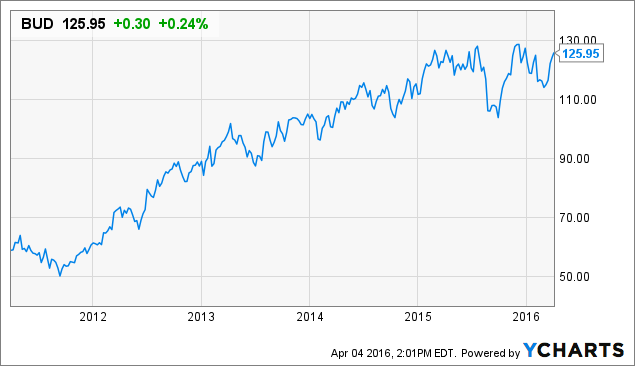 Closing the deal with SABMiller is the only priority for this year, but at what price?
AB InBev is a company of mergers. Whereas everything started with Belgian Interbrew merging with the Brazilian AmBev to create InBev (and keep the head office in Belgium), InBev continued its acquisition mode and bought Anheuser-Busch in 2008/2009 to become a world leader in beer.
It took a while for that acquisition to be digested (as the global financial crisis caused some disruption) as InBev had to pay relatively high interest rates on the bonds it issued to finance the acquisition of AB. But now, 7 years later, AB InBev is taking advantage of the low interest rates to enter into another company-changing transaction by making an offer to acquire SABMiller in a transaction valued at 71 billion GBP (with a current USD-value of in excess of $100 billion).

Source: company presentation
The majority of the acquisition will be funded by debt and even though AB InBev has allowed SABMiller shareholders to elect to receive a part of the consideration in new shares of AB InBev, this alternative has a maximum limit of 41.6% of the total amount of SAB Miller shares that can be tendered. So, in the best case scenario (that is, AB InBev seeing 41.6% of the SABMiller shareholders electing to receive the consideration in the share/cash deal), AB InBev will have to find $60 billion to fund the acquisition. And yes, that IS a best case scenario as I'm not sure how high the 'take-up' will be for the share swap considering AB InBev will issue restricted shares that can only be converted into common shares on the fifth anniversary of the completion of the merger. So whoever chooses to receive the majority of the consideration in shares actually agrees to a 5-year lock-up period, and that makes this offer less appealing. (Unless you're a hardcore beer-fan, of course.) However, as two large shareholders have announced they will tender 40.4% of the SABMiller shares into the share swap offer, it's not unlikely the entire 41.6% will be filled!
Combined with an existing net debt position of $43 billion for AB InBev and SABMiller's net debt position of $10 billion, this results in a pro-forma net debt position of $113 billion by the end of this year (assuming the SABMiller transaction closes and settles by the end of this year). And yes, that's a humongous amount of debt!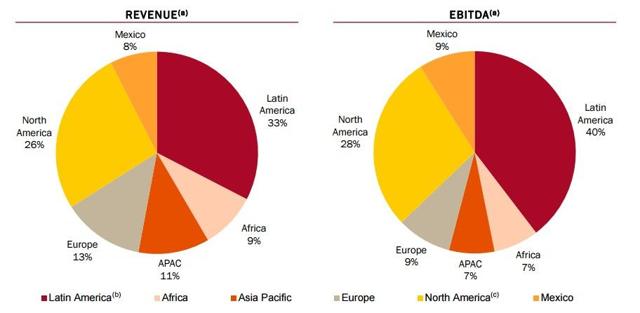 Source: company presentation
Fortunately AB InBev enjoys an excellent access to the credit markets and the company has already raised several billions in Eurobonds at very attractive interest rates. After all, pricing a 9-year bond at just 1.5% and a 20-year bond at 2.75% definitely is a sign of strength these days (and it compares very favorable to the 4%+ yields Ab InBev had to pay on the bonds it issued to fund the Anheuser-Busch acquisition.
Of course, the free cash flow will increase as well, but is there room for an increasing dividend?
Okay, a part of the acquisition price will be funded by selling some brands of the AB InBev/SABMiller portfolio. A deal with Asahi will very likely net AB InBev almost $3 billion, whilst it will also sell its 58% stake in the MillerCoors JV to Molson Coors (NYSE:TAP).
This should result in a total cash inflow of approximately $15 billion, and I would also expect some smaller transactions to occur, resulting in a pro-forma net debt of $92 billion by the end of this year.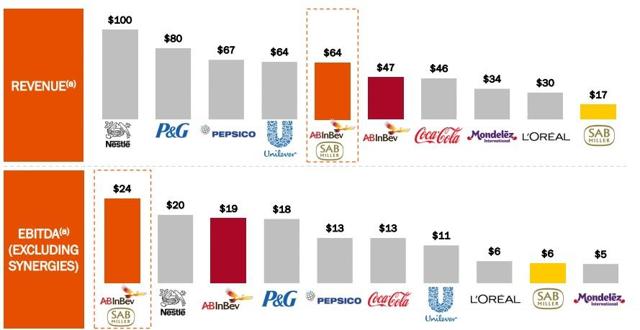 Source: company presentation
According to the merger presentation, AB InBev expects the combined entity to generate an EBITDA of $24 billion upon the completion of the merger. This $24 billion does exclude synergy advantages from the merger (which are estimated to be $1.4 billion). However, I think the AB InBev-proposed synergy advantage of $1.4 billion per year does not include the synergies to be realized as part of SABMiller's strategic plan, which was expecting a cost saving of $225 million this year and $150 million next year. So the total adjustment on the $24 billion EBITDA estimates should be $1.8 billion ($1.4 billion proposed by AB InBev and $400 million as part of SABMiller's standalone cost savings plan). Throw in some organic growth in 2016, and the pro-forma 2017 EBITDA could be expected to be $26 billion.
This would result in a pro-forma net debt/EBITDA ratio of 3.5 and that's quite a bit higher than AB InBev's own target of 2, so the company would have to focus on reducing the net debt as fast as possible. Based on the current data (which excludes any potential additional sales of brands of the [S]AB InBev portfolio), I would expect the 2017 operating cash flow for the merged entity to be approximately $17 billion (on an after-tax and after interest expenses basis, but including unlocking $750 million in cash from its working capital due to the synergy advantages). As the consolidated capex will be approximately $5.3 billion, this would result in an adjusted and pro-forma free cash flow of $11.5 billion.

Source: company presentation
That's very nice, but don't forget the total amount of outstanding shares of SAB InBev (let's call the MergeCo SAB InBev for now) will increase as well. Based on the current share count (1.61 billion) and the shares to be issued as consideration for the SABMiller acquisition (326 million), I think it's safe to use a total share count of 2 billion shares as starting point, which would result in a FCF/share of $5.75/share.
Not only does this mean AB InBev's free cash flow yield is just 4.5%, it also means the current dividend of $3.95/share is relatively high (representing a payout ratio of 69% based on the expected adjusted pro-forma free cash flow). This means that even if SAB InBev keeps the dividend stable (instead of increasing it), it would only have $3.6 billion available on an annual basis to reduce the net debt. Whilst that does sound very appealing, it would take SAB InBev 10 years to reduce the net debt/EBITDA ratio to 2 again.
Investment thesis
This basically means the company has two options. It will either have to cut the dividend (a 50% reduction would allow SAB InBev to spend $7.5 billion per year on reducing the net debt), or it will have to reconsider its leverage target and stop focusing on the net debt/EBITDA ratio of 2. Whilst it's a great thing to show the market you're being serious about reducing the financial risk of the company, you can't be a generous dividend payer and debt cutter at the same time if you're spending 70% of your free cash flow on the dividend.
Does this mean I'd bet against SAB InBev? Not really. The management of the Belgian company AB InBev has been really good at cutting costs and maximizing profits, and it's now its task to reduce the net debt as fast as possible so it doesn't have to issue higher yield bonds when the current low-yield bonds will have to be refinanced. Personally, I wouldn't mind a dividend cut of 50% during two years, as this would save the company $8 billion in cash. I realize that wouldn't be a popular move, so I think initiating a scrip dividend policy (whereby shareholders can choose to receive the dividend in cash or new shares) would be an excellent initiative (that I would wholeheartedly support).
General conclusion: the dividend is safe, but it would mean the company's targeted net debt/EBITDA ratio would no longer be a credible shorter term target.
Disclosure: I/we have no positions in any stocks mentioned, and no plans to initiate any positions within the next 72 hours.
I wrote this article myself, and it expresses my own opinions. I am not receiving compensation for it (other than from Seeking Alpha). I have no business relationship with any company whose stock is mentioned in this article.
Editor's Note: This article discusses one or more securities that do not trade on a major U.S. exchange. Please be aware of the risks associated with these stocks.