Boeing (NYSE:BA) has had a nice run after the company's shares sold off sharply earlier this year. Yet the company is not expensive, and I believe it is not too late to enter a position for long-term investors.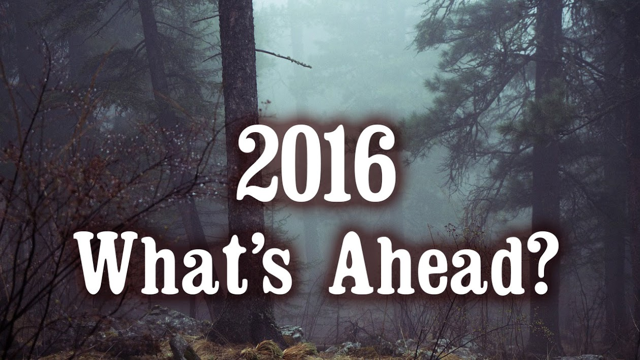 In February, Boeing's share price fell to a 52-week low of $102 after news came out about investigations into Boeing's program accounting practices. At $102, Boeing was trading for less than 14 times trailing earnings and offered a dividend yield of 4.3%. I stated that the issue (Boeing's program accounting practices) was likely overblown and that the company's shares were attractive. Boeing's shares have rallied 30% from the bottom in a couple of weeks, which obviously makes these shares more expensive, but I don't believe the company's shares are too expensive yet.
Boeing has an order backlog of 5,800 commercial airplanes, enough to cover production for more than seven years. Even though last year's order intake was lower than the order intake in 2014 (and also lower than Airbus's (OTCPK:EADSF) (OTCPK:EADSY) order intake in both years), Boeing was able to increase its order backlog slightly, as production numbers came in slightly below new net orders in 2015. Boeing delivered 768 aircraft last year - a new record - which represents an increase of 60% over the last five years. Boeing keeps producing aircraft at a faster pace than its rival Airbus, and plans to keep production growing: Boeing seeks to produce 70 aircraft a month in 2017 (up from 63 aircraft a month right now), which would equal 840 aircraft a year (at that run rate, Boeing's order backlog of 5,800 aircraft would last seven years).
The Boeing 737 production rates will be increased to 52 a month by 2018, up from 42 a month in 2015, the production rate of the Dreamliner will be increased by 40% by 2020 (from 10 a month in 2015 to 14 a month in 2020).
With production trending up significantly over the years, Boeing seeks to benefit from growing demand for aircraft globally. Worldwide passenger numbers keep growing at a substantial pace: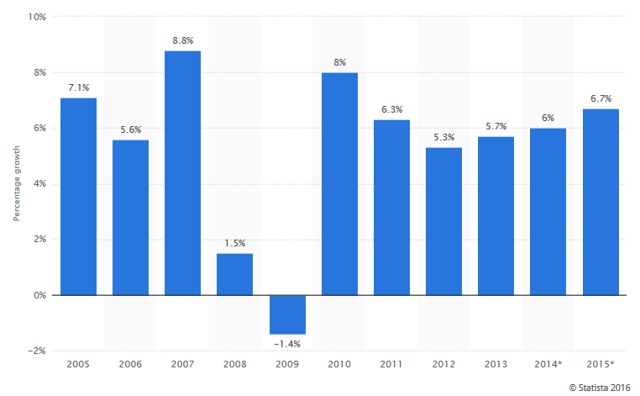 In 2015, global passenger numbers grew 6.7%; growth rates were higher than 5% in the last six years. Higher passenger numbers equal higher demand for aircraft, which is good for Boeing. With airlines seeking to lower fuel expenses and environmental consciousness growing, new aircraft with better fuel economics will increasingly replace less fuel-efficient planes, which means additional demand for aircraft. United Airlines (NYSE:UAL) is an example. The company is thinking about retiring its 747 fleet completely by 2018, and wants to switch towards Airbus's A350 model and Boeing's 777-300ER model in the next years.
Additional growth for Boeing (as well as for Airbus) could come from Iran and India in the next years: Iran seeks to revamp its rather old fleet (which did not see any new purchases for years, due to sanctions against the country) and has invited Boeing to talk about new purchases. Iran's deputy transport minister is quoted stating Iran was planning to buy at least 100 aircraft from Boeing.
India, the world's second biggest country by population, will likely be another growth contributor over the coming years. Boeing expects up to 1,700 orders from Indian Airlines over the next 20 years - this is equal to 85 aircraft a year, or 10% of Boeing's production (after production increases over the next years). With growth from these markets and other emerging nations, as well as the baseline demand from established markets (due to replacement of older planes and higher demand due to higher passenger numbers) the long-term outlook for the aircraft market is good.
Boeing's valuation has gone up over the last weeks, but the company is not expensive: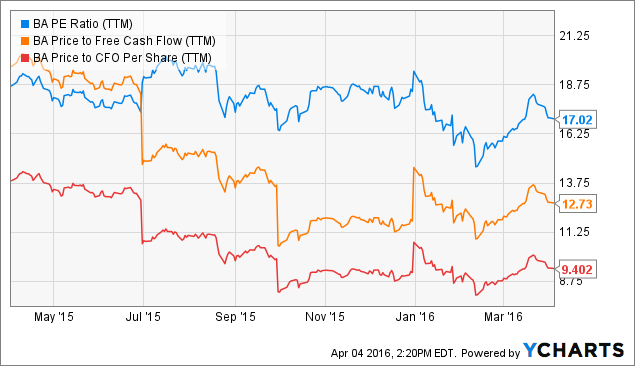 Boeing trades at 17.0 times trailing earnings, which represents a 25% discount versus the broad market (with the S&P 500 index trading at 22.8 times trailing earnings). Boeing's price to free cash flow ratio is 12.7, which means investors buying at today's price get a free cash flow yield of 7.9% on their investment. At just 9.4 times operating cash flow, Boeing trades with an operating cash flow yield of more than 10%, which shows the company's inexpensive price even now, after Boeing's shares have bounced 30% from this year's lows.
With a dividend yielding 3.4% and an attractive dividend growth record (with the last two dividend increases coming in at 20% and 25%, respectively) Boeing is an attractive choice for those looking for income from their investments, especially in a time when 30-year treasury bonds yield just 2.6%.
Takeaway
Boeing has bounced off its lows seen earlier this year, but the company remains inexpensive versus the broad market and historic valuations. The company is seeking to expand production significantly over the next years, the company's order backlog is huge, and the long-term growth outlook is good as well.
With its low valuation and high shareholder returns, Boeing remains attractive at the current level.
Disclosure: I/we have no positions in any stocks mentioned, and no plans to initiate any positions within the next 72 hours.
I wrote this article myself, and it expresses my own opinions. I am not receiving compensation for it (other than from Seeking Alpha). I have no business relationship with any company whose stock is mentioned in this article.
Editor's Note: This article discusses one or more securities that do not trade on a major U.S. exchange. Please be aware of the risks associated with these stocks.