Business Overview
Johnson & Johnson (NYSE:JNJ) is an excellent and well regarded company that can be seen as a basic investment. JNJ has a well diversified business with a three-pillar strategy. The company operates in three business segments:
Baby Care, Skin & Hair Care, Wound Care & women's health care, Oral Health Care, Over-the-Counter Medicines, Vision Care, Nutritionals
Cardiovascular & Metabolism, Immunology, Infectious Diseases & Vaccines, Neuroscience, Oncology
Medical Devices and Diagnostics
orthopedic, neurological disease, vision care, diabetes care, infection prevention, diagnostics, cardiovascular disease, aesthetics
First, let's take a look at JNJ's sales by segment in absolute and relative numbers: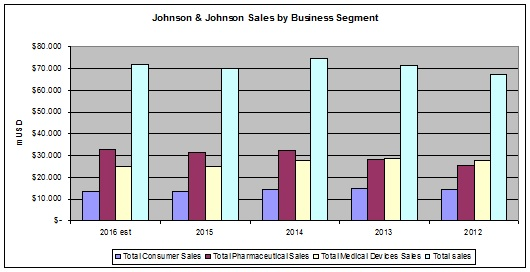 Table 1: Johnson & Johnson's sales by business segment (Note: Figures taken from annual reports, except 2016 figures taken from finance.yahoo.com, own estimations)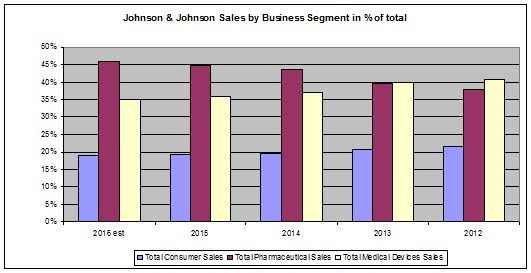 Table 2: Johnson & Johnson's sales by business segment in % of total
Over the past years the pharmaceutical segment has steadily risen and has become the largest business with about 45%, while medical devices and consumer business have slightly declined and now represent about 36% and 19% of sales, respectively.
Now, let's take a look at JNJ's net earnings by segment in absolute and relative numbers: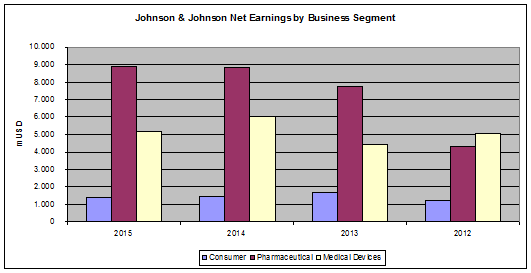 Table 3: Johnson & Johnson's net earnings by business segment (Note: Figures taken from annual reports. I have distributed the not to segments allocated expenses and taxes to the segments based on their net income contribution)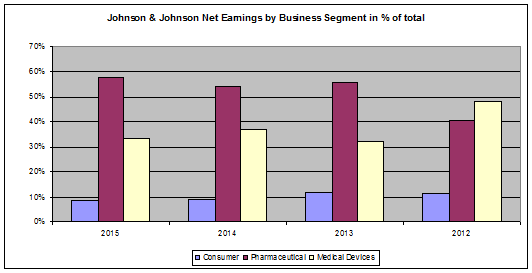 Table 4: Johnson & Johnson's net earnings by business segment in % of total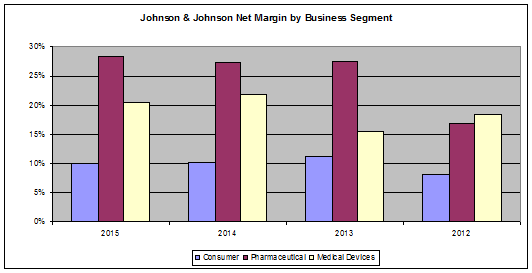 Table 5: Johnson & Johnson's net margin by business segment
The pharmaceutical business has become the most important segment, earnings have strongly risen since 2012 and contribute nearly 58% to total earnings. Also, net margins have risen towards 28% since 2013 and are the highest compared to the other segments. Medical devices contribute about 33% to total earnings, down from 48% in 2012, with a net margin of about 21%. Consumer figures are 9% earnings contribution and 10% net margin.
Valuation
The approach which I follow is simple and admittedly bears some weaknesses which I am aware of, but nonetheless is a good exercise to get a further indication about the fair value of a company. I derive JNJ's enterprise value from the EV-to-sales multiple of the respective competitors. For that, I select competitors for each of JNJ's business segment and determine the EV-to-sales multiples. Then I value each of JNJ's three business segments with the average rates of the EV-to-sales multiple. I use the EV (enterprise value) rather than the market capitalisation as reference in order to equalize for different financing structures of the companies.
The following tables show respective competitors of JNJ's business segments and their EV-to-sales multiple. Also, the averages (revenue weighted and arithmetic) of the respective EV-to-sales multiples are calculated. Finally, these averages are used to value JNJ's respective business segments, based on estimated 2016 sales figures.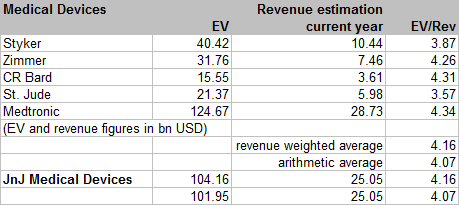 Table 6: Medical devices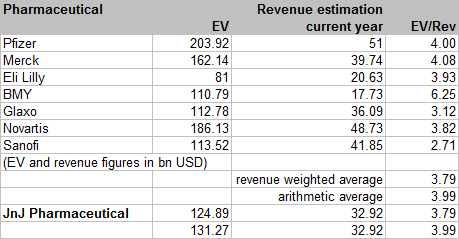 Table 7: Pharmaceutical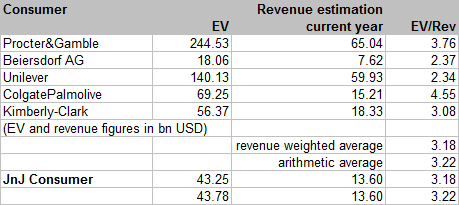 Table 8: Consumer

Table 9: JNJ sum-of-the-parts value
Conclusion
Based on the considerations above JNJ looks slightly overvalued. Like all US located internationally operating companies, JNJ continues to face currency headwinds in the foreseeable future, which will keep pressure on sales and earnings. Also it is important for the share price performance whether and to what extent the comparatively high profit margins in JNJ's pharmaceutical business will be sustainable and also, whether the sales and margins of the medical devices segment can be stabilized.
More general, I expect that due to the uncertainties regarding potentially imminent rate hikes by the Fed and by the forthcoming vote on the proposed referendum on United Kingdom membership of the European Union the markets will remain volatile, at least for the next three month. Based on current prices I see no urgency to take a long position in JNJ, which are more or less above a reasonable entry point and do not offer a margin of safety. I will stay at the sideline until the market offers a bargain price for JNJ, which could be in the area of the September 2015 lows at 90 - 95 USD and then will offer a dividend yield between 3.2 and 3.5%.
Disclosure: I/we have no positions in any stocks mentioned, and no plans to initiate any positions within the next 72 hours.
I wrote this article myself, and it expresses my own opinions. I am not receiving compensation for it (other than from Seeking Alpha). I have no business relationship with any company whose stock is mentioned in this article.