We recently completed a Sarepta (NASDAQ:SRPT) 4-year data analysis report of Eteplirsen to treat DMD. That report was very well received with over 7,000 page views and numerous positive responses. Now, we have also submitted that report and included the letter below to the FDA under the written submission FDA guidelines, supporting approval of Eteplirsen to treat DMD.
Some additional positives include:
Extensive positive data from our 4-year analysis report released March 9.
Large insider buying March 14 from 3 board members.
Recent positive social media reports reports of newer 6MWT results and updates from additional Exon trials.
SRP-4045 (Exon 45) Dose-Titration continued to Open-label Extension Study (continuation trial with no SEC filings.)
UCLA letter written submission to FDA supporting approval made public March 21.
SRP-4053 (Exon 53) trial completion moved up from May 2018 to January 2017 and enrollment is now complete (updated March 29.)
An open letter to the FDA.
April 1, 2016
Director CDER
10903 New Hampshire Avenue
Silver Spring, MD 20993-0002
Dr. Janet Woodcock,
We are writing to you to provide our independent analysis 4-year review of Eteplirsen to treat DMD vs. Historical Control as submitted by Sarepta Therapeutics in their NDA documents. We have received no compensation for this endeavor and hope you will find that it addresses the issues discussed in the FDA's draft briefing document for the planned Advisory Committee.
Herein we establish that intermittent vs. continuous dosing of steroids is insignificant. Furthermore, we demonstrate that probability values for the 6MWD comparison between treatments with Eteplirsen vs. External Controls have increased consistently culminating in significant values for years 3 and 4. We graphically show that Eteplirsen patients exceed natural history patients by a factor of 2 in continuing performance measures for Rise Time and NSAA data. Finally, we show that Eteplirsen slows the Loss of Ambulation, conferring an important clinical benefit.
We find that our analysis is consistent with the recent UCLA letter signed by 36 researchers and clinicians as submitted to the FDA. We find our statistical analysis adds to and further confirms the UCLA findings. We hope that our analysis will also be consistent with the FDA's updated briefing document for the meeting of the PCNS Advisory committee on April 25, 2016 and will ultimately conclude the open label studies in the application suggest that the rate of decline in the walking performance is significant from that of natural history.
In our attached 4-year data analysis report, we find the use of the natural history registry data as supplied by Sarepta matches all criteria and merits it's evaluation, while the FDA used natural history cohort in its analysis of Drisapersen is inferior on multiple (10) issues. The threshold for accelerated approval based on 6MWD as an intermediate clinical endpoint reasonably likely to predict benefit on time to loss of ambulation or the rate of decline appears met.
Sincerely,
@BosCaptn, Primary Review Lead
Yang Jiang, Statistician, M.Ed. Harvard University, PhD Student Columbia University
Greg Wierenga, Co-author, Defense Acquisition University Systems Engineering Level III, St Ambrose University MBA
Enclosure: 4yr data analysis report by @boscaptn et. al.
Reference: UCLA Letter, http://www.cdmd.ucla.edu/files/view/FDA_ETEPLIRSEN_LETTER_02242016.pdf
The stock price is currently closing the gap from negative FDA BD released January 15, prior to the 216 week NDA data addendum.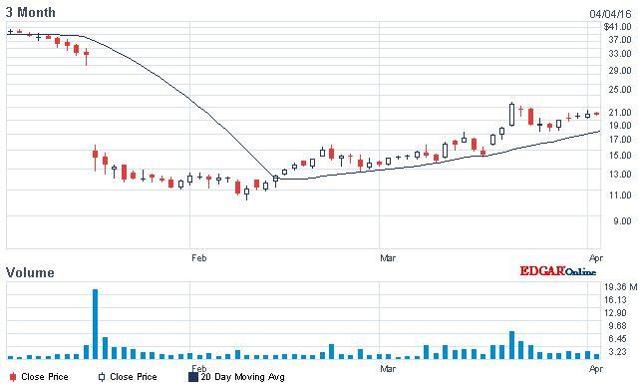 Some major stock price catalysts include:
Possible senate letter soon similiar to a recent letter from the house of representatives.
FDA updated BD document 2 days before the April 25 Adcom.
Positive Adcom Meeting April 25 (8 am to 5 pm at the College Park Marriott, Chesapeake Ballroom, Hyattsville, MD.)
PDUFA date, May 26, 2016.
Supporters appear to be organizing a rally to support Eteplirsen. The Rally is planned at the Washington Monument in Washington DC on Sunday, April 24 at 11 am (the public Adcom meeting is the following Monday). Eventbrite has an event setup to mark that you are going and more information on a staged six-minute walk test.
Disclosure: I am/we are long SRPT.
I wrote this article myself, and it expresses my own opinions. I am not receiving compensation for it. I have no business relationship with any company whose stock is mentioned in this article.