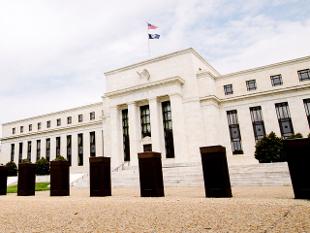 The Fed's job of removing the unprecedented accommodation it has afforded the U.S. financial markets in the past eight years is incredibly difficult. The Fed's credibility is somewhat staked upon the way it exits its accommodative stance as the market hangs on every word that is uttered from an FOMC member these days. Of course, the Fed began removing accommodation last December by hiking its short term rate by 25bps but since that time, the picture has become much murkier than it has been in the past. This has led to significant, public debate about the future direction of interest rates and by extension, has taken stocks on a wild ride as a result.
The fact that the Fed is open and transparent with its debate is good in one sense but not so great in another. The transparency we now enjoy (or loath) is due to the efforts of former Chairman Bernanke, who pushed for such transparency and public debate. This lifted the nearly hundred year old veil on the Fed's debates and feelings of its individual members and it has come in handy at times. But in times of dissent among the ranks of the FOMC, it can cause market confusion and that is where we are right now.
I posted last week about how I think the Fed has backed itself into a corner with its rate hikes for this year as Chair Yellen released a flock of proverbial doves at her last public appearance. The Fed Chair has proven herself to be a dove of epic proportions at times but recall this is the same Chair that offered up four rate hike guidance earlier this year as well. The Fed has since backed off to two but the debate only begins there.
Just in the past few days we've seen Cleveland Fed president Loretta Mester joining the ranks of the hawks as her comments highlighted the resiliency of the economy so far this year. She had this to say on the pace of future hikes:
Waiting until every piece of data lines up in the correct way means waiting too long and risks having to move rates up more aggressively in the future, with negative impacts on our economy,
Importantly, Mester is a voting member of the FOMC this year so her opinion certainly counts a little bit more this year and she certainly seems ready to pull the trigger, directly opposing the Chair's comments.
Then there is Chicago Fed president Charles Evans, a noted dove who has consistently believed the pace of Fed rate hikes should be gradual as he sees downside risks to the economy as too great to pursue rate hikes in the near future. He is worried that the Fed isn't being aggressive enough in pursuing higher inflation, a stark contrast to Mester and Richmond Fed president Jeffrey Lacker, to name a couple. Evans is not a voting member this year but each and every FOMC member participates in debates at policy meetings.
Then there is Boston Fed president Eric Rosengren, who at times in the past has been the strongest of doves, calling for continued accommodation at various points in the past. He now, however, finds it surprising that the Fed Funds futures market is pricing in just one hike this year. He makes it sound like at least two hikes are going to occur this year, something that is unbelievably hawkish considering both the fact that he's been so dovish in the past and that these comments are in direct contrast to the Chair's most recent public statements. Out of all the Fed commentary of the past week, Rosengren was by far the most surprising.
More Fed members have spoken in the past week or so and more will speak this week but the point I wanted to highlight is that the Fed is in a very tough spot and that the open debate we get from the FOMC now is doing more harm than good. This kind of open dissent doesn't help calm financial markets; it drives turmoil as the Chair says one thing while its members say two or three different things. Some members are worried about inflation being too hot or too cold or that the Fed needs to stick to its guidance, whatever the cost. This is not helpful for markets and I think right now, markets are far too complacent in assuming the Fed is only going to hike once.
It is ultimately the job of the Fed Chair to build consensus among the FOMC members and it seems that the results of the most recent Fed meeting and through recent public comments made by its members that consensus is the furthest thing from what the Fed currently has. Indeed, it seems the viewpoints of FOMC members are diverging further and further, not the other way around.
So what does this mean for markets? I think volatility is ahead as the Fed tries to work its way through one of the most challenging periods in its history. The crisis is dead and gone but the Fed's role in steering the global economy through this period of low inflation and low or no growth economies in the developed world is undeniable. And with the market taking its cues from what the Fed does, the public dissent we're seeing more and more of means that we'll likely see sharp rallies and selloffs until the Fed takes tangible action against its current level of accommodation or publicly states it won't take any action at all. That is the most unlikely of outcomes so while no one is sure of what the Fed will do this year, we are all pretty certain it will do something because it can't afford not to; its guidance has already been changed this year during the first quarter.
I think 2016 will be marked by periods of high volatility and for that, I find an allocation to a bullish volatility product to be beneficial. There are numerous instruments to gain exposure to volatility but the largest and most liquid is the iPath S&P 500 VIX Short-Term Futures ETN (NYSEARCA:VXX).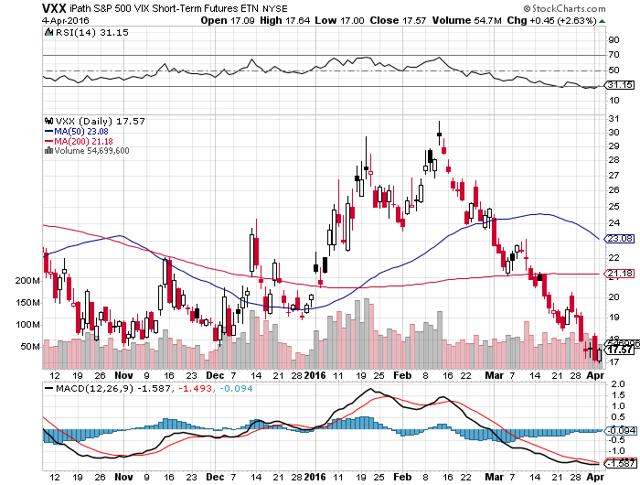 This ETP spikes higher when volatility does so and with the current state of the market, I think we're certainly due for a spike higher at some point in the near future . The U.S. stock market is repeatedly trying and failing to make new highs and with the Fed unsure of what it is going to do this year, I think some periods of extreme volatility are headed our way. I don't see another catastrophic VIX spike to 80 or something like that but we could get a sharp selloff from current levels that elevates the VIX to the 30s or 40s pretty easily, something that would see the VXX fly higher.
There are plenty of ways to play rising volatility so you can take your pick but the main theme here is that the Fed's uncertainty is going to drive volatility this year. Recent comments from Chair Yellen continue to contradict the views of individual members and as more members voice their dissenting opinions, the market will become more and more confused. If Chair Yellen cannot build consensus among the members of the FOMC then volatility will be even worse than I'm betting because the Fed is steering this recovery whether we like it or not. If the Fed doesn't know what to do, we are collectively in for a wild 2016. That's the kind of environment where large spikes in VXX can be captured and I'm positioning for that.
Disclosure: I am/we are long VXX.
I wrote this article myself, and it expresses my own opinions. I am not receiving compensation for it (other than from Seeking Alpha). I have no business relationship with any company whose stock is mentioned in this article.