REIT's have seen numerous ups and downs since 2011 however owners of Equity Residential (NYSE:EQR) have experienced tremendous upside coupled with dividends since Q4 of 2014. Although EQR isn't a dividend yielding behemoth like some of its counterparts, it's a well managed, fairly valued REIT with a fair upside and dividend support.
Valuation
Equity Residential may provide investors with exposure to the expanding real estate rental market without the steep risks many have faced. This is because the company has strong fundamentals, a fair valuation, and is well managed. Depending on market trends, the company has a chance to be a flourishing position through 2016.
The company has strong fundamental support that it is fairly valued. Take their current trading price as an example, Equity Residential is currently trading at $75.17 with an estimated real value at $77.79 based on a one-month time horizon. Following the pricing itself, the P/E ratio is 30.599 which is modest for a company of their size without being too Bullish and speculative. To further reinforce the absence of speculation, Equity Residential's price/ cash flow ratio is 20.582 which is a fair indication of fundamental structure for an REIT of their size. Furthermore, the company's 98% institutional holding strengthens its sound investment appeal.
Performance & Finances
Equity Residential has strong financial performance with increasing revenues by an average of 305 million dollars per year since 2013. Operating income has over doubled since 2013. Equity Residential has also been expanding their assets at a steady rate while not drastically overextending on debt while still building their market influence. The company has a debt to equity ratio of .97 which is okay given the industry. The company has decreased financing expenditures since 2013 while steadily increasing dividend payouts. This is another positive attribute for investors because the company operating responsibly to its lenders and shareholders.
The company serves the mid to high price rental apartment market in select major cities. Through 2016, EQR can be expected to sustain positive performance while issuing dividends and if the market takes a full bear transition, EQR may outperform. Ibis World industry research has determined that the apartment rental segment is expected to grow 2% through 2016. With Equity Residential having a large market share in such a fragmented space, investors can expect their investment to remain stable. The company has also reinvested in their best markets like Los Angeles thus refining their competitive edge in major high value areas as opposed to expanding into new markets. Their dominance of the industry in high net worth cities has given them a firm value proposition and allowed shareholders to receive steady dividends. There is potential for EQR to outperform through 2016 if interest rates rise in June of 2016. Since the company deals in rentals, they can expect the market for rental homes to increase if mortgage rates go up.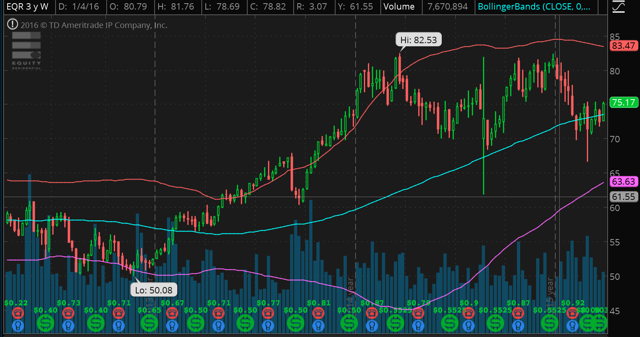 Through drawing Bollinger Bands on EQR's price chart at standard deviations above and below the current price, investors can see there is not an oversupply of rental apartments in this market and the demand for Equity Residential is increasing. Market speculation, interest rate hikes, and Millennials all may be responsible for this demand increase because turmoil is deterring people from buying homes.
Other Industry Takeaways
The apartment rental industry is mature but well established companies like Equity Residential are viable investments.
Ibis World reports that the industry is projected to grow steadily through 2021. Demographic analysis indicates that Millennials don't have the capital to buy homes and are stalling family formation for around five years. These demographics are favorable.
The economy is increasing in GDP and while unemployment rates continue to fall, wages will rise facilitating those who moved back in with families to pursue renting apartments of their own.
Supporting Documents
Disclosure: I/we have no positions in any stocks mentioned, and no plans to initiate any positions within the next 72 hours.
I wrote this article myself, and it expresses my own opinions. I am not receiving compensation for it (other than from Seeking Alpha). I have no business relationship with any company whose stock is mentioned in this article.