Canada's GDP report for January, 2016 confirmed renewed strength in the Canadian economy. Real GDP grew 0.6% month-over-month which represented the fourth month in a row of gains. Growth in goods-producing industries outshone service-producing industries to the tune of 1.2% to 0.4% month-over-month in another sign that the weakening in the Canadian dollar had its intended impact of boosting export-dependent industries.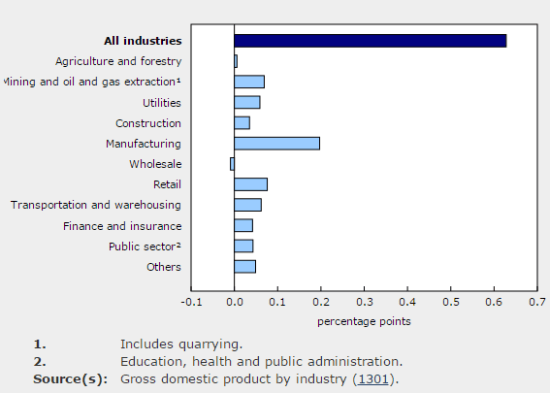 Export-dependent manufacturing was a stand-out performer in January
Source: Statistics Canada
Now that the Canadian economy has apparently stabilized, the weakening in the Canadian dollar has come to a dramatic end. I argued last month that "the Bank Of Canada is done with rate cuts." The rapid reflation of the Canadian dollar coupled with Canada's improving economic performance seem to confirm that the Bank of Canada is running out of excuses for outright dovishness…except of course to try to encourage traders to get back to shorting the currency. The CurrencyShares Canadian Dollar Trust ETF (NYSEARCA:FXC) is up an impressive 11% from the January closing low and has even gained 6% year-to-date. The chart of FXC shows that the presumed impact of the Federal Reserve's rate hike is a long-gone, distant memory. The breakout above resistance at the 200-day moving average (DMA) is even more impressive…and bullish.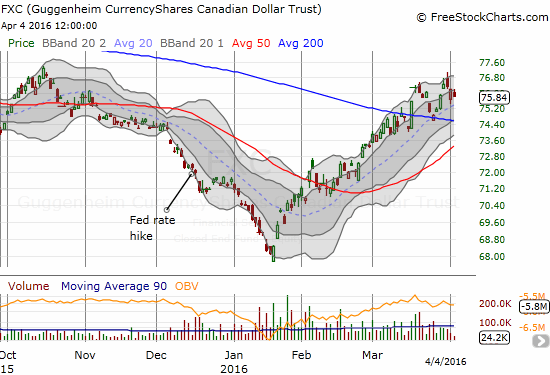 CurrencyShares Canadian Dollar ETF has surged in 2016 in rapid fashion of its multi-year lows.
Source: FreeStockCharts.com
Speculators have been quick to sense the beginning of the end of the Canadian dollar's weakness. As the Canadian dollar bottomed, speculators reached peak bearishness in the form of net shorts. The long-standing retreat since then drove net shorts to near-zero as of last week.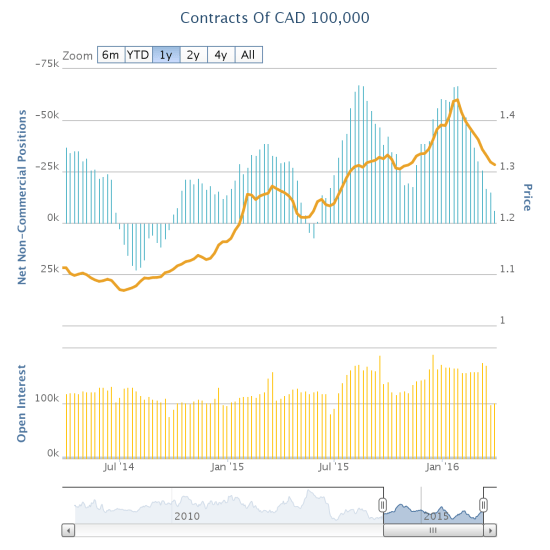 Speculators have beat steady retreat from short positions against the Canadian dollar.
Source: Oanda's CFTC's Commitments of Traders
Oil is of course a big part of the story for Canada. This part of the economy has been humming even as oil groped its way to January's bottom. The month of January lodged a fourth straight month of solid overall performance. From the GDP report:
"Oil and gas extraction grew (+1.4%) for the fourth consecutive month in January, mainly as a result of an increase in non-conventional oil extraction. The conventional oil and gas extraction industry also increased in January.

Following a 6.8% decrease in December, support activities for mining and oil and gas extraction grew 2.3% in January, partly because of an increase in drilling services."
In January, oil finally hit a bottom although that bottom was quickly tested (successfully) in February.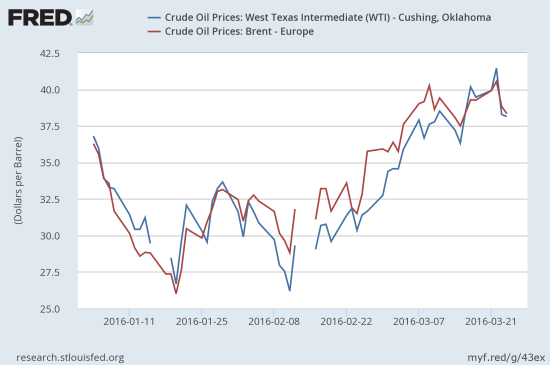 Oil prices through 3/28 - the Canadian dollar's weakness ended with the first bottom in January
Source: US. Energy Information Administration, Crude Oil Prices: West Texas Intermediate (WTI) - Cushing, Oklahoma [DCOILWTICO], retrieved from FRED, Federal Reserve Bank of St. Louis, April 4, 2016.
US. Energy Information Administration, Crude Oil Prices: Brent - Europe [DCOILBRENTEU], retrieved from FRED, Federal Reserve Bank of St. Louis, April 4, 2016.
The above chart has data through March 28th. SINCE then, oil has continued a decline off its recent peak. The weakness has been pronounced enough to drive the United States Oil ETF (NYSEARCA:USO) through its support level at its 50DMA.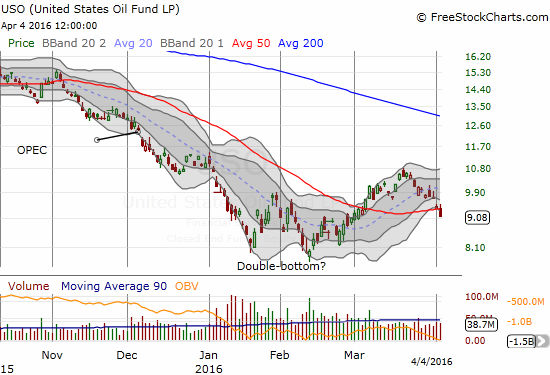 The United States Oil fund cracked support at its 50-day moving average (DMA). This move puts the double-bottom in play.
Source: FreeStockCharts.com
The consistent decline in oil off its recent peak brings darkening clouds over the Canadian dollar's strength. So far, as the charts above show, the Canadian dollar has remained resilient. However, with the short-covering just about over in the Canadian dollar, further strength from here could strongly depend on oil bouncing back sooner than later. I am currently betting on at least oil's double-bottom sustaining the lows for many more weeks, if not months, ahead…
Be careful out there!
Disclosure: I am/we are long FXC.
I wrote this article myself, and it expresses my own opinions. I am not receiving compensation for it (other than from Seeking Alpha). I have no business relationship with any company whose stock is mentioned in this article.
Additional disclosure: In forex, I am also short USD/CAD. I am also short call and put options on USO and long call options on USO (a hedged strangle options position).