I use the Dugan Scoring System to determine the "top" companies, and then filter for criteria I think SA readers would value. Those criteria for sector-best companies are:
Being in the top-Dugan-scoring half of the non-RIET and non-MLP companies on the "All CCC" list.
Minimum $3B market cap.
Minimum yield of 2.3%.
This sparse list of filters will allow for some companies to be included which won't meet some individual investors' criteria for consideration for further due diligence.
The Dugan Scoring System is a tool to identify those CCC companies which are the highest overall quality, and which, therefore, should produce better investing results than otherwise would be attained by simply filtering for desired characteristics. In this context, quality means companies which have:
Strong current conditions, as exemplified by: great value as measured by relative Graham number, low payout ratio, low debt/equity ratio and high Most Recent dividend increase %.
Excellent future prospects, as exemplified by: high EPS growth forecasts for This Year, Next Year and 5 years out, and excellent dividend growth histories.
The Dugan Scoring System is a disciplined, systematic approach that evaluates each CCC stock on the basis of a wide variety of investment criteria from four broad categories: Risk, Value, Past Performance and Future Performance Expectations.
No stocks, like no people, are perfect. Even high quality and high Dugan-scoring stocks have weaknesses. A Dugan Score is a balanced, holistic picture of a stock, which includes its strengths and weaknesses. The following is a summary of the metrics used in the Dugan Scoring System, along with each metric's relative weighting in the overall formula. The weightings are my assessment of each metric's relative importance in calculating the company's overall quality.

Good folks can quibble about the relative weightings. The above weightings reflect my thoughts and values, but can be changed by any enterprising SA reader who is facile with Excel.
Using the Dugan Scoring System, and the above filters, produces the following list as the highest scoring April 2016 CCC companies, by sector:

Let's take a closer look at one of the less popular companies on the list, GameStop Corp (NYSE:GME), using FASTGraphs and the information in the CCC list above.
In the CCC picture above GME scored a very respectable 102 points in Dugan Score. I think the highest score ever was 128 and the average for the 686 non-MLP and non-REIT All CCC companies is 71 points. While GME has some excellent metrics, such as yield of 4.7%, a minus 19 relative Graham number and a low payout ratio, it also has a few troubling current conditions and future prospects, to wit: a short dividend paying history, a most-recent dividend increase of only 3% and a relatively small market cap just exceeding $3B. Offsetting those conditions are a forecast of 26% growth in EPS for next year and 10%/year average for the next 5 years; plus, a very low debt/equity ratio of 18% and a credible, but not-quite-investment-grade, bond credit rating of BB+. We sometimes forget that credit ratings relate to a company's ability to pay its bond obligations, while I believe debt/equity ratios relate better to forecasting equity potential performance as D/E directly affects a company's ability to fund short term cash needs and thus impact operations, which impact stock performance.
Let's double check the current condition and future prospects with a FASTGraphs picture below: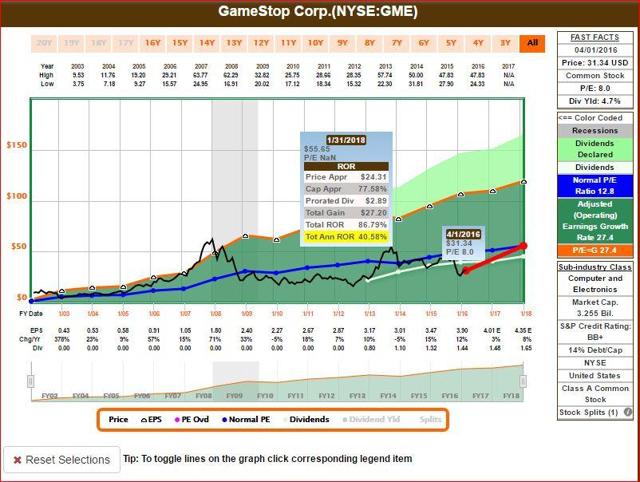 Note, above, a P/E ratio of only 8 versus an 14-year historical average of almost 13. Note also that before the great recession, GME held pretty close to its "fair value" orange line for 6 years, fell from grace hard during the recession and has yet to fully recover its former status.
Trace the red line from its current position to year-end 2017. If GME gets back to its normal long term P/E ratio of 12.8, it would provide an impressive 40.58%/year rate of return through y/e 2017.
Due diligence is certainly warranted before purchasing GME.
I hope you enjoyed this journey. Comments are encouraged. Happy investing.
Disclaimer: The opinions in this document are for informational and educational purposes only and should not be construed as a recommendation to buy or sell the stocks mentioned or to solicit transactions or clients. Past performance of the companies discussed may not continue and the companies may not achieve the earnings growth as predicted. The information in this document is believed to be accurate, but under no circumstances should a person act upon the information contained within. We do not recommend that anyone act upon any investment information without first consulting an investment advisor as to the suitability of such investments for his specific situation. (Borrowed from Chuck Carnevale.)
Disclosure: I am/we are long ADM, BBY, LNC, QCOM, CSCO, DOW.
I wrote this article myself, and it expresses my own opinions. I am not receiving compensation for it (other than from Seeking Alpha). I have no business relationship with any company whose stock is mentioned in this article.