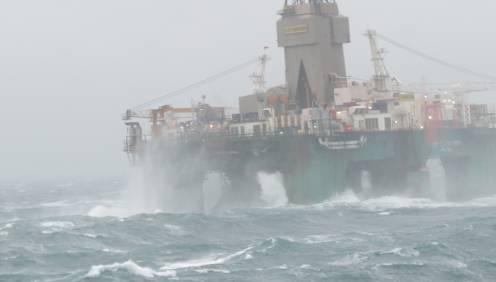 Image: Semi-submersible OR Leiv Eiriksson.
This article is an update of my previous article on Ocean Rig UDW (NASDAQ:ORIG), published on April 3, 2016.
ORIG is a new offshore drilling company providing oilfield services for offshore oil and gas exploration, development and production drilling.
The company is based in Nicosia, Cyprus.
Ocean Rig was a subsidiary of DryShips, Inc. (NASDAQ:DRYS).
Ownership relationships between ORIG, DRYS, and CEO George Economou
Effective Date

ORIG Shares Outstanding

Ocean Rig Shares Owned by DryShips

Ocean Rig Shares Owned by CEO George Economou

Number of Shares
Percentage of Shares Outstanding
Number of Shares
Percentage of Shares Outstanding
March, 30, 2016
138,666,384
40.44%
5.35%
On April 1, 2016, ORIG filed the Form 20-F which is the annual report 2015. An interesting document about the company's financial situation and some important indication regarding the fleet status.
Today, April 5, 2016, Ocean Rig announced the following:
Its unrestricted subsidiary has agreed to buy all of DryShips Inc.'s shares in Ocean Rig for total cash consideration of approximately $49.9 million. This transaction was approved by the disinterested members of the Company's Board of Directors and is subject to standard closing conditions. After this transaction, DryShips Inc. will no longer hold any equity interest in Ocean Rig.

Professor John D. Liveris, Chairman of the Independent Audit Committee of the Company commented:

"We are pleased to have eliminated the overhang of the Ocean Rig shares that DryShips owned once and for all, in a transaction that is priced at fair value and is to the benefit of all the shareholders of Ocean Rig."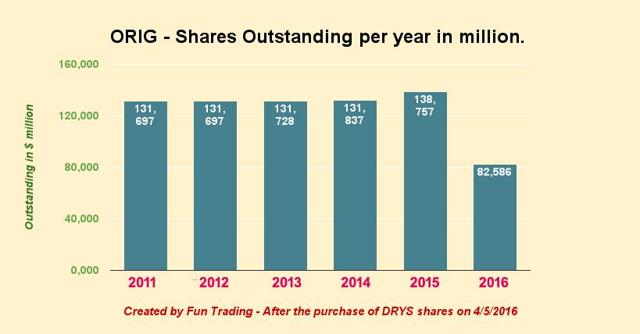 A quick calculation indicates that the deal translates to $0.89 per share, which is excellent and quite surprising due to the fact that ORIG's price per share was trading at approximately $1.50 a month ago.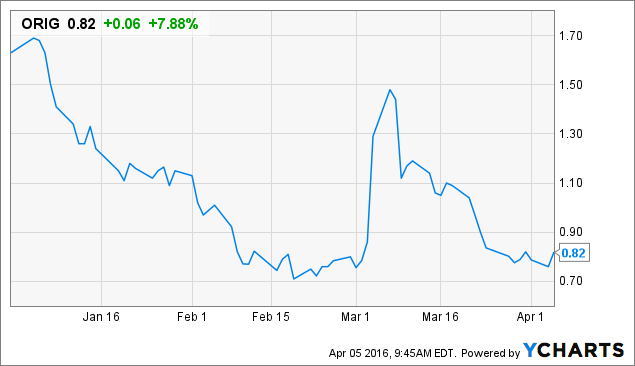 Commentary:
This news is definitely a great news for multiple reasons, even if unfortunately the market is quite slow to react today.
First, the relationship between DryShips Inc. and Ocean Rig UDW has been totally eliminated. Which is a sign that M. George Economou is acting in favor of ORIG's shareholders.
Second, ORIG acquired DRYS's 56.08 million shares at an historic low of $0.89 per shares, which is an excellent purchase that eliminates 40.4% of the total shares outstanding for only $49.9 million in cash, which is what basically the company is adding to its cash on hand in about a month or two, right now.
Third, it confirms the fact that management is working diligently for shareholders, and is using this terrible bear cycle very effectively.
I remind all that ORIG sold 28.57 million shares at $7 per share on June 2015, for approximately $190 million after costs.
ORIG bought a significant amount of the notes due in 2017 and 2019 at a whopping gain of well over $200 million, and is still in the process of buying quietly the notes on the open market.
Managed to delay the three newbuilds and push back a large part of the capital expenditure for 2016.
Many investors, including myself, were wondering why this new subsidiary has been created recently, and why $180 million has been allocated to it?
The move today is answering positively, partly our question. This new subsidiary will have about $130.1 million in cash remaining that could be used to purchase more of the 2017 and the 2019 notes at market, which trade at a large discount.
I do not think the company will be buying any distressed assets considering the present situation, unless the rig(s) comes with a long-term contract, which is unlikely.
Well done!
Disclosure: I am/we are long ORIG.
I wrote this article myself, and it expresses my own opinions. I am not receiving compensation for it (other than from Seeking Alpha). I have no business relationship with any company whose stock is mentioned in this article.
Additional disclosure: Recently bough back a new long position and trade the stock as well
Editor's Note: This article covers one or more stocks trading at less than $1 per share and/or with less than a $100 million market cap. Please be aware of the risks associated with these stocks.