JinkoSolar Holding Co., Ltd. (NYSE:JKS) is down 26.7% in value year to date, as broader woes in the energy sector resulted in declining shares for most solar companies. Despite this decline, the fundamental story for JinkoSolar remains intact. Total revenues for 2015 were $2.48 billion, an increase of 61.1% from last year. Total solar module shipments were 4,511.6 MW, which include 304.0 MW to be used in the company's downstream solar power projects - an increase of 53.3% from 2,943.6 MW for the full year 2014.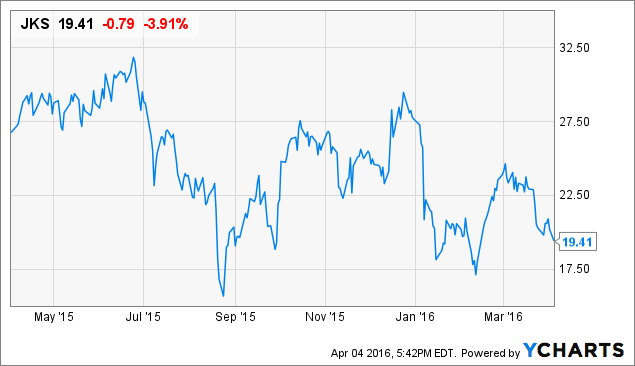 JKS data by YCharts
Despite great fundamentals for the solar industry at the moment, solar stocks are rather volatile due to the near-commodity nature of the market. Overcapacity, for example, could result in falling prices, resulting in eroding margins and profits.
Many investors see Chinese solar companies as pure commodity plays (solar modules), while companies such as JKS are increasingly focusing on their downstream business. This is a logical strategy considering the fact that margins in the project business are higher than those for modules. Gross margins for JKS's module business are around 20%, while those for its solar power projects are around 34%.
Investment thesis
As a result of booming demand for solar modules, JKS has increased its shipping of modules by around 60% per year.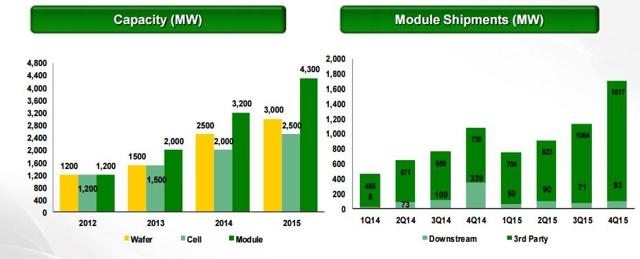 Source: JKS Q4 2015 Earnings Call Presentation
As of December 31, 2015, in-house annual silicon wafer, solar cell and solar module production capacity was 3GW, 2.5 GW and 4.3 GW, respectively. The company is pursuing geographical expansion and diversification of product mix in an attempt to keep its foothold strong in the U.S, a key solar market, as well as to counter the challenges posed by the imposition of countervailing duties and anti-dumping duties. In light of this strategy, JKS has expanded its overseas manufacturing capacity to Penang, Malaysia. Its solar cell and module fab is in operation since May 2015, with an annual capacity of 500 MW solar cells and 450 MW solar modules.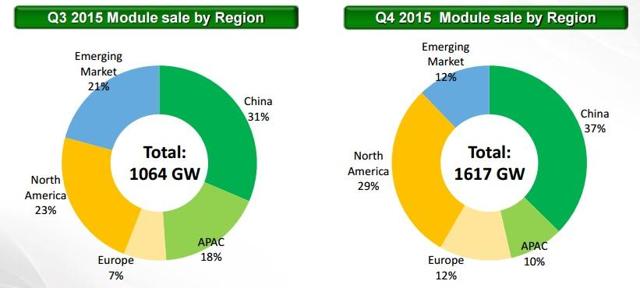 Source: JKS Q4 2015 Earnings Call Presentation
Future demand for solar PV will be affected by major country's goals for installed solar capacity. However, as demand is growing at a rapid pace, ASPs are expected to remain stable. This would mean margins will remain stable; however, nobody can predict ASPs with any certainty five years out.
Cost reductions
JinkoSolar is continuously making cost reduction efforts in its solar module business. The company's in-house module cost sequentially declined from $0.41 to $0.39 in its last quarter. This is partially due to a declining spot price of polysilicon, but also the result of improvements in operating efficiency and technological advancements.
Downstream business
The downstream business remains a key focus for JinkoSolar. As of December 2015, the company has connected 1,006.6 MW worth of solar power projects. Electricity revenues generated by solar projects will result in stable cash flows. Full-year newly added solar power project development scale is expected to be in the range of 600-800 MW. Margins of these projects are higher than those of the module business, and the increase in its solar power projects will result in higher margins for the company.
Valuation
JKS is trading at attractive multiples, with a P/E of 7.5, a forward P/E of 3.48 and an EV/EBITDA of 8.44. These multiples are attractive considering the fact that revenue is growing around 30% per year. For the full year 2016, the company estimates total solar module shipments to be in the range of 6-6.5 GW.
I believe JKS is currently significantly undervalued, and that it is an interesting investment opportunity. I present my base and bull cases below. The figures are based on revenue growth of 30% (average growth rate), an EBITDA margin of 12% in my base scenario and a margin of 14% in my bull scenario (EBITDA margins have been around 10-15%). As JinkoSolar is a Chinese company, and they often trade for lower multiples, I have used an EV/EBITDA multiple of 5 in both scenarios.
| | | |
| --- | --- | --- |
| | Base | Bull |
| EBITDA | 387.2 | 451.7 |
| Multiple | 5 | 5 |
| EV | 1,936 | 2,258 |
| +Cash | 654.4 | 654.4 |
| -Debt | 1,590 | 1,590 |
| Total Equity | 1,000 | 1,323 |
| Shares Outstanding | 31.07 | 31.07 |
| Estimated Equity Per Share | 32.2 | 42.6 |
My base scenario results in an upside of 66%, and my bull scenario in an upside of 119%.
Conclusion
JinkoSolar is an attractively priced company in a growing sector. The stock has declined as a result of broader woes in the Energy sector, providing an attractive entry point at $19.43. With an increasing focus on its downstream business, I expect margins to improve, resulting in significant upside.
Disclosure: I/we have no positions in any stocks mentioned, and no plans to initiate any positions within the next 72 hours.
I wrote this article myself, and it expresses my own opinions. I am not receiving compensation for it (other than from Seeking Alpha). I have no business relationship with any company whose stock is mentioned in this article.