Silver has played a pivotal role in human history. Silver mines fueled the growth of Athens, provided a monetary base for great empires and funded the conquest of the New World.
Silver even plays a role in religion. It is telling that Judas betrayed Jesus for silver not gold. Looking back at history it is hard to believe that a metal once so cherished is now worth only 15 dollars an ounce - a sum that could barely pay for a meal for two at a casual restaurant. Could this really be the price of a metal once considered to be money itself? Let's look at the historical case for silver as an investment.
Is the bottom in yet?
Silver has been in a bear market for over 600 years. This started with the Spanish discovery of large amounts of the metal in Peru and Bolivia during their conquests of those regions in the 1500s. The biggest culprit here is the Potosi mine. This mine is said to have produced so much silver that all of the metal extracted could quote:
"Build a bridge all the way to Madrid."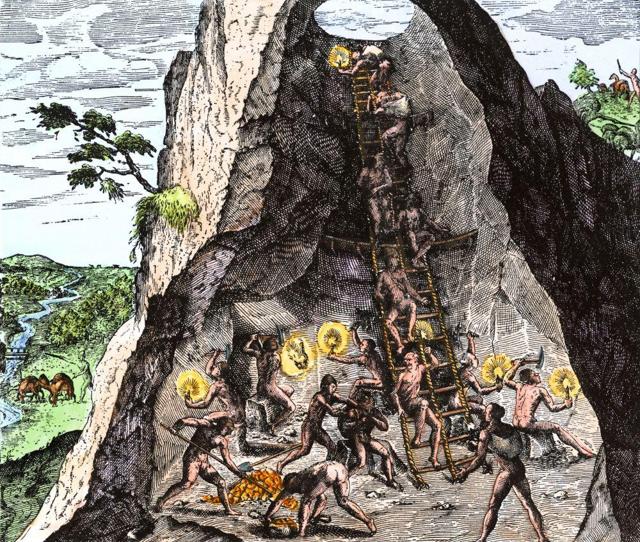 While this anecdote is certainly not true the fact remains that the Potosi mine has single handedly inflated the supply of silver beyond any other factor in history.
The mine has produced 60,000 tons of silver and still has more to go. When you consider that only 1.4 million tons of silver have ever been mined in history this is a pretty impressive feat.
The below chart shows silver's 600-year bear market on a logarithmic scale. I think this scale distorts the precipitous nature of the drop from $800 to $4.50.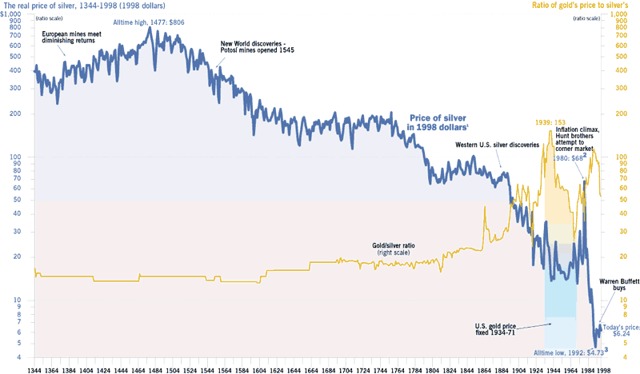 When we look at the top producers we see that not much has changed. Peru and Mexico are still the top producers of the metal600 years after production first started in the region. These nations produce 192 and 121 million ounces respectively. As we go further down the list we see that more than half of the top 10 producers are also in South America, Central America and the Caribbean. The rest include "New World" nations like the United States, Canada and a honorary Australia.
What does this mean for silver?
The fact of the matter is that silver is a relatively plentiful metal in the Western Hemisphere. So why does it have such a lustrous reputation in Western culture? It is because of the temporary situation of silver scarcity which European societies developed in.
While silver was never inherently rare and valuable low supply coupled with high demand made it seem rare to the European nations that used it as money. This scarcity existed because it was hard to mine, and still is hard to mine, in Western Europe. This cultural feeling that silver is valuable has continued into modern attitudes about the metal. Do not let it cloud your investing judgment.
History shows us that there was a fundamental supply reason why the silver price dropped and it will probably never recover to its old value. As silver began flowing freely around the globe its prices returned to a level commensurate to its actual scarcity and usefulness. It eventually became an industrial material. When you look at the long-term chart and see silver priced at $400 to $800 per ounce the evidence suggests that those times are long gone and can never return.
Has the knife stopped falling?
Now that we have explored how silver's historical prices were the result of a limited pre-globalization supply, we must next determine if the bottom is in. To answer this question a 50-year chart is more useful.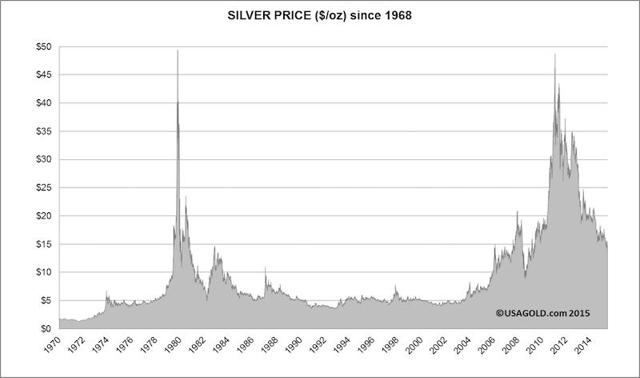 If you go past 1970, you will see a collapse in prices around 1930 (The Great Depression) and a spike in prices around 1918 (WW1). The first thing to note is that silver prices have trended around $5 for a very long time and are capable of going as low as $2 per ounce. This is adjusted for inflation.
Silver's cost of production is about $7.74 per ounce as of 2014. As with gold, any price premium significantly above the metal's cost of production will not be sustainable by speculators alone. In the case of silver it will need to be backed up by significant economic demand. 40% of the metal's usage is industrial and this should be seen as the only potential catalyst for a long-term silver bull market.
The good news here is that silver's industrial usage is increasing at a respectable pace with the rest of the economy.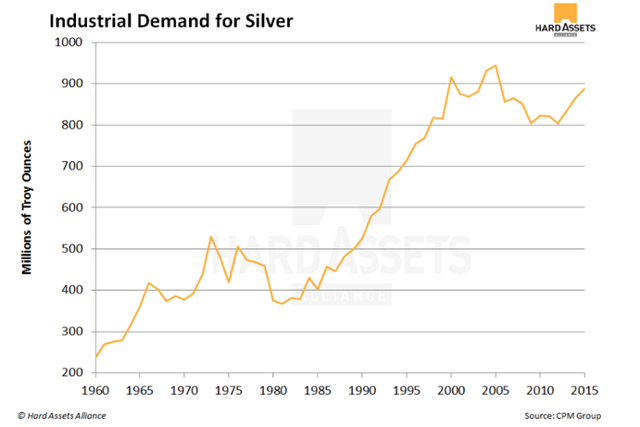 I think this level of industrial demand should be strong enough to keep the price of silver where it is now, but with the global economy slowing I don't see potential for significant growth.
History simply does not support the bullish case for silver:
The reason silver is so cheap is because of factors that were set in motion over 500 years ago. Silver was rare in Western Europe and this is what has led to its disproportional perceived value in Western societies. Supply of the metal from Latin America has permanently increased supply of the metal and pushed down its price to a level that will not able to be brought up without industrial demand.
For this reason any bull market in silver that is not driven by economic output should be seen as unsustainable speculation and sold before the price of the metal inevitably crashes back down to its cost of production at around $7.74 an ounce.
As always I look forward to your feedback and suggestions. This should be an article of interest for holders of the silver-focused ETFs SLV, SIVR, AG, DSLV, USLV.
Disclosure: I/we have no positions in any stocks mentioned, and no plans to initiate any positions within the next 72 hours.
I wrote this article myself, and it expresses my own opinions. I am not receiving compensation for it (other than from Seeking Alpha). I have no business relationship with any company whose stock is mentioned in this article.