The slowdown of the Chinese economy has caused a decrease in demand for steel on the domestic market. A new key economic goal for the Chinese government is to help fuel consumption within the country, which should negatively affect exports in the near-term. This is the way, Chinese officials believe, the country should take to transform itself into a post-industrial society.
The aforementioned aspirations have resulted in a drop in consumption of steel in 2015, for the first time in two decades, namely, by 5.4% to 664 million tons. This is one of the reasons why the debt levels of the main steel producers rose by 1.6% versus the previous year and totaled $499 billion by the end of 2015. According to Li Xinchuang, vice secretary general of China Iron & Steel Association (CISA), China plans to reduce steel production by 100-150 million tons, as well as shut down inefficient production in the coming years.
As a result, the amount of exported steel to foreign markets by Chinese manufacturers has increased considerably.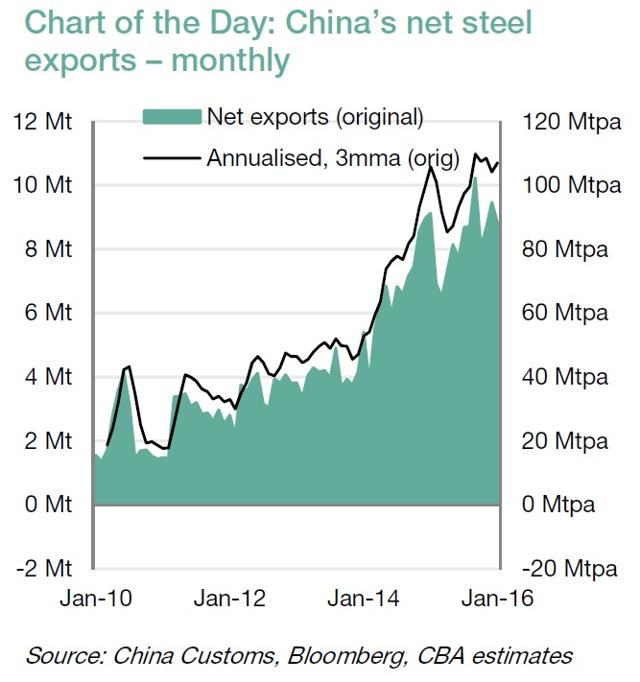 (Source: Bloomberg)
Note that the global steel production has been declining more slowly than consumption. This caused further oversupply that created a negative spiral resulting in growing debt for many steel producers across the world. In 2015, 1,599,484 thousand tons of steel were produced, while consumption stood at only 1.513 billion tons (about 5% less). This means that 85 million tons of steel remained unsold which made steel companies across the world increase working capital and forgo $1B of revenues.
However, this is only a small portion of lost revenues, as most contracts are based on delay payments. This increases risk of failure and negatively affects companies' valuation. Finally, this type of payment arrangements worsens relationships with creditors, especially in difficult market environments.
At the end of Q2 2016, DJ Iron & Steel Index (DJUSST) will be significantly lower than the current market level due to the difficulties that will be faced by the companies from the steel & iron industry:

(Source: Google Finance)
A significant excess of supply over demand, combined with falling commodity markets, have led to a crash of steel prices in tandem with oil prices. Since January 2015, the price of steel has fallen by 90.04% and reached a level of $50 per ton. This tendency may seem positive for industrial consumers but the price decrease has not primarily been due to technological modernization of production but due to a reduction in the aggregate demand for goods manufactured from steel.
The year-to-date statistics for the US steel market through January 2016 showed steel imports of 2.4 million metric tons compared with 4.0 million metric tons through January 2015. The largest commodity price decrease occurred primarily in oil products. The construction, automotive, and energy sectors together account for almost three quarters of total steel consumption in the United States. Considering, mildly speaking, not the best situation in these sectors, the near-term growth of the DJ Iron & Steel index can only be supported by rising oil prices.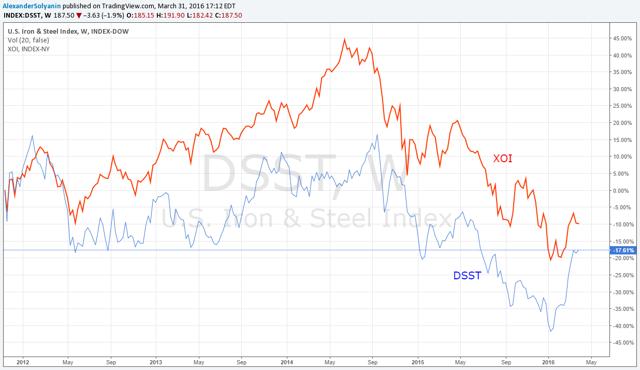 (Source: Tradingview.com)
Conclusion
The main reason for the reduction of creditworthiness in the iron & steel companies lies in the fact that the apparent decline in near-term revenues will reduce interest coverage ratios, which are one of the most meaningful metrics.
The iron & steel industry is in need of government incentives and support from international organizations to prevent further deadlock. The former profitability of steel producers will return only in a less cutthroat environment backed by higher commodity prices, a mutually-exclusive set of conditions to an extent.
We believe that the commodities markets are unlikely to grow in the near-term without a strong support from the financial industry and robust consumption growth on the emerging markets.
Societe Financiers is an investment research team focused on long-term, long- and short-only ideas. Our research objective is to cover equities in various regions, such as North America, EMEA, Asia, Australia, and Emerging Markets.
Readers should consider whether any advice or recommendation in our research articles is suitable for their particular circumstances and, if appropriate, seek professional advice, including tax advice. The price and value of investments referred to in our research articles and the income from them may fluctuate. Past performance is not a guide to future performance, future returns are not guaranteed, and a loss of original capital may occur. Fluctuations in exchange rates could have adverse effects on the value or price of, or income derived from, certain investments.
Certain transactions, including those involving futures, options, and other derivatives, give rise to substantial risk and are not suitable for all investors. Transaction costs may be significant in option strategies calling for multiple purchase and sales of options such as spreads.
Disclosure: I/we have no positions in any stocks mentioned, and no plans to initiate any positions within the next 72 hours.
I wrote this article myself, and it expresses my own opinions. I am not receiving compensation for it (other than from Seeking Alpha). I have no business relationship with any company whose stock is mentioned in this article.