Background
Government Properties Income Trust (NYSE:GOV) is one of eight companies managed by Reit Management & Research LLC (NASDAQ:RMR). The breakdown of these companies is as follows:
Publicly Traded REITS

Real Estate Operating Companies

Five Star Senior Living
Sonesta
Travel Centers of America

Real Estate Securities Focused Closed End Fund
The four publicly traded REITs have no employees. RMR is responsible for all of the operations of each.
GOV is a real estate investment trust that owns properties leased primarily to U.S. government entities and currently operates through two business segments:
Ownership of properties that are primarily leased to government tenants
Equity method investment in the RMR managed Select Income REIT (NYSE:SIR)*
*SIR primarily owns single tenant net leased properties.
At the time of this article, GOV's stock price was $17.95 -- above its 52 week low of $12.33 with a negative current P/E, a forward P/E of 7.77, a market capitalization of $1.28 billion, and a dividend yield of 11.00%
This analysis is based on information from GOV public SEC filings, earnings calls and investor presentations from the period 1Q05 through 4Q15.
History
The following illustrates key events concerning GOV since its IPO:
February 2009 - GOV is organized as a wholly owned subsidiary of HRPT Properties Trust ("HRP") with the objective to concentrate ownership of HRP properties with government tenants into a single entity.
June 2009 - GOV initial public offering with HRP owning approximately 32% of the shares outstanding
July 2010 - HRP changes name and ticker to CommonWealth REIT ("CWH")
March 2013 - CWH sells 100% of GOV shares it owns in a public offering
July 2014 CWH changes name and ticker to Equity Commonwealth (NYSE:EQC)
July 2014 - GOV acquires 21.5 million shares of SIR from EQC for $32.04 / share as part of a stock purchase agreement devised by RMR
September 2014 - EQC terminates business and property management agreement with RMR
January 2015 - SIR issues 28.4 million shares in connection with a merger, significantly diluting the shares held by GOV.
June 2015 - Up-C transaction results in business restructure. As part of this transaction, the GOV business and property management agreements with RMR were amended to require base management and incentive fees to be paid in cash. Previously they were paid in shares of GOV.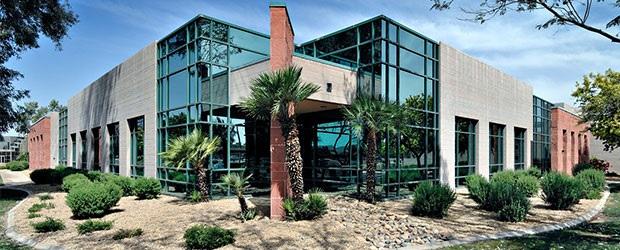 Current dividend is greater than cash generated by operations
GOV's high yielding dividend stands out in the current economic environment and therefore due diligence is warranted to determine if any factors may impact it. First, a review of the history of outstanding shares since the IPO was performed. The table below illustrates this history.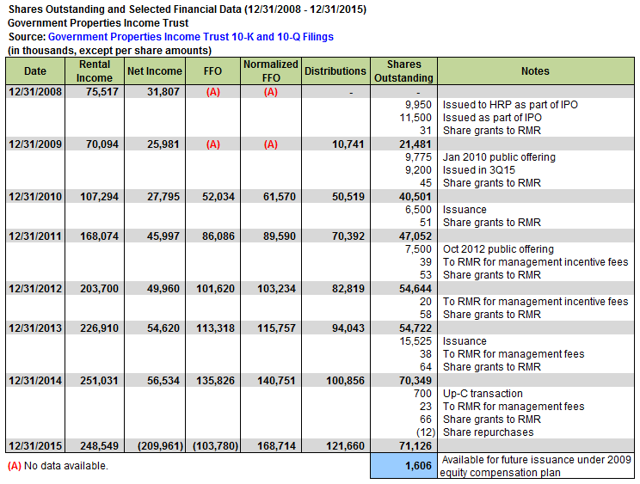 The issuance of large blocks of shares as well as payments to RMR for share grants and management fees appears to have diluted the shares outstanding enough to raise concern the dividend could stagnate or even be decreased. Further analysis comparing the year over year ("YOY") growth in selected income statement data (rental income, net income, funds from operations ("FFO") and normalized FFO) was therefore performed.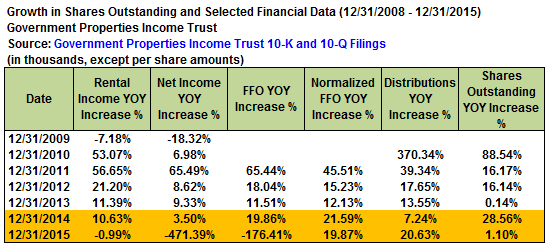 Based on this data it appears that the growth in outstanding shares and distributions was mitigated by higher growth in rental income and FFO through 2013. However, rental income growth slowed beginning in 2011 and turned negative in 2015 while both outstanding shares and distribution growth continued to increase.
Further evidence was obtained by reviewing the quarterly cash flow statements for 2014 and 2015 to compare cash generated by operations to cash outflows related to operations.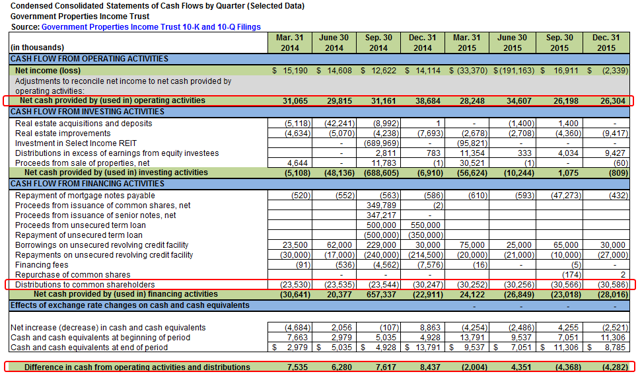 Cash flows from operations were insufficient to cover cash payments for distributions in 2015.
GOV will need to need to either increase rental income to cover the high distribution or decrease the payout. Otherwise it will be forced to cover the shortage by either incurring more debt or issuing more equity. Either of these options would dampen dividend growth through either higher interest expense or increased distribution outflows.
It is likely that the dividend has topped out. The momentum in increases is likely to slow and it is possible the dividend could shrink if additional equity or debt is issued.
Equity position in SIR creates volatility in income and unclear real estate focus
The real estate business segment's rental income has been declining on a quarterly basis through 2015. In addition, interest expense spiked in 4Q14 and has remained elevated through 2015.
The SIR equity investment segment has suffered from a substantial non-cash impairment charge due to significant dilution from SIR issuing additional equity.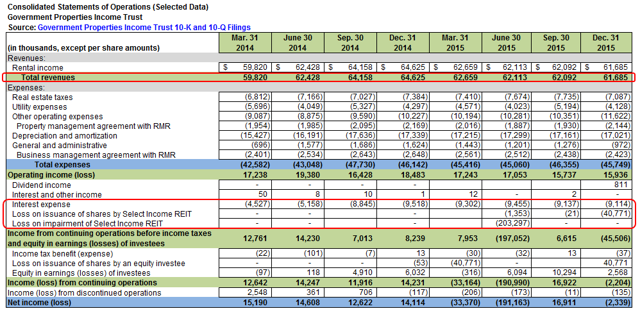 These factors have resulted in negative net income for GOV in three quarters of 2015. In addition, the equity investment in SIR has introduced significant volatility to the income statement as well as cash flows of GOV.
GOV has made two equity investments in SIR that were financed with mainly debt but some equity was also issued. The detail is illustrated below.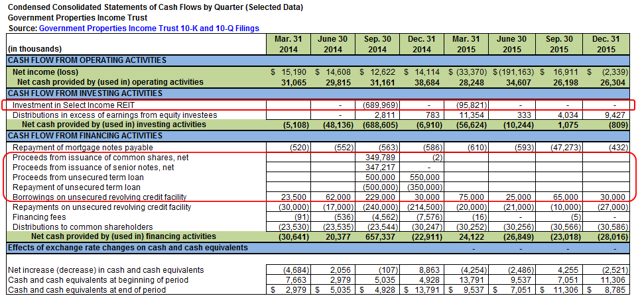 This has resulted in higher interest expense from the debt issuance and increased cash outflows from distributions for the equity offering.
GOV will need to show restraint going forward as higher interest costs and distributions will deplete cash generated from operations and limit options in obtaining additional real estate or increasing the distribution rate. As stated above, this is likely to dampen dividend growth and possibly result in a dividend decrease in the future.
RMR actions involving GOV are not in shareholders best interest
As discussed in the background and history section above, GOV is embedded in a complex business structure that requires a higher level of due diligence from a potential investor. As a result of the Up-C transaction in 2Q15, the entities involved and related party transactions have likely increased. A significant amount of information can be obtained from the attached investor presentation, but skepticism is warranted as it is an RMR produced document.
In addition, a review of the 2015 10-K reveals 9 pages of related party transactions. The most notable is discussed here, but likely there are others that warrant research.
The most detrimental action to date has been GOV's purchase of SIR stock at the direction of RMR. Two purchases were made, one in July 2014 when GOV purchased 21.5 million shares of SIR at $32.04/share, and another in March 2015 for 3.4 million shares at $27.85/share. As illustrated in the chart below, both share prices were above the SIR market price at that time.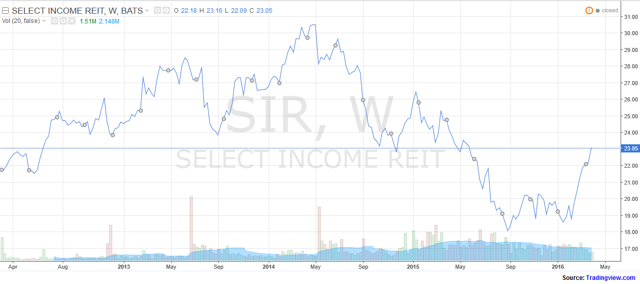 GOV subsequently wrote down the investment after SIR diluted the outstanding shares through an additional public offering in January 2015. An analysis of income by segment is illustrated below.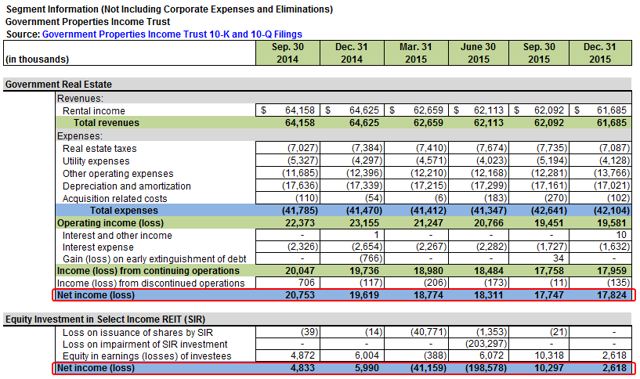 Net income for the government real estate segment has steadily declined for the period in scope. In addition, the equity investment in SIR has created substantial volatility to GOV's consolidated net income. In addition, equity gains going forward are likely to be smaller due to the dilution in the SIR position as a result of the January 2015 public offering.
GOV should consider divesting of the SIR position either back to SIR or to another REIT that is more aligned to the SIR business strategy. Single tenant net leased properties only add risk to the primarily government tenant revenue base.
More income volatility should be expected if GOV is to retain the SIR equity position. In addition, the possibility of RMR directing the purchase of additional equity in SIR by GOV would deplete cash generated by operations and lower the chances GOV will be able to acquire additional real estate with government tenants. This would slow growth in GOV and likely affect the dividend payout.
Conclusion
The establishment of a material equity position in SIR has muddled the original business objective of GOV to focus on properties leased to government tenants and introduced volatility and increased risk in an otherwise stable business model.
While the high yielding dividend is enticing, further analysis raises concerns as to the stability of GOV's current dividend payout and stock price. It is likely the dividend has topped out and will possibly begin to decline as cash from operations is directed to paying interest and distribution payments on existing outstanding shares.
In addition, RMR directing GOV and other REITs under its management to conduct transactions that are not in the best interests of shareholders will likely further erode shareholder value.
Based on the evidence, this is a REIT that is best avoided.
Disclosure: I/we have no positions in any stocks mentioned, and no plans to initiate any positions within the next 72 hours.
I wrote this article myself, and it expresses my own opinions. I am not receiving compensation for it (other than from Seeking Alpha). I have no business relationship with any company whose stock is mentioned in this article.