I usually like to research individual stocks and publish analyses about them, but today I was reminded of a unique collection of stocks lying around in one particular account that I have. I want to share this with SA readers. I enjoy reading individual investment self-reflection on this site, such as in David Crosetti's excellent Perfect Portfolio series, because it is just as important to examine what you have already done and be objective about the result as it is to constantly hunt for the next opportunity. I don't pretend to have built a portfolio in the same league as his, but I do think his work deserves praise because it shows the benefits of defining objectives and sticking with an approach. Indeed, in an article I read today by Andrew Hallam (Canada's "millionaire teacher" author), it is correctly pointed out that "trying" different strategies (value/growth/indexing) dooms them from the start, simply because you will not experience any truly long term performance.
When I first opened this account in February 2013, I did not have a clear objective in mind. I added money sporadically, made about 8 breakeven or profitable trades with no real knowledge or goal in mind, and then gradually started adding long-term positions in 2014. My goal was and is creating a portfolio of globally diversified, heavyweight companies. Since the account is too small for drips, I reinvest the dividends in 2 other ETFs. There have been no trades or money added since November 2014 (other than said reinvesting). So the positions I had on that day will be the starting point, with the amount that has been deposited in this account ($5777.71 CAD) being the first step of this portfolio's journey. It is worth $7225 CAD today, it has been as high as $8000, and the current paper gain is mostly due to a gain in FX because the Canadian dollar was higher when I bought these USD shares in 2014. I will discuss the stocks and the methodology behind their selection further, but for now I will say that I am happy to be writing this article today. I just looked at the holdings (I hadn't looked in months) and discovered in doing my analysis for this article that my initial criteria have mostly held up, and no stock is going anywhere. That is encouraging because I know my investing "spirit" hasn't changed; I just know way more know then I did back then. It appears, though, that I knew enough back then not to make any horrible mistakes.

Basically, the idea was that I wanted the companies in this portfolio to be boring. I wanted large cap, super-stable companies with dividends, large asset bases, growing revenues, and low value metrics. This is not an account I am looking to make a quick buck with. While I wanted to own US companies (it would be absurd not to in a global portfolio since the US is 53% of global market cap and half of S&P corporate profits are booked abroad) I also wanted to diversify outside of the US. The final result was 1 U.S. listed Canadian (actually Bermudan, but with the parent in Canada) company, 2 US companies, 1 Italian company, and 1 Japanese company, with dividend income reinvested in the iShares Germany (NYSEARCA:EWG) ETF. There is also an investment in an equal weight Canadian REIT ETF for income and diversification.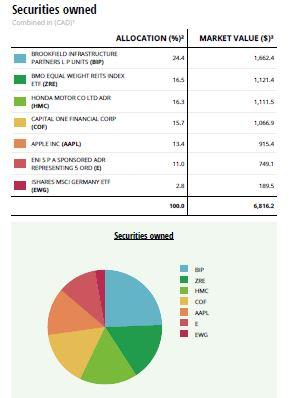 There are no bonds in this portfolio because it is a retirement account and therefore is very long term. I can leave this where it is for 30 years or more. I am not too concerned about reducing the portfolio's volatility. This is my personal experiment to see if one can build a somewhat representative, decent global portfolio with a small account and a few stocks.
Some people will tell me to give up, because of the obvious fact that I have underperformed the market. Others will tell me to stick in an index fund, either because I will not beat the S&P or because they don't think it's worth it. I disagree. I know from experience that patience is rewarded and haste is punished. The thing has barely had time to work.
Now, let's get to the constituents.
Apple (NASDAQ: AAPL)
There is no topic that is more discussed or more polarizing in investing than the biggest company on Earth. You tend to either think the Jobs magic is gone and the best days are behind it or you think the company is a massive cash machine that trades at a discount because the market is mistaking the lack of previous (let's face it, probably not sustainable) hype for bad results. I admit I don't have a ton of conviction on either side but lean toward the latter view. I have never owned Apple products, except iPods. What happened was I had sat on the sidelines for the 3 years prior and watched the rises and falls from $350 to $700 and back and decided to buy one share (1) just before the split for $583.
Two years in this has actually been a great investment as Apple now trades at a lower P/E and higher dividend yield than when I bought it. It's hard for me to be an outright bear on a stock with an 11 P/E whose offshore cash hoard ($181 billion) approaches the size of my country's (Canada) entire federal budget ($273 billion). (Remember, Apple's cash is in the US, so they actually have $235 billion Canadian offshore at the current 1.30 exchange rate.) I think as the newest DJIA constituent with a current beta of 0.97, it acts as a pretty good barometer of market sentiment, and if the US consumer, US technology sector, and US economy can maintain a decent long-term trend it should be a leader. iPhones are a little bit too dominant in terms of being a revenue source for the company at 70%, but this company has tons of talent and tons of bullets left to figure its way out of that situation. Eager to see how it plays out long term.
Brookfield Infrastructure Partnership (NYSE:BIP)
The Brookfield group of companies is a Canadian conglomerate with several divisions, which have created unbelievable value for shareholders long term. The reason I invested in this company is I heard another commentator describe investing in it as "buying the world". It is not run like a typical corporation but is rather one mother company with 3 separate publicly traded entities. This is one of the separate entities that trades on the TSX and the NYSE. The company owns railways, toll roads, container ports on the US west coast, and all kinds of valuable infrastructure all over the world. It is a Canadian company whose global ambitions are largely achieved and is poised to take advantage of meeting infrastructure needs worldwide in the years to come. There is a generous and growing distribution that is fully covered by majority-regulated, non-volume dependent cash streams. Also the complicated tax structure makes it a great holding for this registered account since I get to keep the full 6% dividend, which management said in 2014 they would aim to keep at 60% funds from operations and grow at 5-9% per year. As of February 2016 this promise has been delivered on and reiterated for the future on the company website. In any event, I cannot think of a better candidate to satisfy the utility/infrastructure/and private equity diversification level desired for this portfolio.
Eni SpA (NYSE:E)
Italian companies do not have a reputation for always being the best run. (Take Italy's bluest of blue chips, Parmalat Dairy, whose debt was 8 times greater than officially stated.) Nonetheless, "Ente Nazionale Idrocarburi" (national hydrocarbons authority) is the world's 6th oil major and is currently paying out a semi-annual distribution of 89 cents on the ADR or 6.1% annually. The company has not been in the black in terms of revenue since Q2 2015 but with operations in 79 countries, these guys are right there with the Shells, the BPs, and the XOMs of this world. $51 billion market cap is good enough for top 5 in Italy, and a spot in the Eurostoxx 50; I own the ADR that trades on the NYSE.
I made the mistake of thinking oil hit a bottom in November 2014 when I bought it; still, I think a 24.4% total decline since then is pretty respectable for that sector. A huge gas discovery off the coast in Egypt in August 2015 barely moved the stock; management was also proactive in cutting the dividend early and throughout 2015 while many companies sat on their hands and waited for the best. Oil prices are going to have to turn around for this one to see an improvement but now is certainly not the time to bail especially at a 0.92% price to book, currently 13% off its 5-year average (Source: YCharts).
Honda (NYSE:HMC)
Still the world's largest maker of internal combustion engines, this buy was probably a tribute to my long suffering 1988 Honda BROS motorcycle which was imported from Japan. (Although the stock had rock bottom P/B and P/E then, like it does now.) That bike finally needed too many repairs to be worth keeping, but I think a $47 billion company that started with a guy strapping an engine to his bicycle still deserves a little respect. The Honda Civic is consistently one of the top selling cars in Canada and its red ATVs are also a common sightings in rural areas. I am down 21.7% after dividends on my shares of the world's fifth largest automaker.
It is not for emotional reasons that I am not giving up. Cars is a cyclical and competitive business, and some companies were simply bound to underperform in this era of record demand. Honda is one of them. Recall issues and a jumbled and directionless product line have been two major knocks against it. However, a brand like this with major value and loyalty and still great cash flow is not something I would bet against, especially with a new CEO not even one year in the job. Japanese companies also tend to be resilient. According to this chart, Toyota was not even in the top 10 Japanese market cap in 2010, and now they are #1.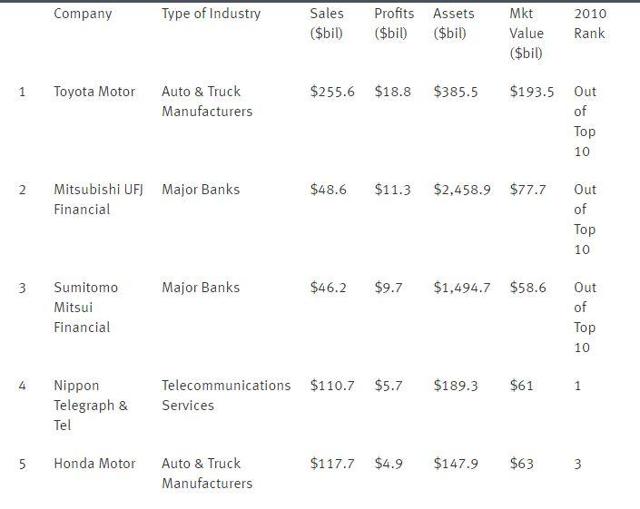 There is a new CEO who is in the midst of driving a turnaround, and like all the companies on this list (with the exception of oil-producing Eni) there is tons of cash being generated to cover its dividend and execute its strategy, although weaker returns on equity than one would like to see. Another consumer discretionary play, but Honda will be jockeying for position among automakers for years to come. Based on their current out of favor status, I think the company is as ripe as it ever was for a contrarian bet.
Capital One Financial (NYSE:COF)
Rather than owning a bank, or an investment bank, or a major credit card company, I decided to go with Capital One. This financial firm was dirt cheap when I bought and, guess what, still is. I've never seen it trade over 10 times earnings. The dividend is negligible ($1.60) compared to earnings ($7) and management approved a 33% increase last year. It did also stumble big on an earnings miss and weaker than expected guidance last year, but these guys do not stand still. They capture big market share on the high-margin low-end debtor base and are extremely aggressive with their cash back and points offers, including their new exclusive deal with Costco, giving me a nice little proxy exposure to that great company. The share count has also been steadily going down every year as you can see here, and management with this statement in their report (source) is committed to rewarding shareholders long term. The beta of 1.32 is probably a little generous considering this stock went to $12 in the financial crisis, but if it ever does that again, rest assured, I'll be buying.
REITs
These pay about a 5% annual distribution and I was parking the cash that came in into this but in August 2014 I made this the major Canadian holding and started buying
EWG
With dividend income. Buying one share of a company at a time would create too much of a drag on performance in a small account like this but fortunately my broker allows me to buy ETFs for free with no commission. Hence the main reason for this holding. I've been throwing these small amounts into this instrument mirroring the German DAX, which is home to several world class companies and represents the world's fourth largest economy. The holding is too small right now to really affect performance but if there is an index that is worth buying and holding, to me this is as good as any. This is 18% off its all time high, covers 85% of the German market, and doesn't get 1/100th of the attention the S&P does.
That's it! Nothing to do now but stay invested with the passage of time (and hopefully have cash to add more, especially if there is a market crash).
Disclosure: I am/we are long AAPL, E, COF, BIP, EWG, HMC.
I wrote this article myself, and it expresses my own opinions. I am not receiving compensation for it (other than from Seeking Alpha). I have no business relationship with any company whose stock is mentioned in this article.