Gun Manufacturers On Sale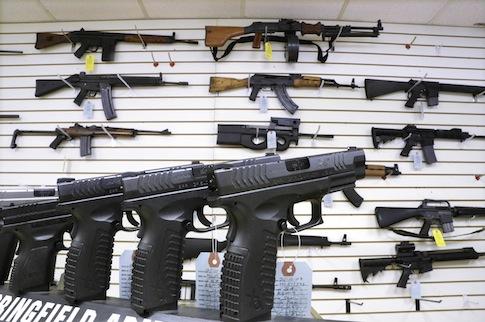 By now, most of you are probably aware of the latest massacre to befall the West. Terrorists in Brussels attacked the airport and a metro train station, killing 32 innocent people, including several Americans.
Unfortunately, the attack is one of many, following the one in San Bernardino, California, months ago, the November 2015 attack in Paris that took 130 lives of diners and concert goers, and the very latest, on Easter Sunday, that took the lives of 72, mostly women and children enjoying Easter festivities at a public park and playground in Pakistan.
Is This An Actionable trade?
Regardless of the outcome of the latest investigation, this incident is but one of 150 that have occurred since the Newtown, Connecticut, massacre and barely months after a man in Colorado attacked and killed three people at a Planned Parenthood center. And let's not forget, just four months ago, ISIS terrorists mowed down 130 innocent civilians at a concert and cafes in Paris, France.
Of course, our hearts and sympathy go out to all the victims, their families and the hundreds of injured from all of these attacks. We wish the injured a speedy recovery.
These attacks, coming almost daily now, are bound to light the fire within many of us to fight or flight. That fight or flight instinct is so powerful that these types of incidents invariably lead to higher gun sales as folks look for ways to protect themselves and their families.
Seniors Head To Gun Ranges
It was reported in Wednesday's Wall Street Journal that older people are concerned about crime and terrorism to the point that they are now seeking firearms training and buying guns for self-protection.
In a senior center in Austintown, Ohio, along with painting and bingo, shooting guns has joined the roster of activities. People in their 60s and 70s board vans and cars and set off to the local shooting range to learn how to shoot. Though arthritis causes trouble for some, they don't let it become an obstacle to what they feel is learning a new, necessary skill; holding, aiming and shooting a handgun.
Learning how to shoot is giving these folks a sense of comfort and security. Once they master the basics, many are applying for a concealed-carry permit so they can stow a gun in the car's glove compartment and have it at the ready wherever they go.
Seeing incidents on the T.V. news every day, many seniors voice concern about random shootings, people with mental problems and "radicals".
Gun Demand On The Rise
Demand coming from the senior population is one of the reasons the gun business in the U.S. is booming. In the three months ending in February, criminal background checks related to these gun permits were up 29% from a year earlier. March saw a drop in these background checks of 13.2%, but year over year, they were up 25%.
In addition to the concerns seniors have over crime and terrorism, there is fear that regulatory clamping down on gun ownership will deprive them of the privilege and right to own a gun. This adds to the run on guns. They figure, if not now, then never. Better to get one in their possession now before this avenue of protection is closed off.
Not only are these seniors framing their torn paper targets from the shooting range, but also they're going out, once trained, and buying a gun for their protection.
Research Shows Gun Purchases Go Up After Mass Shootings
"Results show that the number of federal weapons background checks increases somewhat at the time of each mass shooting. This trend remained even after I accounted for items like current crime rates, region and Castle Doctrine laws, which prevent a person from being prosecuted if he or she uses deadly force in self-defense or to protect their home. In previous research, I found that when these laws are passed, gun sales increase.

Shootings with greater media coverage, however, had greater effects on background checks. Virginia Tech, for example, had more than 3,000 related mentions in the print media, and also the largest effect. Shootings with fewer mentions in the media, like the North Carolina nursing home shooting, had much smaller effects.

We don't have enough data to conclude whether there is a net benefit or cost of increased ownership. But these studies demonstrate that mass shootings may have indirect effects on crime, by influencing gun purchasing." - Source: RawStory
Reports showed applications for firearms rising after other mass shootings in Aurora, Colorado, and Phoenix, Arizona, as people seek guns as a means of protecting themselves, their homes and families.
In the wake of mass shootings in Paris, Colorado Springs, and San Bernardino, Calif., Americans are once again arming themselves - stocking up on guns and ammunition, bringing weapons into their daily routines and requesting refresher courses from firing ranges.
From the New York Times:
Thinking of both self-protection and the threat of new gun laws that could follow the San Bernardino shooting that left 14 people dead on Wednesday, much of the country is rushing toward guns rather than away: Gun shops from Texas to Maine have all recently reported increased gun sales, and in some cases, sheriffs have even urged residents to arm themselves.
Make Lemonade From Lemons
It is always more pleasant to seek profits from positive developments in the world. We can all share a smile when Apple (NASDAQ:AAPL) announces its latest iPhone with all its delightful features. Our smile widens even further if we are investors and watch with glee as Apple's profits soar on its latest sales numbers.
Though negative world developments will cause us not to smile but to grimace from the inhumanity, these types of developments, nonetheless, present us with opportunities to gain profits.
History in the marketplace has repeated itself, over and over again. Whenever such incidents occur, sales of handguns and all sorts of weapons skyrocket in America. People feel a need to arm themselves for protection against these types of threats.
Actionable
The company most poised and best positioned to profit from this increase in sales activity is Sturm, Ruger & Company, Inc. (NYSE:RGR).
Shares of RGR were trading Wednesday around $69.00, down almost 12% from its 52-week high of $78.09. A couple of days ago, this stock dropped 8% on the news that regulators were seeking to impose standards of disclosure on gun manufacturers. Their beef concerns RGR's and Smith & Wesson Holding Corporation's (SWHC) failure to disclose to investors the possible repercussions of liabilities from lawsuits from the use of their products. This threat affected SWHC's stock as well, causing a 10% one-day slide.
It is these temporary knocks to a stock's price that provide opportunity for long-term investors to buy value on the cheap. This temporary compression in price adds a margin of safety to the capital committed to the investment.
In an open letter to the SEC on Tuesday, New York Public Advocate Letitia James accused Sturm Ruger of failing to tell investors about financial risks related to gun violence. James said in part in the letter, "We can and will use every tool at our disposal to address the devastating impact of gun violence in our country." - Source: Investor's Business Daily
This obstacle will prove only temporary as RGR's lawyers respond with the proper investor disclosure and will have no affect on the company's business going forward. The fundamental business model is intact, revenues and earnings will increase, and so will the dividend.
Since the stock is still down considerably from its 52-week high and the dividend is still close to a 2.1% yield, I believe there is still decent upside left in the stock. Sales of its guns will continue trending upward as these latest attacks have become a seemingly daily occurrence and continue to take center stage in the media and in the mind of the populace.
In order to gain some of these better-timed entry prices that enable me to receive higher yield and income, I've built some digital utility tools, the Real Time Portfolio Tracker and the Watch List Real Time Tracker that work in real time to identify them.

Buy Alert
At $69.60, we targeted the stock for a $69 entry price to give us a 2.1% yield. Though this is decidedly below our overall current portfolio yield of 6.16%, it was determined there was a good amount of upside left in the stock at $69 and a low dividend payout ratio of just 33% left a lot of room for the company to raise dividends in the future.
We bought shares of RGR for our subscriber portfolio at $69 a share. After doing their own due diligence, readers wishing to proportionately emulate this trade for their own portfolios use the "My FTG Mirror Calculator" to simplify their task.
When the next quarterly earnings are announced, there should be a decent pop again as the market comes to realize the beneficial effect on sales and earnings.
New Developments
On Monday, April 4, three investment banks downgraded Smith & Wesson from market outperform to market perform, and from buy to neutral. They cited the March drop in NCIS background checks of 13.2% and at the same time acknowledged sales for the next quarter would probably rise. The yearly trend showed more resilience, coming in with YOY (year-over-year) increases in handgun sales of 25%.
This downgrade took SWHC down 19% and, in sympathy, dragged RGR down with it, nearly 10%. The investment banks expressed displeasure with SWHC's P/E ratio at 23 since that company's stock had more than doubled in the past 52 weeks. Their opinion was that that it had become overvalued.
In contrast, RGR sports a lower P/E of 20 and has risen only 45% in comparison. In addition, RGR has a larger cash balance, no long-term debt, and cash flow has been improving, making way for improvements to the dividend going forward along with its very low payout ratio currently at 33%.
This latest price compression gives an even greater margin of error and an increased current dividend of 2.25% to new buyers.
Five years of RGR: Price, Dividends and Payout ratio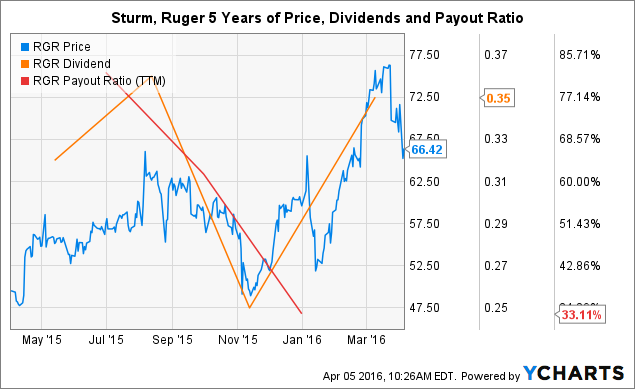 RGR data by YCharts
The company has been paying out a greater dollar amount of dividends the last few years while the payout ratio has declined to 33%. This would indicate a company with greater firepower with a greater ability and propensity to raise dividends in the future. In addition, this low payout ratio contributes to a higher margin of error as regards the stock price and future dividend payouts.
Since 2011, RGR has been paying a bumpy stream of dividends to shareholders, but this has been improving of late. It now sports a current yield of 2.25%. Robert Allan Schwartz's website reveals a compound annual growth rate in the dividend going back to 1980 through 2015 of 8.54%.
Business Summary
"Sturm, Ruger & Company, Inc. designs, manufactures, and sells firearms under the Ruger trademark in the United States. The company offers single-shot, autoloading, bolt-action, and sporting rifles; rimfire and centerfire autoloading pistols; single-action and double-action revolvers; over-and-under shotguns; and accessories and replacement parts, as well as manufactures steel investment castings and metal injection molding (MIM) parts. It sells its firearm products through independent wholesale distributors to commercial sporting market; and castings and MIM parts directly or through manufacturers' representatives. The company also exports its firearm products through a network of commercial distributors and directly to foreign customers comprising primarily of law enforcement agencies and foreign governments." - Courtesy of Yahoo Finance
Be Greedy When Others Are Fearful
Because they sell their product not only to consumers, but also to law enforcement agencies, sale will increase to those channels as well, as these agencies across the world feel the need to beef up their defenses to combat these increasing attacks, whether criminal or terrorist.
Again, our hearts and sympathy go out to all the victims of the latest in a series of horrific attacks. At the same time, as investors, we can remember the old saw; "Be greedy when others are fearful."
In this case, the fear that is welling up in our communities in response to the latest attacks can be viewed from the perspective of an actionable, profitable trade. The additional fear factor is that anxiety instigated by those three investment banks that caused investors to part company with their shares on Monday.
Fear Drives Sales
It is this fear that will percolate throughout the populace and generate an inordinate amount of gun sales, both here in America and abroad. Even grandma and grandpa are doin' it. Their children can't be far behind them on the gun store line.
Bottom Line
As attacks on innocent civilians the world over become almost daily occurrences, fear among the populace has driven many folks, including seniors, to take matters into their own hands. As they arm themselves in increasing numbers; this can only feed the bottom line of gun manufacturers, there to fill that demand.
As investors, we can arm ourselves with stock from these companies and profit from this burgeoning trend.
The Fill-The-Gap Portfolio
I began writing a series of articles on December 24, 2014, to demonstrate a real live construction and management of a portfolio dedicated to growing income to close a yawning gap that so many millions of seniors and near retirees face today.
The beginning article was entitled, "This Is Not Your Father's Retirement Plan." This project began with $411,600 in capital that was deployed in such a way that each of the portfolio constituents yielded approximately equal amounts of yearly income.
The FTG Portfolio Constituents
Constructed beginning on 12/24/14, this portfolio now consists of 18 companies, including AT&T, Inc. (NYSE:T) Altria Group, Inc., (NYSE:MO), Consolidated Edison, Inc. (NYSE:ED), Verizon Communications, Inc. (NYSE:VZ), CenturyLink, Inc. (NYSE:CTL), Main Street Capital Corporation (NYSE:MAIN), Ares Capital Corporation (NASDAQ:ARCC), Reynolds American, Inc. (NYSE:RAI), Vector Group Ltd. (NYSE:VGR), EPR Properties (NYSE:EPR), Realty Income Corporation (NYSE:O), Sun Communities, Inc. (NYSE:SUI), Omega Healthcare Investors (NYSE:OHI), StoneMor Partners LP (NYSE:STON), W.P. Carey, Inc. (NYSE:WPC), Government Properties Income Trust (NYSE:GOV), The GEO Group (NYSE:GEO) and The RMR Group (NASDAQ:RMR).
We are currently offering a free, two-week trial of my premium subscription service. To learn more about it, please click this link:
Retirement: One Dividend At A Time
Please don't keep me a secret. I'd appreciate it if you forwarded this article to your friends, colleagues and family who you think might find this work interesting and something they might benefit from.
As always, I look forward to your comments, discussion and questions.
Disclaimer: This article is intended to provide information to interested parties. As I have no knowledge of individual investor circumstances, goals, and/or portfolio concentration or diversification, readers are expected to complete their own due diligence before purchasing any stocks mentioned or recommended.
Disclosure: I am/we are long ARCC, CTL, ED, EPR, GEO, GOV, MAIN, MO, O, OHI, RAI, RMR, STON, SUI, T, VGR, VZ, WPC.
I wrote this article myself, and it expresses my own opinions. I am not receiving compensation for it (other than from Seeking Alpha). I have no business relationship with any company whose stock is mentioned in this article.