Back on January 25th, I recommended network communications giant Cisco Systems (NASDAQ:CSCO) as a long-term dividend growth name. At the time, Cisco was at about $23.30. As of the close of business today, Cisco now sits at $28.14. Shares have gone up 20% or so since then. Not bad at all. I'm not going to toot my own horn on this one, because virtually everything is higher since then.
But also since January 25th, Cisco raised its declared dividend from 21 cents per quarter to 26 cents; that's a hike of 24%. In my January 25th, article I wrote that Cisco had a long 'runway' of dividend growth ahead of it, especially because that dividend still wasn't even 40% of cash flow. As I suspected, Cisco was going to substantially grow its dividend, and the company has every reason to continue doing so for quite some time. This article looks at why Cisco raised its dividend by so much, and what the company may do going forward.
Dividend situation
In my article over two months ago, I noted that Cisco expects long-term revenue growth of 4%-6% over the long-term. Lately, the strong US Dollar has been cutting into those results, at least on a non-constant currency basis. As with many big multinationals, share repurchases have been boosting earnings per share. As long as the Dollar keeps going up, Cisco's revenue growth will be dampened, but if the Dollar simply stays where it is, then Cisco should be able to achieve its goal of 4%-6% revenue growth. In this case, earnings per share should be in the mid-to-high single digits.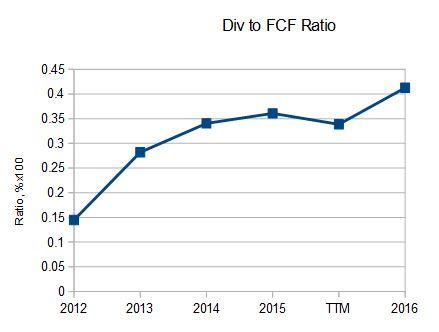 This chart is an update on Cisco's dividend-to-FCF after the dividend hike. This calculation is based off an estimate of the raw dividend on my part, and part of that estimate is an assumption of no share buybacks. One way or another, Cisco has a lot of room by which to grow the dividend, and no reason why not to. Cisco is a rather mature business. Its best growth days are well behind it, and so there aren't many places for the company to put all that free cash flow. I suspect there will be double-digit dividend growth for the foreseeable future.
If that seems unfathomable to you, consider Cisco's balance sheet. The company has a huge pile of cash sitting in its bank account, so there really is no danger in ratcheting up the dividend. Cisco has $60 billion in cash with just $21.5 billion in debt, leaving $38.5 billion in net cash. That's quite a sum. Management has shown that it is willing to err on the side of returning cash to shareholders.
Valuation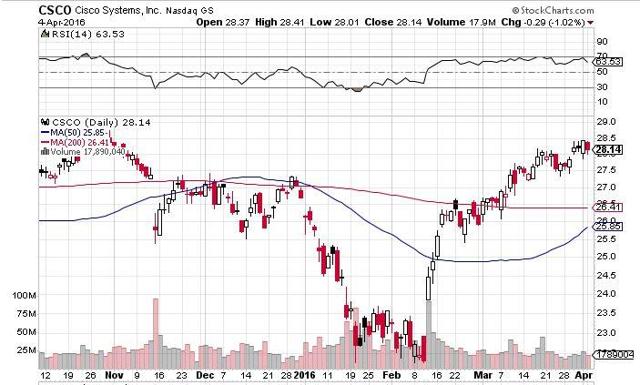 Courtesy of Sharp Charts.
The thing is, shares of Cisco are a good bit higher than they were on January 25th when I wrote my last article. But after taking a close look, I actually think that Cisco is still a buy right here. After all, it's not too likely that the stock will fall to the point where it yields over 4% or more. Not for long, at least. Cisco already yields 3.7%.
To give an historical perspective, Cisco still trades at just 12.6 times trailing earnings, and the company has averaged 14.4 times earnings over the last ten years. So, even with the run-up in share prices, I still believe that Cisco is a buy for income-minded investors. As in my previous article, I don't see much upward catalyst in shares besides a growing dividend, but that, as we can see, can be quite enough.
Conclusion
Cisco Systems remains a good place to go for dividend investors who want some diversification into tech. Although shares have risen in price over the last two months, I still believe that Cisco offers long-term value right here.
Disclosure: I am/we are long CSCO.
I wrote this article myself, and it expresses my own opinions. I am not receiving compensation for it (other than from Seeking Alpha). I have no business relationship with any company whose stock is mentioned in this article.