Reading through the FY 2016 Q3 earnings release conference call transcript for Nike (NYSE:NKE), I can't help but get excited about the growth potential for the business.
Nike has massively outperformed the S&P 500 over the last 5 years, up more than 200% over that period, compared to 55% for the S&P.
As I think about dividend investment opportunities, the 1% yield on Nike's stock combined with significant potential for growth in share price appreciation means I have to add this stock to my target list.
NKE data by YCharts
So what has led to this massive outperformance over the past five years?
According to Mark Parker, Nike's President & Chief Executive Officer:
"The foundation for NIKE's success and one of our greatest competitive advantages is our complete offense. It's what gives us the power to use our size and scale to accelerate growth and the flexibility to stay nimble and fast. Through our complete offense, we serve a wide range of athletes personally across 13 categories, 6 geographies, men's, women's and young athletes, up and down the price points in wholesale, owned retail and online."
What does "complete offense" really involve? It includes several critical differentiators that will continue to drive value for Nike's shareholders. Specifically, it includes:
Fostering a culture of shared innovation.
Creating breakthroughs for all athletes (Flyknit, Lunarlon and Air, Dri-FIT and TechPack).
Developing new concepts and collaborating with wholesale partners to bring them to life in completely new ways around the world.
Driving long-term profitable growth -

i.e. in China and Western Europe and global women's business in the Running category.

Managing through volatility.
Ensuring a healthy marketplace for eCommerce.
Let's look at how Nike's complete offense strategy has delivered results in the form of EPS over the past five years.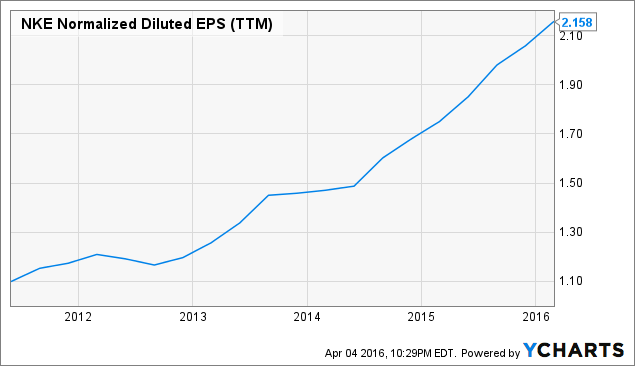 NKE Normalized Diluted EPS (TTM) data by YCharts
Over this period, EPS soared from $1.10 to over $2.15 on a trailing twelve-months basis.
Over the same time period, the dividend has risen from $0.32 (annualized) in 2011 to $0.64 (annualized) currently.
This equates to an average dividend per share growth rate of approximately 20% compounded annually.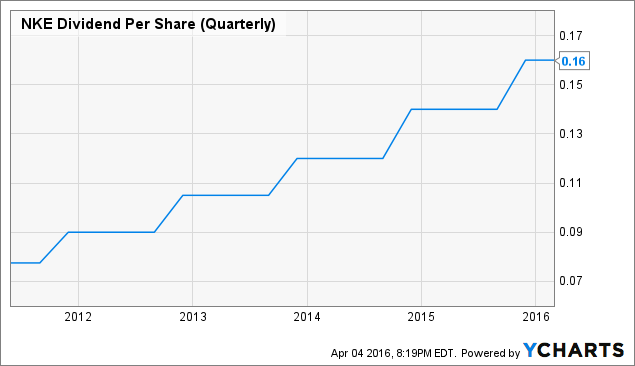 NKE Dividend Per Share (Quarterly) data by YCharts
If we look at the cash dividend payout ratio over this period of exceptional EPS growth, we see that it has actually gone down from a high of 47% of 31% currently.
For income oriented investors seeking a growing dividend and conservative payout ratio, this presents a compelling opportunity.
There is ample room for Nike to maintain its dividend in a challenging economic environment, and raise it in a stable or expanding environment.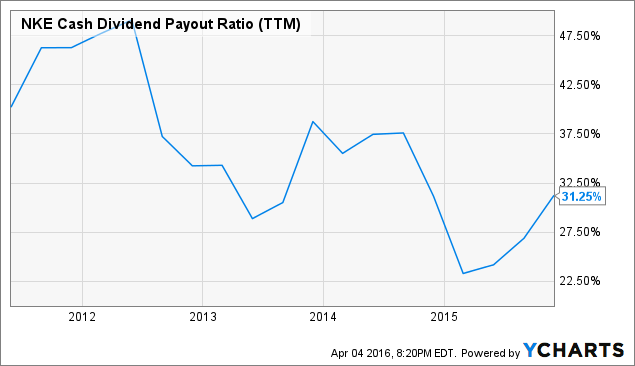 NKE Cash Dividend Payout Ratio (TTM) data by YCharts
With a current price of $60, let's see what the Street has priced into Nike's share in terms of future growth. The below table is from Yahoo Finance and breaks down the analyst consensus.
As we see in the table above, analysts expect EPS 12 months from now of $2.46, which is 14% higher than the trailing twelve-month EPS of $2.16.
With a high estimate of $2.71 and a low estimate of $2.39, we can see that risk is skewed to the upside relative to the average.
Given the EPS growth and low cash dividend payout ratio, it seems reasonable to assume the dividend will continue to grow at around its 20% per year historical rate.
For dividend investors looking to pick up some yield, Nike presents a great opportunity. For growth oriented investors, Nike is well positioned to grow its top line (10%) and its bottom line (14%) over the next twelve months.
As Mr. Parker so simply put it, "our relentless flow of innovation is one of the reasons I remain so confident in NIKE's future." It is for this same reason that I recommend buying Nike's shares.
Disclosure: I/we have no positions in any stocks mentioned, but may initiate a long position in NKE over the next 72 hours.
I wrote this article myself, and it expresses my own opinions. I am not receiving compensation for it (other than from Seeking Alpha). I have no business relationship with any company whose stock is mentioned in this article.