The Lazard World Dividend and Income Fund (NYSE:LOR) is a closed-end fund that seeks total return through a combination of dividends, income and capital appreciation. The fund was created in June, 2005. LOR uses an interesting multi-strategy approach investing in global equities and short-term emerging market debt:
The fund invests almost all of its assets in 60 to 90 global equities that are financially productive with high dividend yields.
They seek to enhance income with exposure to short-term, emerging market forward currency contracts and other emerging market debt instruments (limited to 33.3% or less of total leveraged assets). This provides exposure to emerging market currencies.
The above two strategies complement each other, with historically low correlation, which may reduce volatility.
(Data below is sourced from the Lazard website unless otherwise stated.)
The fund is currently trading at a whopping -17.85% discount to NAV which is well above the average 3 year discount of -9.80%. Here is a 3-year history of the premium/discount from cefconnect: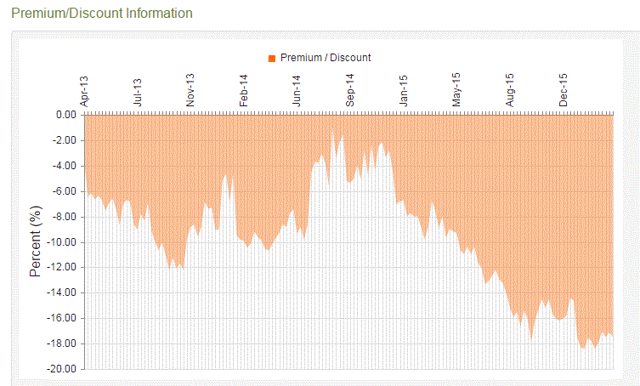 Good Diversification for a U.S. Equity Portfolio
If you have a portfolio primarily invested in U.S. assets, diversification by investing in historically low correlation assets (such as non-U.S. stocks and emerging market currency and debt) may help to reduce to volatility and enhance risk-adjusted returns.
LOR's global equity strategy is broadly diversified, consisting of U.S. and international equities in both developed and emerging markets. They span industry sectors and invest in small, medium and large cap stocks.
The fund's emerging market currency and debt strategy is also broadly diversified over countries and regions. The fund's emerging market currency and debt holdings have low duration (typical duration below two years) with limited interest-rate sensitivity.
Global Equity Selection
The Fund's equity investments are not initially chosen for yield alone, but they will generally include the highest dividend-yielding stocks on Lazard's recommended list, along with a selection of stocks with dividend growth potential. The income generated from the equity portfolio is generally qualified income for U.S. taxpayers.
Unique Leveraging Strategy
LOR uses an interesting leveraging strategy to enhance income potential for investors. They employ financial leverage up to 33.3% of total assets, by investing in forward currency contracts and/or borrowings. The leveraged assets are used for investing in emerging market currency or short-term debt instruments.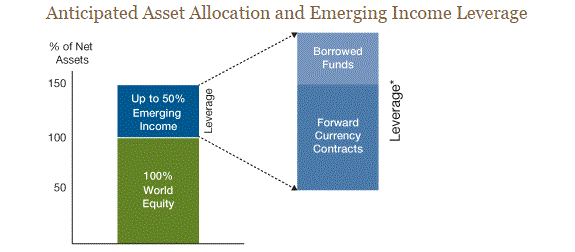 Here is the overall LOR portfolio asset allocation as of February 29, 2016:
| | |
| --- | --- |
| Global Equities | 82.7% |
| Emerging Markets Currency & Debt | 17.3% |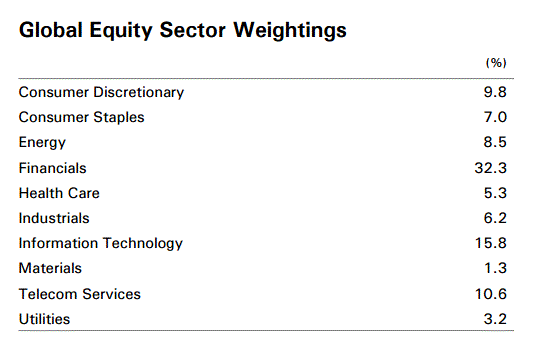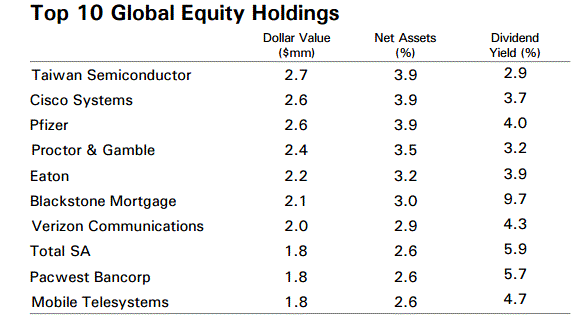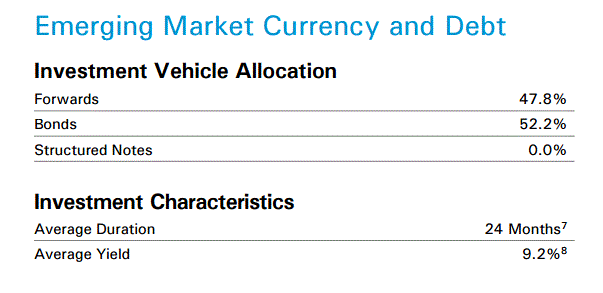 The five year total return market price performance record has been below the average of its World Stock peers. But more recently in 2016, the NAV performance for LOR has been beatings its peers (NAV performance is up 3.87% YTD). Because of this, I would treat LOR as more of a swing trade instead of a longer term buy and hold.
| | | | |
| --- | --- | --- | --- |
| | LOR Price Performance | World Stock Price Performance | Rank in Category (Price) |
| 1 Month | +2.75% | +2.18% | 53 |
| 3 Month | +1.18% | +0.43% | 47 |
| 1 Year | -23.61% | -10.78% | 94 |
| 3 Years | -7.65% | +1.93% | 93 |
| 5 Years | -0.86% | +2.97% | 85 |
Source: Morningstar
The current discount to NAV as of April 4 is -17.85%. The six month discount Z-score is -1.07 which means that the current discount to NAV is about one standard deviation below the average 6 month discount of -14.50%.
The four year discount Z-score is -2.00. The current discount is two standard deviations below the four year average discount of -10.01%
Source: cefanalyzer
Alpha is Generated by High Discount + Distributions
The distribution rate of 7.74% along with the 17.85% discount allows investors to capture alpha by recovering a portion of the discount whenever a distribution is paid out.
Whenever you recover NAV from a fund selling at a 17.85% discount, the percentage return is 1.00/ 0.8215 or about 21.7%. So the alpha generated by the 7.74% distribution is computed as:
(0.0774)*(0.217)=0.0168 or about 1.68% a year in discount capture alpha.
This is only a little less than the 1.77% annualized baseline expense ratio (Source: cefanalyzer), so you are almost getting the fund management for free with a effective expense ratio of about 0.11%. Note that this alpha capture occurs even if the discount does not narrow, as long as the fund keeps paying out the same distribution.
Ticker: LOR Lazard World Dividend & Income pays monthly
Total Assets= $88.95 Million
Common Assets= $74.37 Million
Monthly Distribution: $0.0574 (Annual= $0.6888)
Annual Distribution Rate= 7.74%
Fund Baseline Expense ratio= 1.77% (Source: cefanalyzer)
Discount to NAV= -17.85%
Average Three Month Daily Volume= 33,866 (Source: Yahoo Finance)
Average Dollar Volume= $300,000
Duration: 2 years
Average Portfolio Turnover: 76%
Leverage: 13.64%
LOR appears to be an attractive swing trade here. It is moderately liquid. It usually trades with a two cent spread, but you can sometimes get price improvement (trading at a price between the bid-asked spread) using actionable limit orders.
For those in a high tax bracket, it may be best to purchase LOR in a tax deferred IRA account, but it may also be held in taxable accounts since a good portion of the distributions have been return of capital or qualified dividend income.
Disclosure: I am/we are long LOR.
I wrote this article myself, and it expresses my own opinions. I am not receiving compensation for it (other than from Seeking Alpha). I have no business relationship with any company whose stock is mentioned in this article.