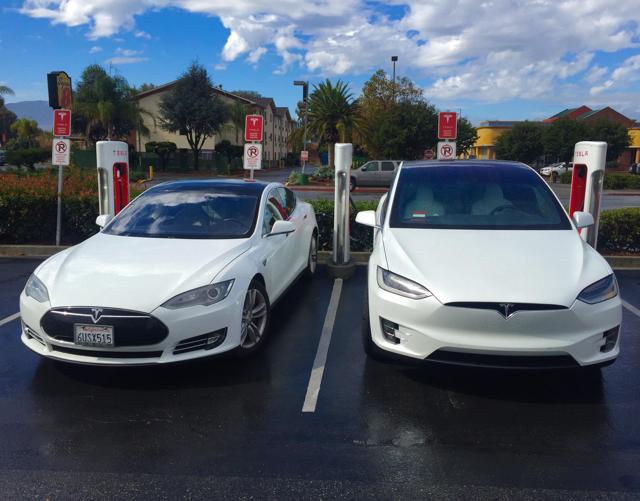 As most already know, Tesla (NASDAQ:TSLA) missed its Q1 2016 guidance by a fair margin. Having guided for 16,000 vehicle deliveries, it instead disclosed it delivered 14,820.
TSLA put the miss down to its own hubris and difficulties with part supplies to build the Model X. There are a couple of things to say about this explanation:
The Model S saw a tremendous drop in deliveries from Q4 2015 to Q1 2016. Sequentially, deliveries dropped from 17,272 to 12,420, or nearly 5,000 units. Some of it can be explained by the ~1,800 drop in Denmark. Still, the drop was so large that it seems to validate the thesis that Q4 2015 was inflated by many different discounting tactics.
The difficulties with part supplies seem related to TSLA still working on an unfinished Model X even as it started large-scale deliveries. For instance, one of the parts (front door latches) was changed during Q1 2016 and the cars with the old part are suffering significant failures. It isn't surprising that TSLA might have decided to slow down production until it got these and other upgraded parts.
In spite of the significant deliveries miss, TSLA kept its confidence in hitting its 2016 deliveries guidance (80,000-90,000). Two things to say here:
First, in the past two years TSLA missed its full-year guidance (established at the start of the year). But it always only recognized it would miss later in the year, and never as early as its Q1 report.
Second, TSLA bases its confidence in two pieces of stated data: 1) Q1 2016 Model S orders being 45% above what they were during Q1 2015 and; 2) The Model X production rate now being up to 750/week.
I think the comment on Q1 2016 yoy order rates being 45% higher is misleading. It's as misleading as a former comment comparing Q3 2015 order rates to Q3 2014. It's misleading because both Q1 2015 and Q3 2014 happened to be extremely weak quarters which led TSLA to panic and take immediate measures to foster demand. These measures were:
Regarding Q3 2014, the rushed introduction of the D (AWD) models in Q4 2014. I say so because these models were so obviously rushed that the software wasn't finished and there were even cars being sent to customers with mismatched seats. You can't get any more rushed than that.
Regarding Q1 2015, the introduction of the 70D and 70 during Q2 2015. The 70D and the 70 were obviously much lower margin and higher-content models.
However, while commenting on the deliveries miss can be interesting, this article is more concerned about the future. Specifically, this article is more concerned about what kind of deliveries TSLA might guide for Q2 2016 when it reports Q1 2016 earnings (early May). There is a threshold at which this Q2 2016 guidance will have meaning, and that's what prompted this article.
The Threshold
The threshold I am about to calculate pertains to us knowing whether there are worrying short-term signs in the demand TSLA is seeing or not. Here's what we know:
We know TSLA is clearly able to produce and deliver >14,000 Model S' per quarter. It did so during Q4 2015.
We know TSLA delivered 12,420 Model S' during Q1 2016.
We know TSLA is now able to build and deliver at least 750 Model Xs per week.
So, with 13 weeks in Q2 2016, Tesla should, at least, be able to deliver:
12,000 Model S', being conservative here (this would still be a drop from Q1 2016!).
750 x 13 = 9,750 Model Xs.
Thus, with no demand impediments, TSLA should guide for at least around 21,750 deliveries in Q2 2016.
If TSLA guides for 21,750 deliveries or more (and at least 12,000 of those are Model S) there are no short-term demand worries. I say "short-term" because nearly all Model X deliveries will come from the existing reservations pool.
If TSLA guides for less than 21,750 deliveries, there are very significant short-term demand worries.
Conclusion
TSLA guiding for deliveries above or below 21,750 vehicles for Q2 2016 (with at least 12,000 of them being Model S sedans) will provide us with significant clues regarding the near-term demand TSLA is seeing. It won't be conclusive for 2016 as a whole, though, as many of the deliveries occurring during Q2 2016 will come from the existing Model X reservations pool.
Q2 2016 guidance below 21,750 vehicles or the Model S seeing less than 12,000 deliveries would be a strong sign of weakness. I am afraid, however, that TSLA won't guide for Model S and X deliveries separately (it already didn't do so for Q1 2016). So, we'll only get to know about the full number (21,750, above or below) early on.
Looking beyond Q2 2016, I am of the opinion TSLA will once again miss its yearly deliveries guidance, including the bottom of its present range (80,000 deliveries). This won't be new for TSLA, as it also missed the 2014 and 2015 deliveries guidance. But as I said, the guidance for Q2 2016 deliveries will give us more data regarding the demand TSLA is seeing and might make the yearly miss more apparent earlier on (or not).
Disclosure: I am/we are short TSLA.
I wrote this article myself, and it expresses my own opinions. I am not receiving compensation for it (other than from Seeking Alpha). I have no business relationship with any company whose stock is mentioned in this article.