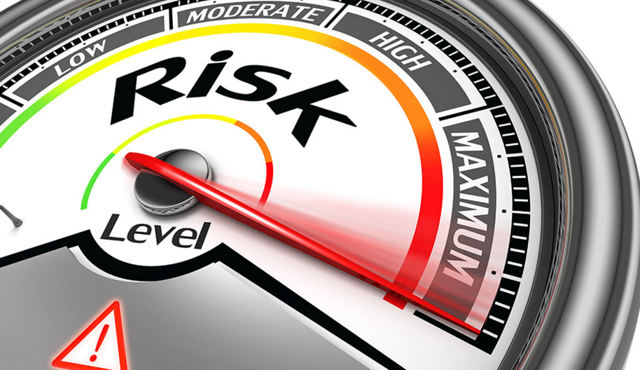 Image sourced from money.cnn.com.
Lululemon (NASDAQ:LULU) reported Q4 earnings of 704.3mm in sales and $0.85 in EPS. Management received applause from the investment community for their great performance particularly on the back of a strong 11% comparable store sales figure which was 3% above the consensus. However management indicated that customer traffic appears to be fairly weak for Q1, hence their lowered guidance for the quarter. They believe the reason is that shoppers engaged most of their spending in the holiday season so there is little carry over. For Q1 last year, the company realized a global comp of 6% while this year management expects it to be around 5%. This is not alarming yet it is noteworthy given that Q1 traffic effectively propped up Q4 results.
Management disclosed their initiatives for future growth by mention of store/e-commerce growth and future product developments coming to market. While we think the products lines are certainly in tune with what consumers want, we have noticed that management has largely refused to discount product in order to sustain gross margins, or more qualitatively, maintain it's premium name and associated niche. While this may be a strong strategy in the near-term, we believe that the supply of this extravagant customer base is saturating at a very rapid pace. From the current revenue of 2.06 billion, management guided for about 2.31 billion by the end of 2016, representing about 12.14% growth for the year. Here is the year over year trend:
As we can see sales growth has been relatively range bound between 12 to 15% on an annual basis. Management also stated that they believe gross margins will revert toward the low 50 percentile and operating margins should reach about 20% long term. EBIT margins are expected to increase not from SG&A scaling cost reductions but rather by increasing the prices of their products.
Q1 Traffic Weakness
Management stated that comps were more heavily driven by ticket value rather than traffic: "...looking back at Q4, with the really strong traffic, the other factor that buoyed our comp results in the fourth quarter was just a very strong AUR outcome." Now keep in mind that comps for the first quarter are expected to decline by 1% even though new AURs are now elevated relative to last year. So given that product prices are now higher, why would stores see a lower comp year over year for Q1? Simply given that store traffic is decelerating to start 2016. We think it is also important to understand that about more than two-thirds of cash flow is directly from US retail customers. Despite that management continually claims that international will comprise about 20-25% of overall revenue by 2020, we still don't escape the fact that most of sales will be coming from US operations which is becoming an increasingly tighter market.
Cost Accounting
Inventories fell considerably but still remain elevated compared to historic levels. Given the trajectory of sales growth, we estimate that inventories still need to fall another 50mm (about 17%) before being fully in-line. Some have mentioned that Lululemon may actually engage in some promotional discounts otherwise inventory build may leak into Q2.
In 2015, we saw total inventories marked down about 2+% to lower of cost or market. It's unrelated to quality but more so of perceived value as products in this area move in and out of style fairly quickly.
Lululemon also disclosed a 7.4mm tax recovery in 2015 which essentially boosted earnings per share by $0.054. We think this is material given that deferred taxes essentially allowed management to beat the annual estimates provided by analysts of $1.86 at approximately $1.91. However the company will lose this artificial lift going into 2016 as the effective tax rate will ride higher. In prior years, EPS was $1.86 and $1.91 for 2013 and 2014 respectively.
This boost does not consider share repurchases either. If we back out the tax recovery and treasury stock, there was actually a material decline in earnings (about $0.08) on a per share basis despite that management posted positive comps in every quarter for 2015: 6%, 11%, 9%, 11%. So what is going on here? Realistically it's SG&A deleverage. Practically if we back out the decline in gross margin and consider the revenue growth, it appears that management cannot effectively control its operating cost structure. Here is the historical data for the bottom line:

Do the math. Revenue grew 30% from 2013 to the end of 2015, yet earnings actually declined. Will profits come later? Who knows, but frankly it doesn't matter.
Valuation Update
We do think management is sandbagging results in the near-term so we decided to move away from our 3 year outlook and consider market value in perpetuity. It seems that most analysts are primarily focused on results by 2020 to guide their price targets. We are extrapolating the 3-year trailing revenue growth rate of 13.5% over the next 5 years. This essentially assumes no deceleration in growth and an operating margin recovery of 200bp. We are also introducing a 100bp lift to our CAGR forecast given that the US Dollar is slightly weakening against Canadian Dollar.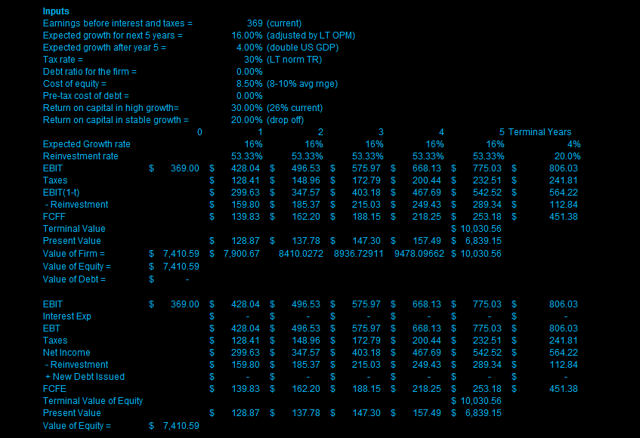 The model we used above is courtesy of Aswath Damodaran.
Here we are calculating return on invested capital by taking NOPAT over total capital funding. Over the last three years ROIC has run about 25% on average. We are assuming that it retraces to 30% and then decelerates by one-third to 20% on a terminal basis. Lastly, we utilized a cost of equity of 8.5%. Like many value investors, we don't consider beta to be a useful benchmark for calculating discount rates as equity volatility is not synonymous with changes in long term cash flow. This financial model assumes a fair price of $55 but even these assumptions appear realistic when you consider long term industry economics.
Risks/Pitfalls
Competition weakens/inventories clear more swiftly
Operating leverage is scaled more effectively
Cash flow conversion widens
Future short squeezes
Bottom Line
An investor looking to invest in shares today would likely be subject to secular underperformance given the current market price. Management provided soft guidance of 12.1% sales growth (down 3% YoY) and expects further profit deleverage from 13.3% to 12.6%. If results are close to these projections and any hiccups transpire in execution, there will be a large crowd headed for the exits. We think it is prudent to exit now as there is no margin of safety in the equity. At $68 we recommend Lululemon as a strong sell and maintain our original price target of $45.
Disclosure: I am/we are short LULU.
I wrote this article myself, and it expresses my own opinions. I am not receiving compensation for it (other than from Seeking Alpha). I have no business relationship with any company whose stock is mentioned in this article.
Additional disclosure: We recently initiated a short position on LULU directly through shares at $68