Among the big oil companies, BP (NYSE:BP) has turned in the worst performance on the stock market this year. In fact, BP shares are down close to 6% in 2016 while the likes of Chevron (NYSE:CVX), Exxon Mobil (NYSE:XOM) and Royal Dutch Shell (NYSE:RDS.A) (NYSE:RDS.B) are up in single digits. This indicates that BP has been unable to take advantage of the recovery in oil prices over the past two and a half months, and this could be attributed to weakness in the company's downstream segment.
What gives?
Now, it was the downstream segment that had helped BP offset the weakness in the upstream due to strong refining margins, but as the year came to an end, the strength in the refining business tailed off. As shown in the chart given below, BP's downstream performance took a nosedive as the year ended: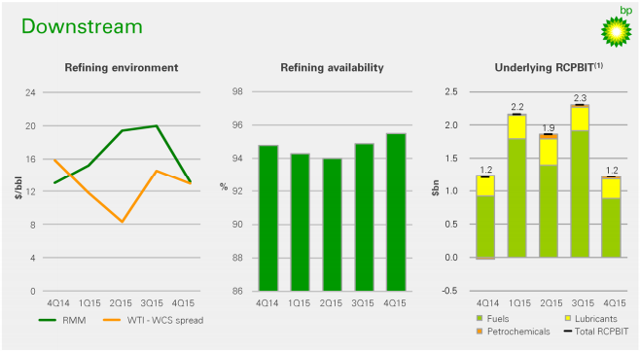 Source: BP
As we can see above, BP's refining margins fell steeply in the last quarter of 2015, leading to a sharp drop in the replacement cost of profit before interest and taxes. This drop in refining margins was a result of oversupply in the gasoline market, which created huge pressure on BP as for a $1 drop in refining margins, the company's pre-tax adjusted earnings go down by $500 million annually.
Now, global refining margins were down 34% in the last quarter of 2015, and the trend continued in 2016 due to oversupply. In fact, during the month of January, gasoline demand in the U.S. was down for the first time in over a year, dropping by 48,000 barrels per day as compared to last year. However, this decline in gasoline consumption in the U.S. was probably a one-off event since a blizzard late in the month led to weak demand.
So, it is not surprising to see why BP has been under pressure this year. However, from the middle of February, gasoline futures have started picking up pace, as shown in the chart below: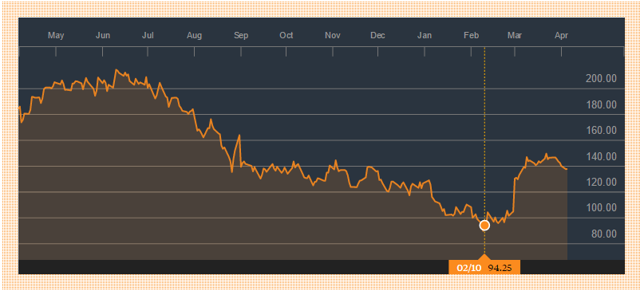 Source: RBOB Gasoline Bloomberg
Going forward, it is likely that gasoline futures will continue to improve, thereby leading to an improvement in refining spreads. Let's see why.
Improving gasoline prices and demand will be a tailwind for refining
As we move into the summer months, the demand for gasoline will increase and lower the oversupply in the market. In fact, the EIA has been consistently raising forecasts for gasoline consumption of late. As reported by Bloomberg:
"In December 2015, the EIA predicted gasoline consumption would rise by just 10,000 bpd in 2016. By January, it had upped its forecast increase to 70,000 bpd and in March, the agency raised the number to 90,000 bpd ("Short-Term Energy Outlook", EIA, December 2015 to March 2016 editions)."
Now, I won't be surprised if the EIA continues to raise its forecasts going forward, as gasoline consumption has picked up impressive pace of late as the weather has improved. For instance, gasoline consumption in the U.S. had averaged 9.4 million barrels per day in the four week period that ended on March 11, an increase of 560,000 bpd from last year. This run rate is higher than consumption of 9.16 million bpd of gasoline consumption seen in 2015 and more than the record of 9.3 million bpd seen in 2007.
All in all, for 2016, gasoline demand has averaged 9.1 million bpd, up 3.7% from 2015. As the year progresses, demand for gasoline will continue to increase. In fact, in the second quarter, gasoline demand is expected to remain strong at 9.38 million bpd, leading to a drop in the oversupply. Ultimately, gasoline prices will touch a high in the spring and summer months, driven by the advent of the driving season as shown below: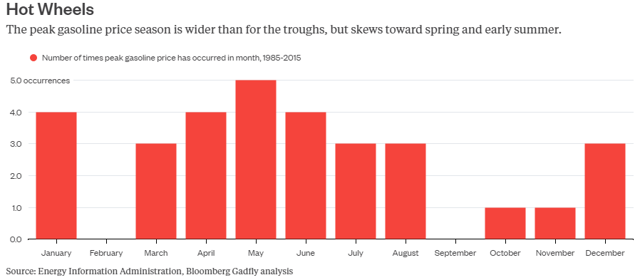 Source: Bloomberg
Additionally, an improvement in gasoline demand in other regions such as India and China will also play a key role in improving demand. For instance, on the back of growing automotive sales and a preference for petrol-driven cars, gasoline sales in India rose by 11.8% in December last year as car sales increased 13%.
Now, in the long run, India will continue to be a key consumer of gasoline since car registrations are anticipated to grow by 18% by 2020 as compared to 2016. Similarly, in China, the demand for gasoline will go up as sales of vehicles are expected to rise by 6%. Over the long run, gasoline will overtake diesel consumption in China as the fuel is expected to clock a growth rate of 6.2% a year till 2025, while diesel consumption will rise by just 1.3% a year. Therefore, in the long run, demand for gasoline is set to increase and this is good news for BP's refining business after a difficult time in the past few months.
Conclusion
As discussed at the beginning of the article, a weak refining environment was a key reason why BP saw a drop in its profit at the end of last year. However, things are changing for the better as the summer season approaches, as this will lead to higher demand and reduce the oversupply that was disturbing BP's downstream business. In fact, gasoline futures have already started picking up pace, and the situation should continue to get better in the long run as demand from China and India improves.
Thus, as the refining margins get better, BP should be able to make a comeback going forward.
Disclosure: I/we have no positions in any stocks mentioned, and no plans to initiate any positions within the next 72 hours.
I wrote this article myself, and it expresses my own opinions. I am not receiving compensation for it (other than from Seeking Alpha). I have no business relationship with any company whose stock is mentioned in this article.