After a challenging 2015, Mastec (NYSE:MTZ) remains an attractively valued beneficiary of two strong infrastructure growth trends in the U.S. -- oil and gas pipeline and data growth. Pipelines are the most efficient way to move oil and gas across land. Wireless and wireline are the most efficient ways to move data (sorry, USPS). Both of these mediums require billions of dollars in capital expenditure, from which Mastec will create tremendous shareholder value by offering high-demand services.
Background
Mastec is a leading North America infrastructure construction company with 16,000 employees, and is the No. 3 North American specialty contractor (per Engineering News-Record) and No. 1 in communications. Mastec offers engineering, building, installation and maintenance services, both union and non-union.
The company's 2015 year-end 18-month backlog was $5.7 billion, +31% year over year and +24% quarter over quarter. It has 2016 sales guidance of $4.6-$4.8 billion, +10%-14%. Its 2016 adjusted EBITDA guidance of $415-$430 million (9% EBITDA margins) is in contrast to its 2015 adjusted EBITDA of $308 million (7% EBITDA margins).
Backlog by Quarter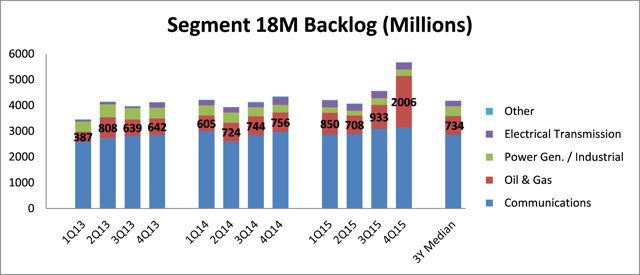 Source: Company Filings
The level of mainline activity is unprecedented. As demonstrated in our backlog, we signed over $1.4 billion worth of projects in the fourth quarter.

We also expect further awards, similar in value, to be awarded in the coming quarters for work to be performed in 2017 and 2018. (Source: Mastec 2/24/16 Earnings Call)
Analysis - Oil and Gas Pipeline Opportunity
Mastec is building miles upon miles of pipeline, and this is not yet appreciated by the stock. The numbers speak for themselves, 2015 year-end oil and gas backlog of $2.0 billion, up +115% quarter over quarter and +165% year over year. The North American long haul pipeline project backlog continues to surge, most recently with Energy Transfer's (NYSE:ETP) Bakken Pipeline.
Mastec has oil and gas prospects beyond the Bakken pipeline. North America is in the early stages of hockey stick growth for natural gas pipelines from Texas to Mexico. Kinder Morgan is already piping gas to Mexico, and Mastec recently teamed up with Carlos Slim. Not only does Mastec have plenty of work cut out for them, pipeline construction is very good for profitability and 2016 guidance for 12.6% EBITDA margins in the segment.
Bakken Pipeline - Approved by All Four States as of March 2016
The single biggest contributor to Mastec backlog is the $3.7 Billion Dakota Access Pipeline, aka the "Bakken Pipeline." The Bakken Pipeline is a joint venture between ETP, Sunoco Logistics (NYSE:SXL) and Phillips 66 (NYSE:PSX). The project spans four states, and will run from the Bakken in North Dakota into Illinois.
Since Mastec and ETP's earnings calls in February 2016, there has been one major development. All fourf states have approved the project, including Iowa in March 2016. ETP management expects to have oil flowing by January 2017:
We do expect to be flowing oil by January 1, 2017 and it's very realistic that that's going to happen at this point. (Source: Energy Transfer 2/26/16 Earnings Call)
Natural Gas Pipelines to Mexico, Mastec's Next Oil and Gas Wave
High demand in Mexico + Excess supply in U.S. = Pipelines
Simply put, the U.S. has too much natural gas in Texas and Oklahoma, NGL is expensive, and Mexico is starting to need a lot of natural gas. As of January 2016, Mastec is working with Carlos Slim to build the 143 mile Waha Gas Pipeline, from West Texas to Chihuahua to help power Mexican households via natural gas burning plants. Mastec will continue to see backlog growth from this opportunity.
Mexico's import needs are rising as domestic production stagnates and as demand increases, particularly in the electricity sector. Consequently, Mexico will rely on increased pipeline imports of natural gas from the United States and liquefied natural gas from other countries. (Source: EIA)

Source: EIA
Mexico's Federal Electricity Commission has committed $10 Billion to pipelines from Texas. Per Mastec, management expects >2,500 miles of oil and gas pipelines with capacity for >10 Bcf/d to support Mexican natural gas demand doubling to 7.7 Bcf/d by 2028, from 34.6 gigawatts of new natural gas fired electric generation capacity. Kinder Morgan's (NYSE:KMI) Sierrita Pipeline is online, with capacity for 1.9Bcf/day with a 36" 60-mile pipe from El Paso.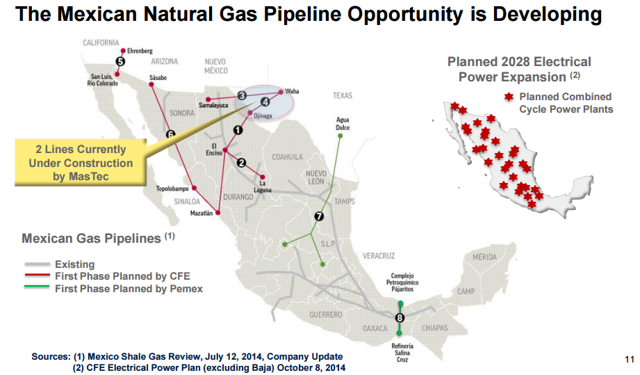 Source: Company Presentation
Analysis - Wireless/Wireline Capex Is Back, Data Usage Continues to Grow
However cliché this sounds, data growth remains a great secular growth opportunity. Mastec is laying the infrastructure for U.S. data consumers to continue to accesss the Internet. With over $3 Billion in backlog for the segment, Mastec has plenty of work ahead of it.
Mastec is the largest wireless construction service contractor in the country, and telecom and cable capex is rebounding aggressively after their biggest customer AT&T (NYSE:T) digested 2015 M&A. The industry is seeing heavy investment in both wireless and wireline, reflected in Mastec 's communications 2015 year-end backlog of $3.1B, up +2% QQ and +35% YY.
On the wireless side, Mastec has many years of experience in planning, erecting and maintaining cell towers with wireless data consumption showing no signs of slowing. Mastec is also seeing the beginning stages of investment in 5G.
On the wireline side, gigabit fiber-to-the-home is progressing fast by key players in metro markets, with recent announcements by Google in >20 cities, AT&T in 56 cities, CenturyLink in 16 cities. Gigabit is slowly becoming the standard, a massive capex opportunity, costing $750- $1,200 per home.
Segment Overview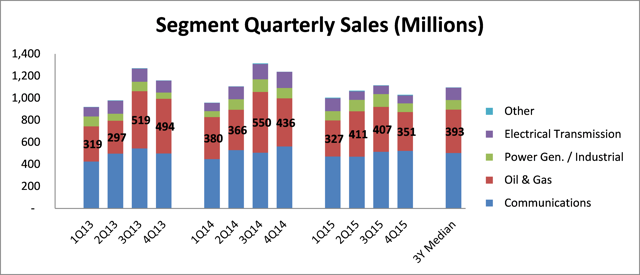 Source: Company Filings
The oil and gas segment builds petroleum and natural gas pipelines and facilities. The oil and gas segment represents 35% of 2015 backlog and 36% of 2015 sales. Oil and gas customer concentration based on 2015 revenues is as follows: Energy Transfer at 7%, Momentum Midstream at 6%, MidAmerican Energy at 3%, Duke Energy at 3%, Plains All American Pipeline at 2%, and CNRL at 2%.
The telecommunications segment offers contracting for the wireless, wireline/fiber and install-to-the-home markets. The communications segment represents 55% of 2015 backlog and 47% of 2015 sales. Communications customer concentration based on 2015 Revenues is as follows: AT&T at 18%, DIRECTV at 14%, (AT&T combined at 32%), Sprint at 2%, and Verizon at 2%.
The electrical transmission and distribution/power generation and industrial segments have a strong reputation in wind farm, civil/electrical substation and transmission line integration, benefiting from ageing grid infrastructure.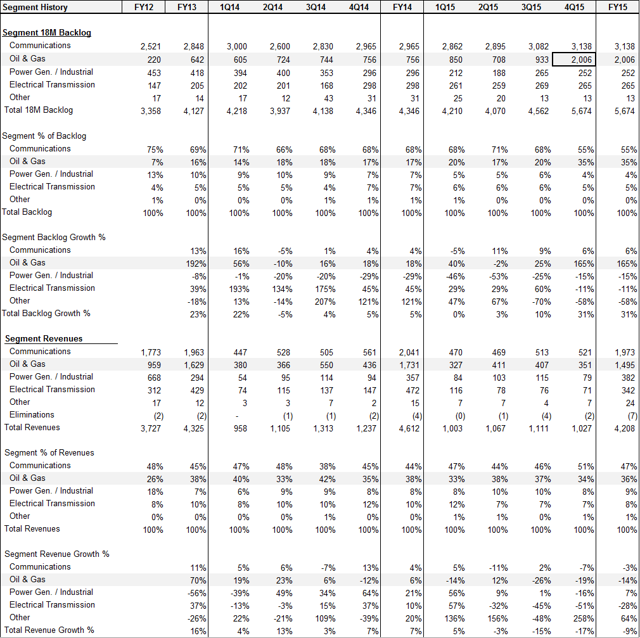 Source: Company Filings
What Happened to the Stock in 2015?
The stock is attractively valued after surviving a tough 2015. Every segment experienced operating weakness, compounded by management getting sidetracked by an audit committee investigation resulting in restatements related to percentage-of-completion accounting.
The best thing about 2015 is that it's over. It was a difficult year. We experienced significant organic revenue declines in our Oil and Gas segments and in our wireless operations. These declines negatively impacted full year margins. We also dealt with the effects of our audit committee investigation, which led to disruption in our Electrical Transmission segment, where we also experienced significant revenue declines, coupled with very poor financial results. (Source: Mastec 2/24/16 Earnings Call)
Valuation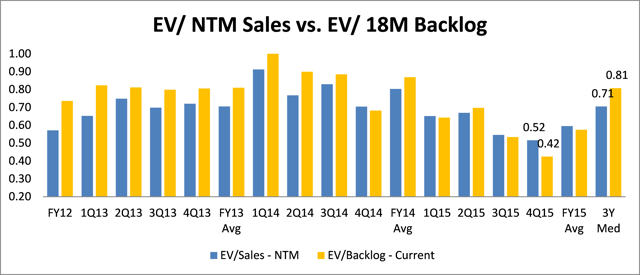 Source: Bloomberg, Company Filings
$37 Target price = 0.7x 2015 backlog = [(0.7x$5.7 Billion)-$1.0 billion net debt] / 81M shares
Current valuations versus trailing 12 quarters "T12Q" median:
0.46x 2015 Enterprise Value / Backlog vs. T12Q 0.8x
0.55x Enterprise Value / 2016 Sales vs. T12Q 0.7x
14.0x Price / 2016 EPS vs. T12Q 23.5x
6.0x Enterprise / 2016 EBITDA vs. T12Q 9.0x
Net Debt of $1 Billion is manageable at less than 2.5x 2016 EBITDA. In spite of 2015 weakness, management executed $100M buybacks + Debt Pay down.
Conclusion
If you believe the Bakken Pipeline will be built, Texas will pipe natural gas to Mexico and data growth will continue, Mastec is a good bet at current valuations after a challenging 2015.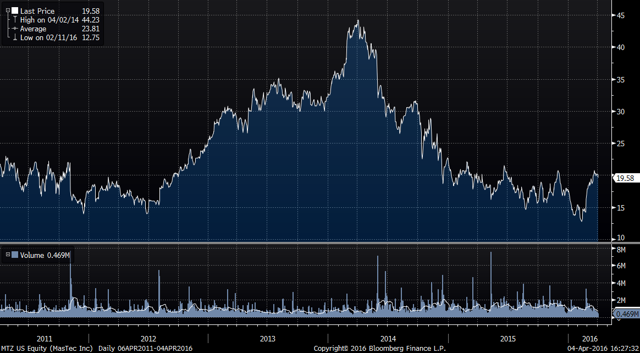 Source: Bloomberg
Disclosure: I am/we are long MTZ.
I wrote this article myself, and it expresses my own opinions. I am not receiving compensation for it. I have no business relationship with any company whose stock is mentioned in this article.