ARMOUR Residential REIT (NYSE:ARR) announced their dividend cut Monday, April 4th. Since shares are down over 1%, it would appear that the market was reacting unfavorably to the news. That might be the case, but most of the mREITs I'm following were down between 1.1% and .5% on the day, so I don't see any reason to believe that this is a strong reaction.
The new dividend was announced at $.27 per month for the second quarter. Relative to the prior dividend of $.33 per share, the 18.2% cut is bound to sting. The news shouldn't come as a surprise. I've been telling shareholders that ARR's dividend was unsustainable for months and indicated that I expect several mREITs to announce dividend cuts during 2016.
Core EPS
Many analysts and investors use Core EPS as their primary metric for assessing the sustainability of the dividend. In the last two quarters Core EPS appeared solid and provided investors with the illusion of safety in the dividend. Unfortunately, the strong performance on Core EPS was tied to a low net interest payment required on swaps relative to the amount of hedge protection ARR was carrying. The smaller net interest payment is a natural consequence of using "forward starting swaps" rather than "current pay swaps." Seeing the way forward starting swaps were rolling towards their start dates gave me reason to believe Core EPS would see a significant decline in 2016.
Usually there is a transcript on Seeking Alpha for the earnings call, but there was none for the Q4 2015 earnings call by ARR. I found an alternative edited transcript on Yahoo. On the earnings call management stated:
"Our core earnings of $1.10 a share exceeded dividends paid of $0.99 in the fourth quarter. We have continued a monthly dividend rate of $0.33 per share so far this year, though we expect earnings in the first few months will be well below that level due to the higher funding costs versus Q4 2015 and the end of our dollar-roll transactions, which have had a great income for ARMOUR over the last couple quarters."
The comment about earnings being lower due to the cost of funds supported the assessment that these swaps would be transferred to the current book rather than terminated with new forward starting swaps used. That was a fairly clear signal that the dividend would need to be trimmed.
Portfolio Updates
The last portfolio update for ARR was during January of 2016. They were regularly publishing monthly updates, but they needed to deal with the buyout of Javelin Mortgage Investment (NYSE:JMI) during the quarter. I would expect that to involve a significant amount of work.
The last portfolio update in January provided the following information: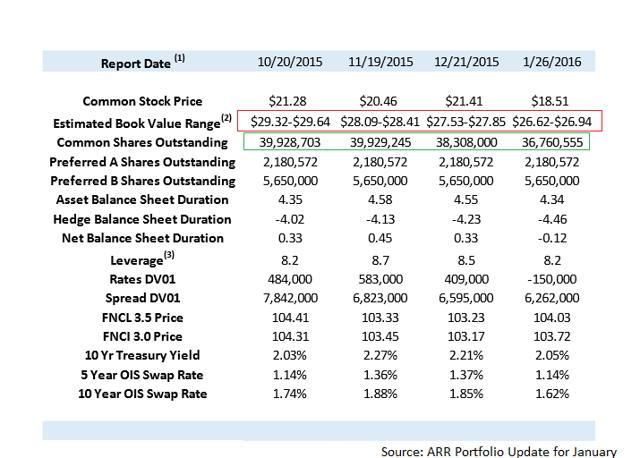 Book Value
I frequently provide book value estimates for some of the mREITs I cover, and I provided some for ARR about two weeks ago. While there has been no announcement from ARR indicating their current book value, I believe my prior estimate was off by a material amount. No analyst wants to make a mistake, but I found an error in my estimates and need to revise them. These errors should not have a material impact on my estimates for other mREITs because the calculations were tied to a specific asset class.
Specifically, the total estimates for MBS did not correctly include the impact of the agency DUS position. I found the error when I was working on my new estimates for the end of March. The fair value gain from these positions should be roughly in the ball park of $2.57 per share. Incorporating this impact moves my estimate of book value to somewhere around $26.26. I'll still be working to revise it as I estimate the gains from the purchase of JMI at a discount to book value, the impact of net interest payments, and a revision towards lower earnings estimates in line with the change in net interest payments. Because I still need to factor these things in, my estimates remain fairly rough. If the portfolio underwent material changes in preparation for the acquisition of JMI, it could result in further challenges for forecasting the book value at the end of Q1.
Discount
Based on a rough estimation of $26.26 in book value at the end of Q1 and a current price (during trading on April 4th) of $21.38, it appears the discount to current book value would be running around 18% to 19%. This comes in higher than peers and completely mitigates my concerns about ARR underperforming the sector. At these discounts I see no reason to believe ARR's performance would be materially different from that of peers, though estimation for this quarter will remain challenging and there is the potential for larger surprises (either positive or negative) when Q1 results are reported.
Not Touching Shares
While I frequently provide a disclosure that I am regularly browsing the mREIT market and may buy or sell securities whenever I locate favorable pricing, I have not traded in ARR and do not intend to do so in the near future regardless of market prices. This is simply to follow my ethical guidelines.
Disclosure: I/we have no positions in any stocks mentioned, and no plans to initiate any positions within the next 72 hours.
I wrote this article myself, and it expresses my own opinions. I am not receiving compensation for it (other than from Seeking Alpha). I have no business relationship with any company whose stock is mentioned in this article.
Additional disclosure: Information in this article represents the opinion of the analyst. All statements are represented as opinions, rather than facts, and should not be construed as advice to buy or sell a security. This article is prepared solely for publication on Seeking Alpha and any reproduction of it on other sites is unauthorized. Ratings of "outperform" and "underperform" reflect the analyst's estimation of a divergence between the market value for a security and the price that would be appropriate given the potential for risks and returns relative to other securities. The analyst does not know your particular objectives for returns or constraints upon investing. All investors are encouraged to do their own research before making any investment decision. Information is regularly obtained from Yahoo Finance, Google Finance, and SEC Database. If Yahoo, Google, or the SEC database contained faulty or old information it could be incorporated into my analysis.