Background
Cal-Maine Foods (NASDAQ:CALM) is the biggest egg producer in the United States. It currently holds 23% of the market share. Its growth strategy includes acquisitions and increasing its specialty egg production. Cal-Maine's egg brands include Egg-Land's Best, Land O' Lakes, Farmhouse, and 4-Grain.
Recent Information
Cal-Maine's stock price has rapidly grown. From April 2006 to now, Cal-Maine's stock has risen from $3.63 to over $52, an approximate CAGR of 130.25%.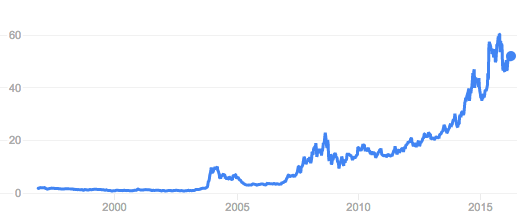 Source: Google
And, Cal-Maine's sales have consistently increased and are likely to increase in 2016. From 2006 through 2015, Cal-Maine's sales have increased by 330%.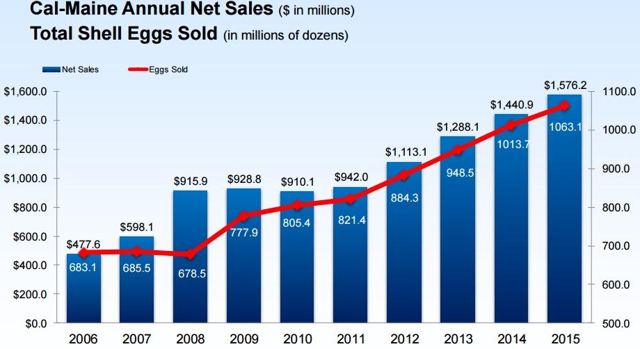 Source: Company Presentation
After disappointing results in Q2 FY16, which were released on December 25, 2015, Cal-Maine's Q3 results beat analyst projections. Cal-Maine's EPS was $1.33, which topped analyst estimates of $0.99 by $0.34. And, Cal-Maine increased revenue by 3% to $463.6 million. Cal-Maine's stock rose 8.8% on Monday, March 28 after Q3 FY16 earnings reports.
There are currently 5 analysts covering Cal-Maine. Of them, 2 issued a buy rating, 2 issued a hold rating, and 1 issued a sell rating. The main reason cited for the 2 hold ratings and 1 sell rating is the decreasing prices of eggs. Due to an outbreak of influenza, approximately 13% of American egg-laying hens died in spring 2015. None of Cal-Maine's hens suffered from the outbreak, and as a result, they benefited greatly. The decreased population of egg-producing hens in the United States caused egg prices to increase drastically. Because the outbreak caused egg prices to artificially rise, egg prices are now declining, as the industry recovers from the outbreak. Even though egg prices are indeed declining, these analysts have overlooked the reasons why Cal-Maine will be able to more than offset these declining egg prices.
Analysis
Industry Trends
Increasing Egg Consumption
First of all, even though egg prices are declining, egg consumption in the United States is projected to return to pre-influenza highs by 2017.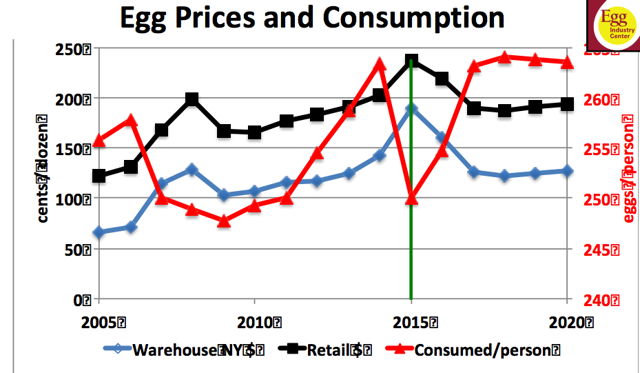 Source: USDA
I actually believe that egg consumption in the United States will grow far more than shown in this chart from 2017 to 2020 because Americans continue to eat healthier diets.
I like the egg market long term because America is growing increasingly healthy. According to a report from the Wall Street Journal, working adults are eating 118 fewer calories per day right now than they were in 2010. As Americans further alter their diets, it is going to have to start with breakfast. The main foods eaten for breakfast are: waffles, pancakes, french toast, cereal, bread products, breakfast meats, oatmeal, yogurt, and eggs. The majority of available food options for breakfast are very unhealthy. As a result, egg sales are already increasing, as unhealthy alternatives, such as sugar and carbohydrate options, are declining.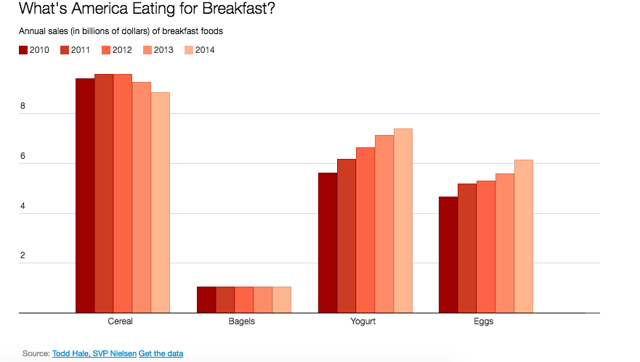 Increasing Specialty Egg Sales
In addition to increasing the industry's egg sales as a whole, specialty egg sales, including organic eggs and cage-free eggs, will increase because of Americans eating healthier diets and the increasing prevalence of the Animals' Rights Movement. Specialty eggs are regular eggs with extra benefits, such as health advantages or improved animal welfare.
1. Organic Eggs
As I previously mentioned, America's healthier eating habits will cause organic egg sales to keep growing. Research and Markets projects the organic food and beverage industry to be a $212 billion industry from a mere $84 billion in 2014. In addition, an Organic Trade Association chart shows how drastically U.S. Organic Sales have increased.

2. Cage-free Eggs
The second consumer trend that will benefit specialty eggs is the push for animals' rights. Because of activists and protests, a number of food producers, grocery stores, and franchises, including McDonald's (NYSE:MCD), Costco (NASDAQ:COST), Mondelez (NASDAQ:MDLZ), Trader Joe's, PepsiCo (NYSE:PEP), and more, have pledged to moving to using and selling only cage-free eggs. As more and more chains have agreed to sell cage-free eggs, more and more of the egg market has consisted of cage-free eggs.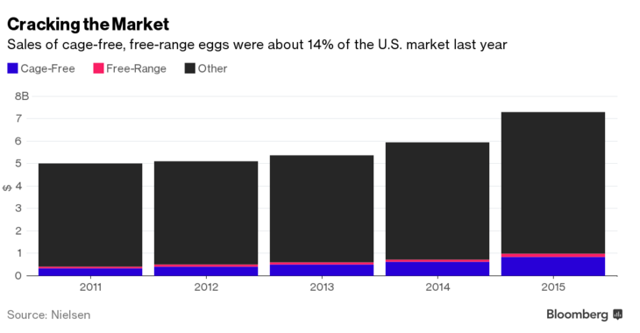 Cal-Maine
Increasing Specialty Egg Sales
As Cal-Maine's management focuses more on specialty egg sales, Cal-Maine will be able to continue growing. Cal-Maine's specialty eggs, including organic eggs and cage-free eggs, are a key component that will allow Cal-Maine to continue growing its revenue. Specialty eggs revenue increased from 27.9% of Cal-Maine's sales in Q2 FY16 to 31% of their sales in Q3 FY16.
1. Organic Eggs
As organic eggs become a larger part of egg sales, Cal-Maine will be able to obtain a greater market share. Organic eggs are extremely expensive to produce so very few small egg companies produce them. Because the egg industry is extremely fragmented and the top 10 egg companies only account for a 47% market share, Cal-Maine will be able to have a large portion of organic egg sales and thus, a greater market share of the overall egg industry.
Cal-Maine also has an advantage over its competitors because its vertical integration allows it to produce organic eggs at a cheaper price than most of these competitors. In addition to the increased market share, the high prices of organic eggs will enable Cal-Maine to increase revenue. A 2015 consumer study shows how much more organic eggs cost than regular eggs. This first chart shows the cost of regular eggs in comparison to organic eggs on Amazon (NASDAQ:AMZN) Fresh, Fresh Direct, Harris Teeter, and Peapod.

Source: ConsumerReports
This second chart shows the price difference at Price Chopper, Safeway (NYSE:SWY), Wal-Mart (NYSE:WMT), and Whole Foods (NASDAQ:WFM).

Source: ConsumerReports
Although this study represents egg retail prices in the midst of the influenza crisis, the average wholesale value of organic eggs is still drastically greater than that of regular eggs today.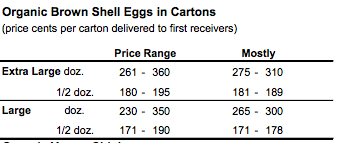 Source: USDA
This chart shows that as of right now, the average wholesale price of a dozen organic eggs is between $2.30 and $2.50. On the other hand, the average wholesale price of a dozen regular eggs is much lower.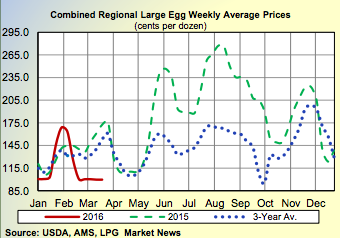 Source: USDA
As I have shown, Cal-Maine can increase its market share through organic eggs and produce them for less than its competitors, while selling them for significantly higher prices than regular eggs.
2. Cage-free Eggs
Like the production of organic eggs, cage-free farms are 36% more expensive to operate. In addition, if they are not managed properly, up to 1/3 of the hens can die because diseases are more likely to spread and the hens can kill each other. Thus, even though it is 36% more expensive to operate a cage-free hen farm, it is even more expensive to successfully operate it.
As a result, like with organic eggs, many of the smaller egg companies do not produce cage-free eggs. This creates another opportunity for Cal-Maine to grow market share and increase sales. However, just like organic eggs, they are much more expensive. According to Bloomberg News, while the average price for a dozen regular eggs is between $1.31 and $1.45, the average for a dozen cage-free eggs is $3.42.
Thus, these two types of specialty eggs provide a large growth opportunity for Cal-Maine. Another benefit of selling specialty eggs is that while the price of regular eggs has had a large decrease, the price of organic eggs has remained relatively constant. So, as more of Cal-Maine's business becomes specialty eggs, they will be less affected by egg price volatility.
Acquisitions and Joint Ventures
Another way Cal-Maine's management intends to increase sales and market share is through acquisitions and joint ventures. Since 1989, Cal-Maine has successfully completed 18 acquisitions. Cal-Maine's management has been very successful in integrating other companies and consolidating in order to obtain a greater market share and increase revenue. Further, because most of Cal-Maine's sales occur in the South and Mid-West, they could use acquisitions to become more prominent in the West and East.
Cal-Maine's recent acquisitions include: an $18.8 million purchase of a farm with a 1.4 million hen production capacity from Pilgrim's Pride, a $60 million purchase of a farm with a 3.5 million hen production capacity and .5 million contracted hens from Maxim Production, and a $17 million purchase of 50% membership interest in Delta Egg Farm (now a wholly-owned subsidiary of Cal-Maine), including a total of 1.6 million total egg production capacity on March 1, 2014.
These acquisitions provide a pivotal opportunity for Cal-Maine to increase efficiency. From the purchase of Delta Egg Farm, Cal-Maine obtained a farm in Kansas with a .4 million organic egg production capacity, which will help them further meet consumer demand for organic eggs. In addition, they obtained a farm in Utah with a 1.2 million production capacity that will allow them to grow their presence in the West. In addition, Cal-Maine has obtained farms in Kentucky, Texas, and Arkansas to increase cage-free and organic egg production.
In Texas, Cal-Maine has entered a joint venture with Red River Valley Egg Farm. This joint venture allows them to use Red River Valley Egg Farm's patent pending cage-free technology that makes the process cheaper and less risky. Their joint farm has permits for up to 2.9 million laying hens. This joint venture is vital for Cal-Maine to gain a larger market share of the cage-free egg market and transition to a predominantly cage-free egg company.
These past acquisitions will not only allow Cal-Maine to increase production and sales, but it will also allow them to be more efficient. This increased efficiency is a main reason why Cal-Maine will be able to surpass declining egg prices. Even as egg prices go down, their ability to produce eggs at cheaper costs will enable them to still be profitable. Cal-Maine will most likely make more acquisitions in the next few years, as it is a key component of their growth strategy.
Low Feed Prices
Cal-Maine will also be a good long-term investment in the fact that feed prices will remain low. Even though egg prices are declining, Cal-Maine's increased efficiency and the low prices to feed the hens will offset the money lost from these declining egg prices. Shown below is the USDA's projected price of Corn, wheat and soybeans through 2025.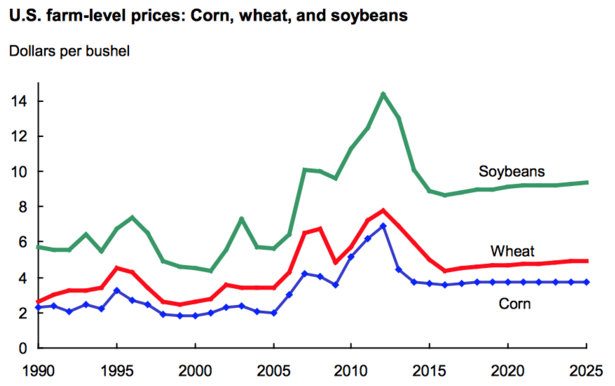 Source: USDA
After recently declining, this chart shows that both soybean and corn prices will remain relatively low for the next 10 years, which makes the price to produce a dozen eggs much less.
Low Valuation
Cal-Maine's stock will also continue increasing in that it is very undervalued. An analysis from CapitalCube shows that Cal-Maine has the best fundamental score out of its peers and is the most undervalued.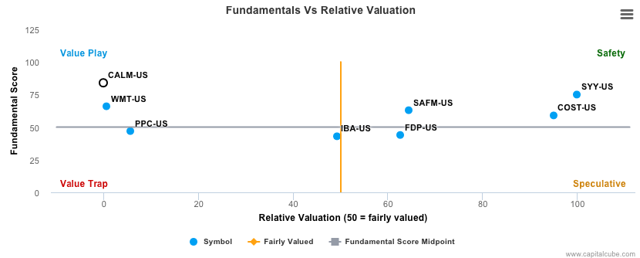 On the y-axis is the fundamental score of the company and on the x-axis is the relative valuation. Not only is Cal-Maine the highest on the y-axis, but it is also the farthest left on the x-axis, making it an exceptional value play.
Further, Cal-Maine has a far lower Current P/E ratio, EV/EBITDA, and PEG ratio than its industry averages. Below is a chart comparing Cal-Maine's valuation ratios to those of its peers and to the industry averages. Cal-Maine could be classified under 3 different industries: Farming/Agriculture, Food Processing, and Food Wholesalers.

Source: Yahoo Finance and Stern Business School
The green represents Cal-Maine's multiple being lower than all of its peers and the averages of the three possible sectors it could be classified under. As shown, Cal-Maine is undervalued relative to both its industry and its immediate peers. This idea is reiterated through GuruFocus' analysis of Cal-Maine's value relative to its industry.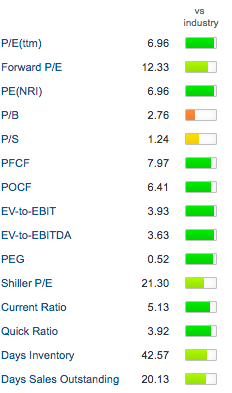 Besides price to book and price to sales, all of its other valuation multiples are low relative to its industry, which makes Cal-Maine an even more appealing investment.
Low Interest Rates
My next major reason to invest in Cal-Maine is that the current American macro-economic trends are very favorable for the stock. This week, the most recent release of labor statistics revealed an increase in unemployment. With the uncertainty of the American economy, interest rates are likely to remain relatively low. On Tuesday, March 29, Janet Yellen announced that we are likely to see very gradual rate increases over the course of the next few years, implying that rates will remain relatively low for the next few years. When rates are low, high dividend stocks become even more appealing. Cal-Maine is a high dividend stock, whose dividend can safely remain around its current rate of 5%. Cal-Maine's dividend is high compared to the rest of the industry, as shown by this chart from GuruFocus.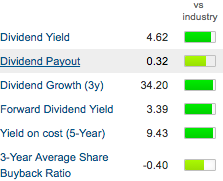 Because of Cal-Maine's high dividend relative to both its industry and the rest of the market, it is extremely appealing to investors, as interest rates remain low.
Cal-Maine's Lack of Dependence on Egg Prices
While the pessimistic analysts believe that Cal-Maine's stock will go down because egg prices are declining, this has not proven true in the past.
Between April 2008 and July 2010, egg prices fell from $2.20 per dozen to $1.44 per dozen.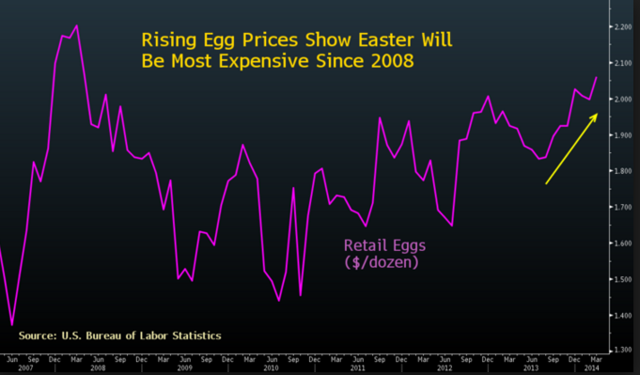 While egg prices decreased by 34.5%, from April 2008 to July 2010, Cal-Maine's stock increased from $13.72 to $16.21, approximately 18%.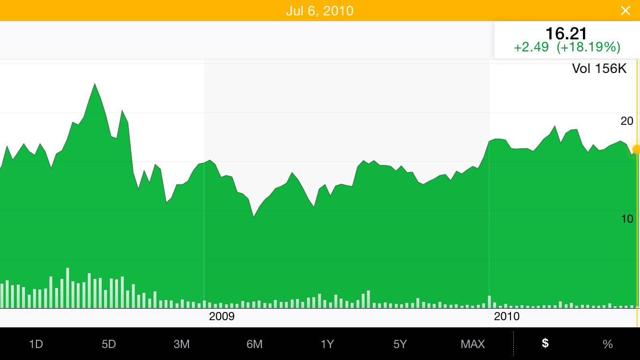 Further, in early 2004, U.S. wholesale egg prices were around $1.12 per dozen.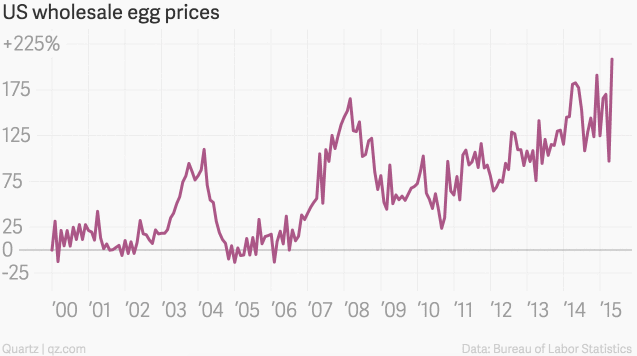 This chart that I used earlier shows that currently, U.S. wholesale egg prices are almost exactly $1 per dozen.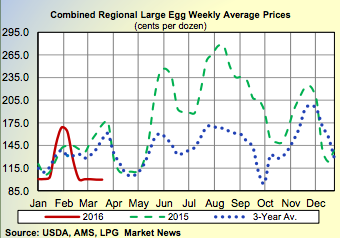 While egg prices have slightly decreased in the last 12 years, Cal-Maine's stock is up over 500%.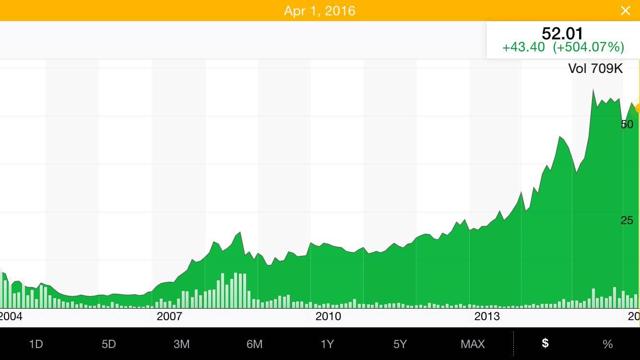 Even though egg prices drastically declined from April 2008 to July 2010 and slightly declined from 2004 to now, in both cases, Cal-Maine's stock was up. Thus, while Cal-Maine's stock is certainly affected by declining egg prices, declining egg prices do not necessarily mean that Cal-Maine's stock will decline as well.
Conclusion
Cal-Maine's growth will continue over the next few years due to its increasing role in the specialty egg market and its growth through acquisitions. Even if the Cal-Maine stock drops short-term, I think that it is a great long-term investment. As Cal-Maine uses acquisitions to increase margins and as feed prices remain low, Cal-Maine will be able to remain very profitable selling regular eggs, even as prices go down.
Further, as Cal-Maine's past stock performance has shown, the stock can thrive even when egg prices decline. In addition, as Cal-Maine moves more into the specialty egg market, they will be less affected by decreasing egg prices. I also believe that Cal-Maine will be able to increase growth as it becomes more popular in the East and West regions of the United States. As an investor, if you want to hedge out the market volatility of egg prices, I recommend shorting egg futures. Ultimately, Cal-Maine is a strong buy because it's extremely undervalued and has a variety of mechanisms that will enable it to keep growing.
Disclosure: I am/we are long CALM.
I wrote this article myself, and it expresses my own opinions. I am not receiving compensation for it. I have no business relationship with any company whose stock is mentioned in this article.