Perdition - noun - (in Christian theology) a state of eternal punishment and damnation into which a sinful and unrepentant person passes after death. Late Middle English: from Old French perdiciun, from ecclesiastical Latin perditio(n- ), from Latin perdere 'destroy', from per- 'completely, to destruction' + the base of dare 'put'; Complete or utter ruin.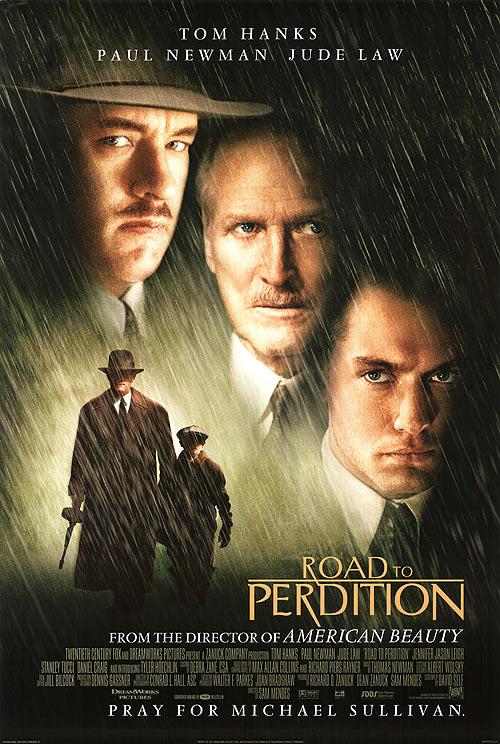 Nominated for six Academy awards in 2002, Road to Perdition stars Tom Hanks, Paul Newman (in his final live-action film role), Jude Law, and Daniel Craig. The plot takes place in 1931, during the Great Depression, following a mob enforcer and his son as they seek vengeance against a mobster who murdered the rest of their family. Themes examined in this "dark" film based on a graphic novel include: the consequence of violence, father-son relationships, and the "uncontrollability" of fate which humans cannot control.
The question of "liquidity" or available "dollars" which we raised yesterday in Dollar Chaos? is nagging the markets. Global markets are down, with the Nikkei selling off big for a 4th straight day, the Yen gaining and the Dollar declining. Uninformed or detached MSM narrative claims that there is a "flight to safety" in the Yen (which we addressed in A Yen for Yuan?) and that none of this has to do with King Dollar. Unfortunately or fortunately, depending how one looks at it, the "dollar" due to its necessity for funding and market liquidity, is front and center at the moment.
Challenger Job Cuts
Challenger and Gray job cut reported the March figure for pink slips was 31.7% higher Yoy making it the fourth consecutive year-over-year increase. Through Q12016, employers announced 184,920 job cuts, up 31.8% Yoy from Q12015; Q12016 vs Q42015 +75.9% job cuts Layoffs are spreading from the energy sector, 90 day total +39.9% Yoy; retail sector +41%; computer sector +148%. Despite the MSM happy daze NAIRU narrative, the employment situation seems to be worsening and accelerating. More good news for our services based economy and spending, right?
GDP Now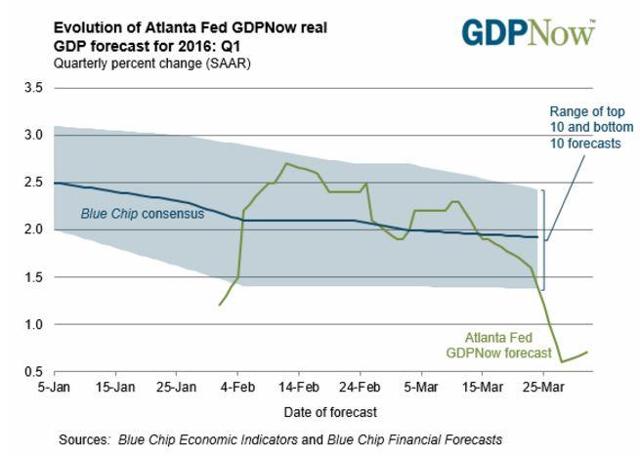 Above note, confirming the job cuts, the Atlanta Fed GDPNow model forecast for real GDP growth (seasonally adjusted annual rate) in Q12016 is 0.7 percent on April 1, up from 0.6 percent on March 28. We called for tepid Q4 GDP and got it, then for Q1 to hit recession level. GDP +0.7% is not quite negative as the numbers keep getting juiced to stay in positive territory, justifying the MSM narrative. Remember, it's an election year, keep calm, all is well.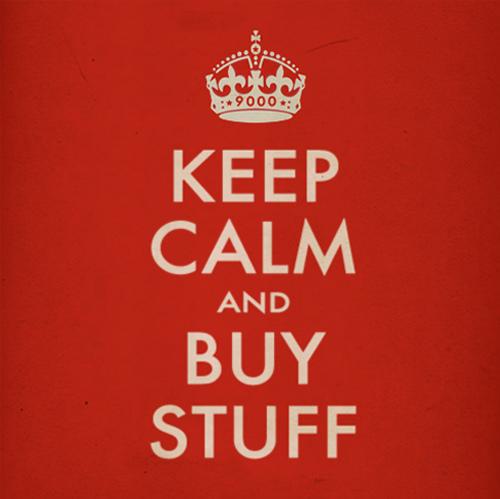 Wages - Spending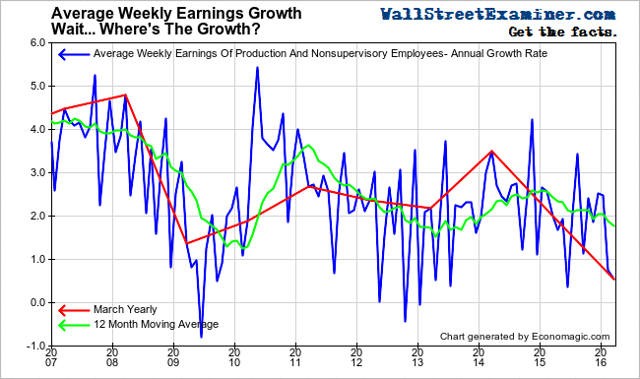 Confirming the above with wages and spending, average weekly wage growth in contraction since Oct 2010, which does wonders for spending. Since Jan 2015, spending or real PCE growth has contracted 28%. Nine years and Trillions in QE later we have achieved a level equivalent with Aug 2007, making progress?
Federal Tax Withholding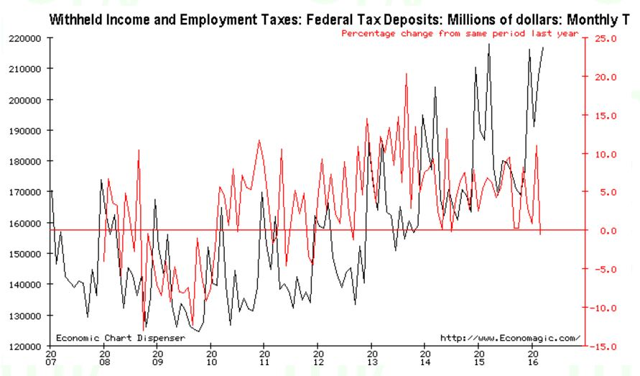 Above note, more confirmation in the clear divergence of Federal Tax Withholding Yoy growth (red line) since mid 2013, with the crossover at Jan 2014 and touching the zero line four times since. But it's getting better all the time, right?
BLS Jobs
The latest BS, er BLS jobs report was another statistical connivance and farce as we have previously Nattered in A Disingenuous Jobs Report? Super Tuesday Fallout? and In The Toilet?
In their latest work of estimated household fiction, the BLS claims that since September 2015, the seasonally adjusted employment level 148.9M has burgeoned by +1.6% or +2.4M to 151.3M. Excepting January 2000, this would be the largest 6 month % employment increase since 1984 (IMHO, the peak of our civilization) and the largest 6 month volume employment increase since 1948. Land o Goshen! Miracle of miracles, we have been delivered from perdition to the promised land?
Dathan doesn't think so... Federal Withholding Tax April 2014 - March 2015 = 2.14T; April 2015 - March 2016 = 2.23T; for a growth rate of 4.2% in the last 12 months. Now focus on the "deliverance" since Sept 2015: $1.35T and compare to the prior year period Sept 2014 - Mar 2015 = $1.31T for +$4B or a 3% Yoy growth rate.
Now the real math test, focus on the Yoy increases over that six month period, take the withholding increase of $4B and divide it by the +2.4M newly employed and you get a grand total of $1666 federal withholding tax per worker.
Ceteris paribus, people lose and gain jobs, some claim exempt, some claim more exemptions than others. If the same amount of people were employed, withholding might increase slightly? Averaging the 2.4M newly employed as single or married they are each earning est. $12.6K per year. Further confirmation of the "best job market in decades" and BLS discrepancies can be found in Jeffrey P. Snider's Payrolls As Statistics.
Manufacturing and Services
A Trifecta plus one... Industrial Production; Capacity Utilization; ISM Mfg (trifecta) employment and Non Mfg (services) new orders, employment and NMI index; ALL remain in NEGATIVE Yoy growth or contraction, which is recession territory. Witnessed by the ISM Inventories Index wallowing in negative mire, inventory to sales continues to swell backing up the production chain and hampering price support. Outside of manna from heaven or a helicopter drop, we fail to see where any economic impetus will arrive from. TBD. The charts linked to are so depressing, we decided not to post them, go ahead and click on them if you dare.
Accord and Money Aggregates
Commodities near term bottom at $26 for WTI was Jan 20 - Feb 11 right where we thought it might be. King Dollar was good till Jan 31, the mid point on that date range, since then a painful 6% pullback on DXY from 99 to 94. The risk aversion currency pairs we recommended on Jan 5th to some friends, for hedging long dollar positions; go long JPY vs. CAD; vs. EUR; vs. GBP; made out, especially the latter two.
The Shanghai accord, wink wink, was supposedly on Feb 26th. Since Jan 31st the "pile on" to fund in dollars through cross currency swaps is the main contributor to the King's pullback. Forward dollar swaps and spot interventions (China and EM's) have not helped either. Any selling of UST's is being offset by secondary market demand for that "quality" collateral or what is considered "money". Between now and April 15th watch the dollar as China will probably roll their swaps forward, which will require some out of pocket dollars.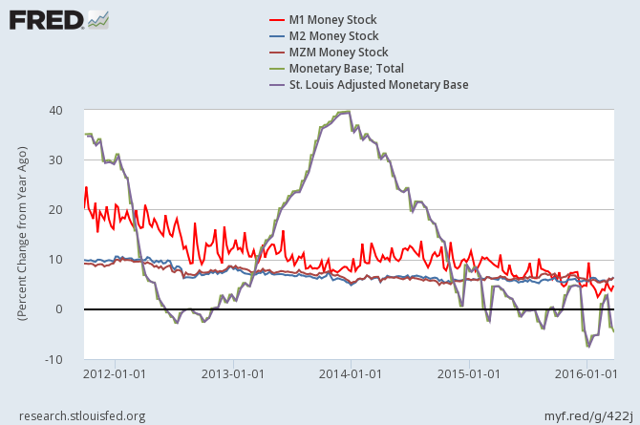 Above note, by all aggregate measures, M1, M2, MZM, StLAMB, the money supply growth rates are still in contraction, with the monetary base in negative territory, shrinking. Between now and June 21st, monetary flows slowly contract down to a trickle for the mid year seasonal squeeze.
Combine those two factors with the forward swaps, which all say less available dollars, add the ongoing contraction in global economic conditions, you have less petro and euro dollars floating as well. Big question is, what will happen with the yen, euro, CHF dollar carry trade or cross currency swaps?
Watch the premium on that "behavior" vis. cross currency basis swap 5 yr for those currencies vs. USD, and the corresponding sovereign bond yields. The steeper the swap basis and bond yields get, vis. negative, the higher the carry cost for the both the lender of dollars and the borrower.
Said premium is a measure of liquidity or in this case, dollar ill-liquidity. As it rises, more are engaging in said activity, meaning that more "dollars" are hitting the market. As mentioned yesterday, at some point, due to costs, either the buyers can no longer afford the premium and/or sellers margin gets squeezed, and the market dries up. In that event, where will those "dollar junkies" obtain their fix as a last resort? Watch Central Bank Liquidity Swaps held at the Fed, and if the Fed falters, then refer to the IMF SDR (special drawing rights) fact sheet. TBD.
With regard to the above, we examined the FX and macro concepts involved in: In The Toilet?, Rally Dance?, Need For Speed?, In Time? and The Balance?
Would like to thank you folks fer kindly droppin in. You're all invited back again to this locality. To have a heapin helpin of Nattering hospitality. Naybob that is. Set a spell, take your shoes off. Y'all come back now, y'hear!
This is the 26th in a series of thematically related missives which will attempt to identify the macroeconomic forces with potential to adversely effect capital, commodity, equity, bond and asset markets.
I wish to dedicate this missive to one of my mentors, Salmo Trutta, who is a prolific commenter on SA. Without Salmo's tutelage, and insistence in not masticating and spoon feeding the baby ducks, as in learning the hard way by doing the leg work and earning it, this missive would not have been possible. To you "Proximo"... "win the crowd and win your freedom" - Spaniard
Disclaimer
Investing is an inherently risky activity, and investors must always be prepared to potentially lose some or all of an investment's value. Past performance is, of course, no guarantee of future results.
Before investing, investors should consider carefully the investment objectives, risks, charges and expenses of an investment vehicle. This and other important information is contained in the prospectus and summary prospectus, which can be obtained from the principal or a financial advisor. Prospective investors should read the prospectus carefully before investing.
Market Plays
As for how all of the above ties into the potential and partial list of market plays below... the market as a whole could be influenced, and this could tie into any list of investments or assets. Those listed below happen to influence the indices more than most.
There are many macroeconomic cross sector and market asset correlations involved that affect your investments. Economic conditions, the eurodollar, global dollar debt and monetary policy all influence the valuation of the above and market plays below, via King Dollar's value, credit spreads, swap spread pricing, market making, liquidity, monetary supply and velocity, just to name a few. For a complete missive series listing covering those subject and more,click here.
The potential global economic developments discussed in this missive could affect numerous capital and asset markets, sectors, indexes, commodities, forex, bonds, mutual funds, ETFs and stocks.
A List of 17 Potential Market Plays (Long or Short?): Apple Computer (NASDAQ:AAPL); Google (NASDAQ:GOOG); Facebook (NASDAQ:FB); Microsoft (NASDAQ:MSFT); Citigroup (NYSE:C); General Electric (NYSE:GE); Cisco (NASDAQ:CSCO); Bank of America (NYSE:BAC); Amazon (NASDAQ:AMZN); Tesla (NASDAQ:TSLA); SP 500 Trust ETF (NYSEARCA:SPY); Ford (NYSE:F); Starbucks (NASDAQ:SBUX); Intel (NASDAQ:INTC); ATT (NYSE:T); IBM (NYSE:IBM); Exxon/Mobil (NYSE:XOM)
Disclosure: I/we have no positions in any stocks mentioned, and no plans to initiate any positions within the next 72 hours.
I wrote this article myself, and it expresses my own opinions. I am not receiving compensation for it (other than from Seeking Alpha). I have no business relationship with any company whose stock is mentioned in this article.