How We Got Here
Record profits, dividends and GDP do not make for cheap security prices. In such an environment one would expect defensive stocks to be particularly expensive as investors grow wary of the inevitable pullback. Indeed, the median price-to-earnings ratio of both the Vanguard Consumer Staples ETF (NYSEARCA: VDC) and the Vanguard Health Care ETF (NYSEARCA: VHT) is 25.
Within the healthcare industry, many pharmaceutical companies are no longer at such lofty prices. The travails of Valeant Pharmaceuticals (NYSE: VRX) and corresponding negative campaign rhetoric have weighed on valuations that were already feeling the hangover of the biotech bull market earlier this decade.
Valeant has been highly criticized for its practice of buying moderately priced drugs and drastically increasing their price. Presidential candidates and politicians have criticized the practice and demanded legislation to control prices. Investors fear that these price controls may extend beyond the practices of Valeant to less extreme operators and drug developers.
Your friends at Born Investment Management have gone bargain hunting in the wreckage. One would expect a low-cost leader in generic drug production like Teva Pharmaceuticals (NYSE: TEVA) to stand out with such a backdrop. So far the stock has not reflected that view.
The Pharma Industry
The pharmaceutical business enjoys a smoother ride through cyclical movements. Consumer demand for pharmaceuticals is relatively inelastic. As consumers, we are more likely to cut out the daily Starbucks before the meds. Not only are meds more important to us, but insurance rarely covers the cost of the coffee. As such, pharmaceutical companies often reach premium valuations after long bull markets and economic expansions.
The Opportunity
Teva became the largest producer of generics via distinguished operational excellence that has kept a tight lid on expenses and improved manufacturing and development processes. This allowed the company to make accretive acquisitions by improving operations. One such deal was the acquisition of Barr Pharmaceuticals in July 2008. That deal helped Teva power through The Great Recession.
Despite such investments in growth, the company still pays a quarterly dividend of approximately 2.5% versus 2.1% on the S&P 500.
Now the company is closing a deal to buy Actavis, Allergan's generic business. Teva has received approval from the European Commission and the US FDA is expected to approve the transaction. According to Corey Davis, an analyst at Canaccord Genuity Inc., the deal should close regardless of what happens with the Pfizer Allergan deal.
Teva's process and economies of scale already provide a considerable moat around its business. The Allergan deal will add to both scale and moat. It is also expected to be 20% accretive one year after closing, according to company estimates.
Teva has a proven process and diversified drug portfolio. The company sells over 1,000 molecules plus non-drug technology. The largest product, Copaxone, is one of the company's few patent-protected drugs. It accounted for approximately 20% of sales and 42% of income in 2015. While large, having Copaxone on patent does not define Teva. The company's platform and operating history suggest Teva will remain the low-cost leader on the drug.
As President and CEO Erez Vigodman said on the company's fourth-quarter conference call, "the Copaxone 40-milligram generic financial implication for us are limited, and we shared a discreet viewing our Q3 earning call. It clips $1.2 billion of net revenues and up to $0.65 of EPS post Actavis Generics close in 2017, even if we assume that we face generic competition from generally 2017."
Teva's drug pipeline offsets some of the risk concentrated in Copaxone. For example, Reslizumab was approved by the FDA on March 23, 2016, and is expected to ramp up to $1 billion of sales by 2020.
Overall, earnings, free cash flow from operations and free cash flow are each expected to compound at approximately 20% from 2015-2018. The earnings and cash flow yields are four times the dividend yield and expected to grow significantly.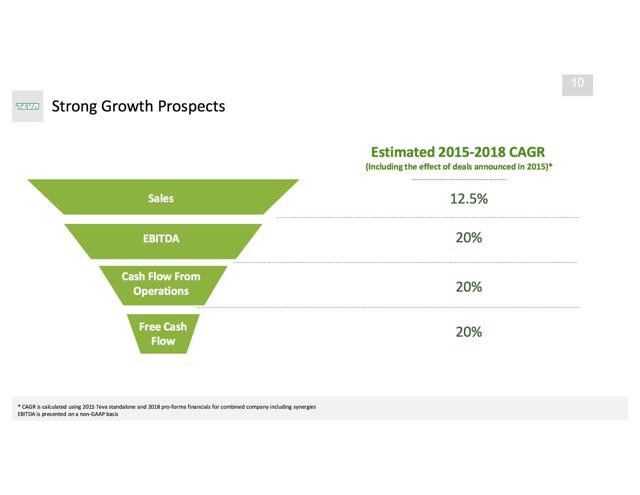 Source: Teva Pharmaceuticals Q4 2015 earnings presentation.
At less than ten times 2016 operating earnings and eleven times 2015 free cash flow, the stock price does not reflect the stability, operational excellence, or growth prospects of the company. Such a stock is a particularly good opportunity for a total return or wealth preservation strategy.
Supporting Documents
Disclosure: I am/we are long TEVA.
I wrote this article myself, and it expresses my own opinions. I am not receiving compensation for it (other than from Seeking Alpha). I have no business relationship with any company whose stock is mentioned in this article.
Additional disclosure: Our clients own TEVA in managed accounts. Please visit our website to learn more about Born Investment Management LLC.