Headlines are not showing you the truth. Investors betting for or against gun and ammunition stocks got quite a reaction this week as numerous articles (some examples are here, here and here among others) posted negative information about stocks amid three investment banks piling on with downgrades for Smith & Wesson (SWHC), Sturm, Ruger & Company, Inc. (NYSE:RGR), and other related stocks including Vista Outdoor (NYSE:VSTO). This led to decreases from $71 on Friday to $64 on Monday and a little recovery to roughly $65/66 on Tuesday for Ruger. Larger losses were seen in Smith & Wesson from $27.40 Friday to roughly $23.30 Tuesday. However barely scratching the surface of due diligence leads to information that could lead to an 8-10% gain before the next earnings report comes out.
One of those negative articles notes that Cowen started the downturn by mentioning the "13.2% sequential decline in the number of background checks related to handgun purchases in March, alongside an 8% slide in background checks for long gun purchasers." Investors who are not used to these stocks will most likely assume the worst and therefore run for the hills. However, the NICS results have always been cyclical, and this leads to your chance for profit.
Current NICS Results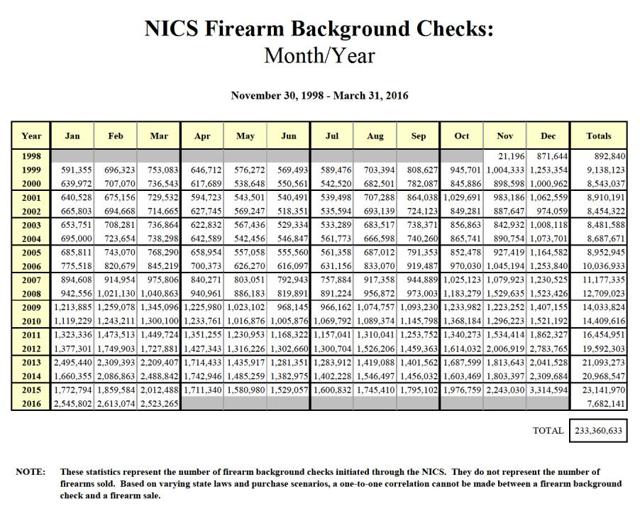 Current NICS results show there was, in fact, a drop in background checks in the month of March. However, what these articles do not point out is that March typically has a similar drop in background checks. They also do not show that the NICS numbers for March were the largest ever March results on record! The photo from the FBI website shows the real picture of what is happening! The graph I created below shows how the trend is playing out in a more easy-to-read way.

Conclusion
While politics will affect the profitability of these companies, now is not the time to remove conviction from the hold on these stocks. If election results after November will harm these companies' ability to make a profit going forward, I could see drops like this. However, at present time, it appears a few companies are putting misinformation out there, or at least not giving the full picture, in order to damage your convictions on these companies. Doing your own research will easily show that this rough couple of days will likely be reversed when the market realizes the information that was left out.
I recommend holding, as these stocks will likely soon recover their losses, or buying more if you are aggressive for the short-term gain before results are reported. After all, these sell numbers are way up for Smith and Ruger... up enough that any other industry would have rewarded the manufacturers with stronger gains!
I am long Ruger in my DIV-GAP portfolio, and intend to add to my position. I am considering adding SWHC for a short-term gain.
Disclosure: I am/we are long RGR.
I wrote this article myself, and it expresses my own opinions. I am not receiving compensation for it (other than from Seeking Alpha). I have no business relationship with any company whose stock is mentioned in this article.
Additional disclosure: I am also considering purchasing SWHC, however have not done so yet.