"Water, water, everywhere, and all on board did shrink; water, water everywhere, nor any drop to drink," bewailed the lost mariner of Samuel Coleridge's famous poem. The mariner is forced by his parched shipmates to wear around his neck the body of the albatross he had killed, to atone for this transgression against a good omen. Some scholars interpret Samuel Coleridge's famous poem as an allegory for nature striking back at those who abuse her bounty. If so, Coleridge couldn't have imagined how much nature might endure with patience, nearly 200 years after his death.
Coleridge's time was followed by industrial revolution, global wars, population growth, deforestation and the use of petroleum based hydrocarbons all of which have dangerously altered our self-sustaining global ecosystem. Amazingly, agricultural production has managed to keep pace with global population growth. However, the changing climate and continued demand has stressed water resources. In 2005 the United Nation declared an International Decade for Action christened "Water for Life." It's interesting to note that water sharing agreement transcend millennia. The first recorded water sharing agreement was established in 2500 B.C.E. Over 3,600 known international water treaties have been recorded since 805 C.E. Most surprisingly, is that many nations have maintained their agreements even when engaged in warfare against each other! The UN make an important point: the need for sharing water resources leads to cooperation.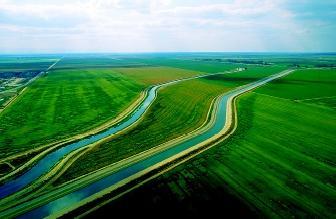 In some cases access to water resources is a matter of international agreements, as noted by the importance the United Nations placed on the matter. In other cases, water resources were locally scarce to begin with but infrastructure solutions solved the problem. For example, the aqueduct network of California collects and stores water from the Sierra Nevada, then channels and distributes it throughout southern California's urban and agricultural regions. Lastly, there are situations when water resources are adequate or even abundant but are poorly managed.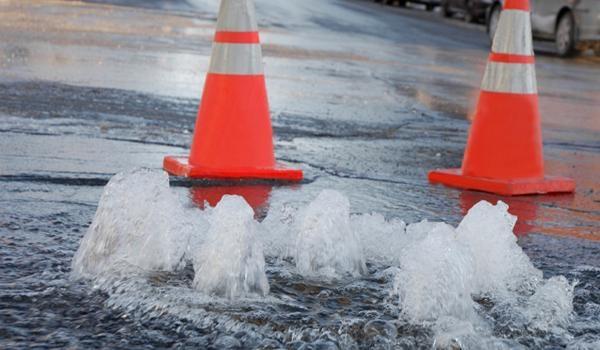 At one time the aqueduct system supplying New York City was more than adequate to provide the city's 8 million residents with over a billion gallons a day. However, the one hundred year old system must now be supplemented with water from the Hudson River because of losses due to leakage. Also, an unusually long drought along the U.S. west coast has severely reduced the deliverable supply of water to California's agricultural regions. Lastly, in one tragic example, mismanagement of municipal water in Flint, Michigan has led to lead contaminated drinking water and lead poisoning.
Very large new construction and the upgrading of existing aqueducts and reservoirs have the advantage of tax dollar support. However, it often takes a decade or more for these projects to even begin. In the meantime, the proper management of water resources is in mainly the hands of private sector or public-private partnership Utility and Industrial companies. This creates an opportunity for investors. Hence, for those wishing to wade into water Utility or related companies there's an easy way. Among Invesco PowerShares portfolio of ETFs is the Global Water Portfolio ETF (NASDAQ:PIO). The fund focuses on the 'mid to downstream' of water delivery. According to Invesco:
... The Fund generally will invest at least 90% of its total assets in companies listed on a global exchange that create products designed to conserve and purify water for homes, businesses and industries...
The underlying tracking index is the NASDAQ OMX Global Water (GRNWATERL).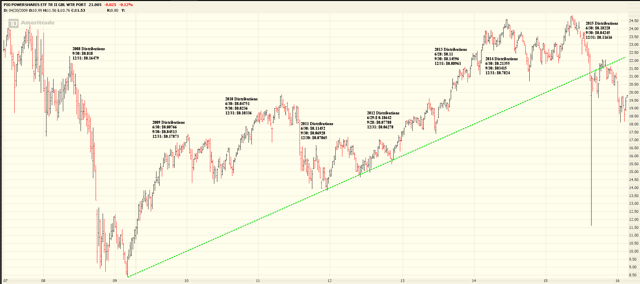 The share price has performed well from the 2009 closing low of $9.61 to the 2015 closing high of $24.78. The fund is currently trading off its highs and around $20.00 per share. The recent distribution yielded 2.28% and the trailing 12 month distribution yield is 1.66%. It should be noted that if viewed as a "Utility Fund," the current demand for yield may be affecting the fund's share price. The current P/E is above the S&P average at 23.77, the ETF shares are trading at nearly 2 times book and the fund is currently trading at a 0.20% premium to NAV. Lastly, the total expense ratio is 0.76%, well above the industry average 0.44%.
| | | | | | |
| --- | --- | --- | --- | --- | --- |
| Performance | Year to Date | 1 Year | 3 Years | 5 Years | Inception 6/13/2007 |
| NAV | -7.43% | -15.88% | 2.16% | 1.11% | -1.40% |
| ETF | -7.40% | -15.66% | 2.18% | 1.00% | -1.65% |
Data from PowerShares
The fund covers mostly the Utility and Industrial sectors with lesser allocations in Materials, Health Care and IT.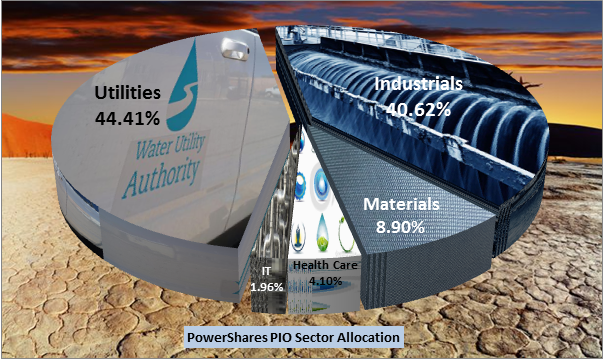 Data from PowerShares
Also, the fund invests in mostly in U.S., U.K. and European companies with smaller allocations in China, Japan and Brazil.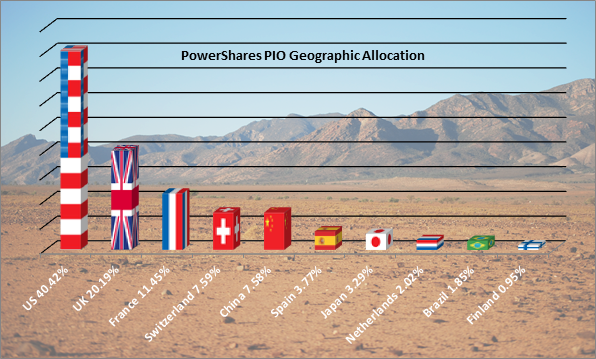 Data from PowerShares
The fund diversifies the market cap allocations, as well.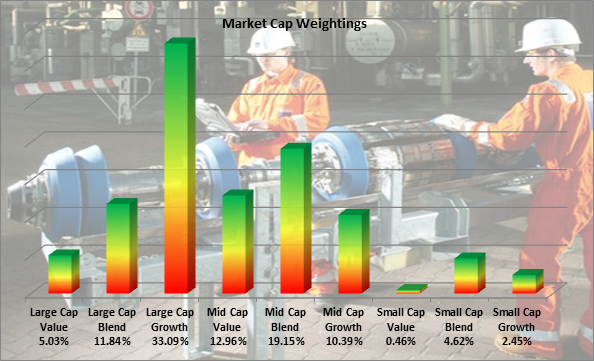 Starting with the lesser allocations, there's just one Health Care holding, Waters Corp (NYSE: WAT) which specializes in chromatography, spectrometry and thermal precision analytic instruments. It's important to point out that WAT seems to be more associated in the field of bio-analytics and environmental testing than with the water industry, per se. However, their products do have application in the industry, particularly through its water purification systems.
When one thinks of 'IT', technology usually comes to mind. However, both Halma Plc (OTCPK: OTCPK:HLMAF) and Pure Technologies (OTCPK: OTC:PPEHF) are classified as information technology companies. Halma describes its business as "protecting life and improving the quality of life for people worldwide." The company covers four sectors: Process safety, Infrastructure safety, Medical and Environmental. Although not a water 'pure-play', water is a major focus for the company. Pure Technologies manages and maintains pipeline networks. Again, its business focuses on pipeline networks in general, but this includes water pipeline transport management. The two Material Sector holdings, Ecolab (NYSE: ECL) and Kemira (OTC:KMRAF) are more focused on water, the use of water in industry as well as water treatment and recycling systems. The combined Health Care, Materials and IT holdings account for just under 15% of total fund holdings.
Company

Fund Weight

Yield

Div/ EPS

P/E

Debt/ Equity

5 Year Average EBITD

Primary Business

Waters Corp

Health Care

4.104%

0.00%

0.00%

22.97

81.03

31.83

Analytical Instruments; LC Chromatography; Mass Spectrometry, Consumable Chemicals

Halma Plc

IT

1.895%

1.39%

1778%

31.35

40.06

24.09

Quality of Life; Health Safety; Process Safety for individuals, infrastructure and work place

Pure Technologies

IT

0.063%

2.42%

NMF

NA

0.00

8.01

Pipeline Management in general but including water pipeline; applying technology for inspection and monitoring

Ecolab Inc.

Materials

8.199%

1.27%

10.51%

33.23

93.57

19.83

Water and Food Processing safety; processing environment safety and energy management

Kemira OYJ

Materials

0.703%

5.26%

112.76%

21.63

67.24

10.98

Water Pure Play; motto: "Where Water Meets Chemistry;" Industrial Waste Water treatment and recycling

Averages

2.99%

2.07%

475.32%

27.295

56.38

18.948
Data from Reuters, Yahoo! and Company Websites
Industrial related water companies account for 40.62% of the fund's holdings. Among the Industrial Sector holdings are to be found what one might naturally expect. There are several interior and exterior architectural, engineering, design and construction companies. These are not water 'pure-plays' but rather those for which prudent water resource management is a prime design feature. There are also several flow control, piping design, wastewater and pump manufactures for which sustainability and efficient water usage design is applied in their water related projects.
Industrials 40.62%

Fund Weight

Yield

Div/ EPS

P/E

Debt/ Equity

5 Year Average EBITD

Primary Business

Pentair PLC

(NYSE: PNR)

8.394%

2.51%

NMF

NA

117.47

14.85

Valves and Controls, flow technologies for residential, municipal, commercial and industry

Roper Technologies

(NYSE: ROP)

8.177%

0.66%

4.38%

26.35

61.73

31.96

Diversified Technology company; flow technology; systems and controls

Geberit AG

7.594%

2.37%

74.27%

31.27

76.61

28.77

Water, energy, heating piping systems, bio-waste sanitary systems; sanitary ceramics

HD Supply Holdings

(NASDAQ: HDS)

4.388%

0.00%

0.00%

4.87

578.23

9.91

Interior environment infrastructure components; HVAC, metering, piping, wastewater systems

Xylem Inc NY

(NYSE: XYL)

4.048%

1.56%

8.02%

21.25

61.13

16.31

Water pure play; analytics, controls, pumps, wastewater treatment and solutions under 32 brand names

Kurita Water Industries

3.088%

1.85%

23.30%

24.65

0.00

20.44

Water pure play; treatment and maintenance; treatment chemicals; heavy metal fixatives

Valmont Industries

(NYSE: VMI)

2.237%

1.23%

23.17%

74.11

83.40

13.95

Diversified resource conservation products including water infrastructure, irrigation and piping

Arcadis NV

(OTCPK: OTCPK:ARCVF)

2.024%

3.98%

55.26%

13.83

71.34

11.39

Sustainable architecture and engineering designs, environmental solutions including 'source to tap' water solutions

Uponor OYJ

(OTCPK: OTCPK:UPNRF)

0.251%

3.50%

89.80%

25.54

36.77

9.57

Interior infrastructure environment solutions; engineering consultants

Tianjin Capital Environmental Protection Group

(OTCPK: OTC:TNJIF)

0.216%

1.76%

31.03%

17.39

61.34

57.18

Water usage cycle management; heating and cooling management; source to tap construction and management

Torishima Pump Manufacturing

0.134%

1.81%

NMF

NA

28.56

5.11

Pumps and pump plants for diversified liquid waste; wind power and hydroelectric biomass generation components

Organo Corp (OTCPK: OTC:ORGAF)

0.069%

1.86%

13.98%

15.06

9.88

6.34

Large scale water treatment engineering and management; commercial ultrapure water and wastewater recycling

Averages

3.39%

1.92%

32.32%

25.43

98.87

18.82
Data from Reuters, YaHoo! and Company Websites
However, the sector holdings do include entirely water focused companies. Xylem Inc adopted its name from the word used to describe the biological process of transporting water and nutrients. Xylem was one spin-off from the former ITT Corporation (NYSE:ITT). Xylem focuses specifically on the transport, treatment, dewatering, analytics and water cycle systems. The company services a broad range of industries including, of course, agriculture and aquaculture but also applies its systems in mining, oil and gas and the food and beverage industry. A second water focused holding is Kurita Water. It's philosophy is to:
...study the properties of water, master them and create an environment in which nature and man are in harmony...
The company focuses on water treatment, water treatment chemicals, soil and groundwater remediation and the management of water delivery, recycling and resource facilities. Lastly, Tianjin Capital Environmental Protection Group, although a water pure-play, seems to resemble a water utility. The company provides construction and management of potable water delivery, water recycling and wastewater treatment systems in four of China's provinces. It's important to note that, (as for almost every consumer related industry in the PRC), the potential to scale up is large.
Utilities 44.415%

Fund Weight

Yield

Div/ EPS

P/E

Debt/ Equity

5 Year Average EBITD

Primary Business

Veolia Environnement SA

(OTCPK: OTCPK:VEOEF)

7.613%

3.59%

105.80%

29.47

148.00

10.48

Natural resource management of water, energy and waste; main focus on water conservation solutions

Beijing Enterprises Water Group (OTCPK:BJWTF)

4.194%

2.05%

16.00%

17.85

167.43

25.91

Water Treatment Group; leading integrated water systems solutions provider in China, SE Asia and Asia-Pacific regions

American Water Works (NYSE: AWK)

3.968%

2.01%

12.88%

25.58

116.34

45.78

Water and wastewater utility in 47 states and Ontario, Canada; largest such utility in the U.S.

Suez Environnement Co (OTCPK: OTCPK:SZEVF)

3.838%

4.15%

97.02%

23.20

188.70

14.98

Residential, commercial, industrial water management; recovery, treatment and sanitation

United Utilities Group Plc (OTCPK: OTC:UUGWF)

3.833%

4.13%

NMF

22.39

278.45

58.61

Holding Group; managing water delivery network, collection, treatment and recycling through its subsidiary United Utilities Water

Severn Trent Plc (OTCPK: OTCPK:SVTRF)

3.803%

3.89%

NMF

33.88

446.75

47.52

Water service, recovery and treatment in the U.K., Americas and Europe

Acciona SA (OTCPK: OTCPK:ACXIF)

3.768%

2.95%

75.08%

20.36

201.31

24.05

Water infrastructure engineering and construction; other divisions include transportation and energy; real estate holdings

TerraForm Power Inc (NASDAQ: TERP)

3.312%

16.41%

NMF

NA

208.86

NA

Clean Energy generation; in the Americas, China India and South Africa

China Longyuan Power Group (OTCPK:CLPXY)

3.015%

1.65%

20.93%

12.14

195.95

58.13

Clean Energy generation via wind, solar, geothermal, tidal, biomass, and coal.

Pennon Group Plc (OTCPK: OTCPK:PEGRF)

2.269%

3.98%

NMF

27.36

216.89

32.27

Water delivery and wastewater recovery; resource recovery, recycling and renewable energy

Pattern Energy Group Inc (NASDAQ: PEGI)

1.981%

8.09%

NMF

NA

212.97

60.25

Wind energy generation and resale in the U.S., Canada Puerto Rico and Chile

Cia Di Saneamento Basico Estado de Sao Paulo (NYSE: SBS)

1.848%

1.90%

300.00%

144.87

87.29

32.47

State Owned; water and wastewater management and environmental services in and around Sao Paulo

SIIC Environment Holdings Ltd

0.3%

0.00%

0.00%

19.24

32.09

30.38

Water and solid waste treatment; Singapore company operating domestically but with large presence partnering in China

Consolidated Water Co (NASDAQ: CWCO)

0.232%

2.62%

15.69%

22.59

0.00

21.42

Cayman Island based SWRO desalination systems where few water resources exist. Services retail, commercial and industrial

China Everbright Water Ltd (OTCPK: OTCPK:CBVHY)

0.154%

1.40%

27.66%

19.16

81.46

NA

Investment Holding company with clean energy, alternative, water resources in PRC and Germany

Hyflux Ltd (OTCPK: OTCPK:HYFXF)

0.119%

2.76%

NMF

NA

59.36

19.60

Municipal and industrial water management; desalination, wastewater treatment; ultrapure water production, retail filter products

Puncak Niaga Holdings Bhd (OTCPK: OTC:PTNAF)

0.094%

0.00%

0.00%

8.59

4.25

-117.06

Investment holding company integrated water solutions; infrastructure construction for water, oil and gas

China Water Industry Group (OTC:CHWG)

0.074%

0.00%

0.00%

5.22

24.19

24.59

Supply, treatment and construction through 7 subsidiaries

Averages

2.47%

3.42%

55.92%

28.79

148.35

24.34
Data from Reuters, YaHoo! and Company Websites
Utilities account for 44.42% of the fund's total holdings. As it is with industrials, a water utility company may specifically focus on water or may manage water as part of a broader range of services. Of course there are some standouts. Veolia Environnement SA, a Paris headquartered company manages water resource, recycling and treatment facilities worldwide as well as other types of waste recycling. Veolia's motto is "Ressourcer le Monde" and although not a water pure-play, it's one of a handful of 21st century minded companies focused on making sustainability and conservation a profitable venture. Similarly, Singapore based Hyflux Ltd is not a water pure-play, but like Veolia, is building a global company "dedicated to delivering sustainable solutions for a better future." Hyflux provides desalination, potable water solutions, osmosis membranes and wastewater solutions. Although it designates 'energy' as part of its business, it's better described as energy wastewater recovery, treatment and recycling from electric generating facilities. Lastly, anyone who has spent time on a tropical island knows that potable water resources are severely limited. It might seem contrary to what one might expect. However, the tropical environment has evolved to take advantage of seasonal rainfall and not large populations. Cayman Island based Consolidated Water provides cost effective desalination "delivering water solutions to areas where the need for potable water cannot be met by traditional means." Although smaller and more focused Consolidated Water falls into the class of forward thinking companies like Hyflux and Veolia.
Aside from the above exceptions, most companies in the Utilities allocations are just that: run-of-the-mill Utilities. However, a few seem to miss the 'watermark' altogether. Several in the Utilities allocation are investment holding companies. Others such as TerraForm Power and China Longyuan Power Group are far, far more clean energy focused than water focused, if at all.
At this point, an important observation needs to be made, particularly with respect to water utility companies in general. For many decades utilities were almost exclusively government owned, non-profit enterprises, providing solid dividend payments and a favorite for pension funds and banks. This model worked well when natural water supply abundantly exceeded demand. As such, management, even as it increasingly was turned over to for-profit enterprises was a largely bureaucratic affair and hardly anything changed. There were a few upgrades, some cost reductions, new regulations, but little in the way of wide scale proper use of natural water resources. For example, in regions where hydraulic fracking is used, fracturing of shale geology has polluted ground water to the point of customers near the extraction fields being able to ignite there tap water!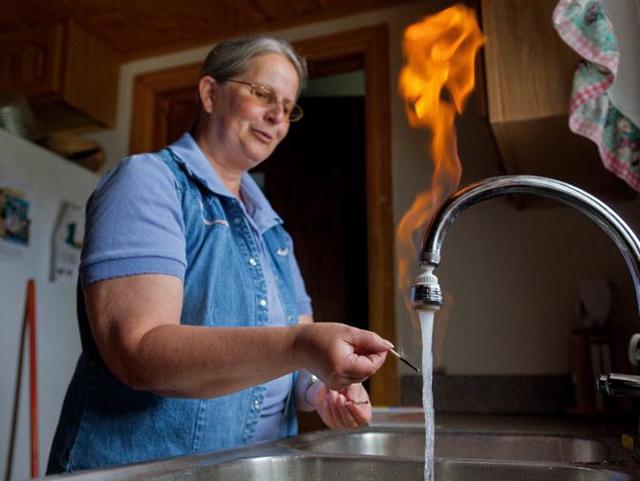 To be fair, this is not a recent phenomenon. In 1952, the heavily polluted Cuyahoga River in Ohio literally caught fire causing millions in property damage.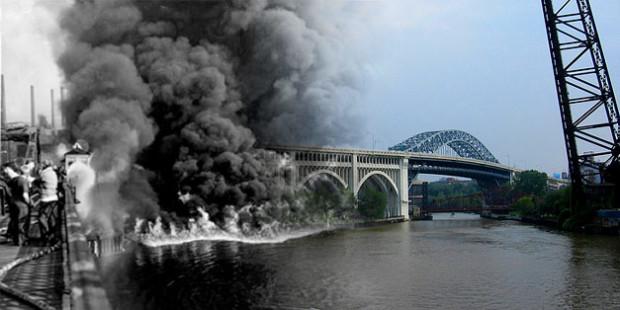 The point is that there's still plenty of water resources but it is being exploited by industries with an extraordinarily poor water resource management record and with very little environmental protection by government.
The question then becomes just how good an investment is the water industry? An interesting comparison can be made with petroleum production. In 1973 OPEC embargoed oil to the United States for supporting Israel in the Yom Kippur War. The price of a barrel of oil increased from $3.00 to $12.00 a barrel. Inflation adjusted in terms of 2016 U.S. Dollars, that would mean the price of a barrel of crude would have increased from $16.00 to $64.00. However, the price of a barrel of crude today is under $40.00! How is that possible? And petroleum is not as easily nor as cheaply extracted as plentiful fresh water resources. Drilling technology makes the difference. Deep water drilling and extraction from older wells which had lost natural pressure has greatly improved. Even without hydraulic fracturing, the price of a barrel of crude would likely be in that $64 range.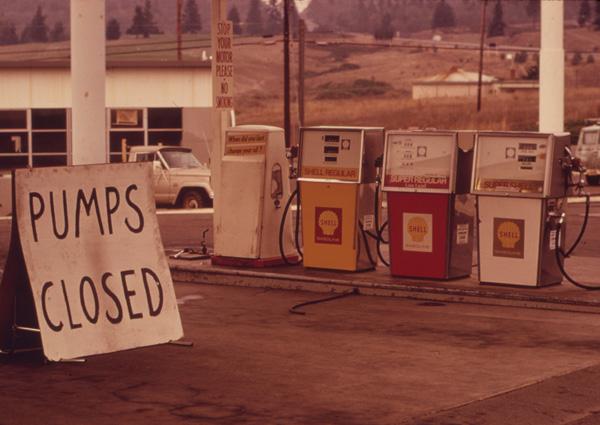 It isn't a lack of water but a lack of water management. Currently, desalination methods are expensive and energy intensive. However, as membrane materials as well as renewable energy applications improve, desalination might become far, far more efficient. Hence, water depleted regions with access to seawater might no longer need to rely on inefficient 'work-arounds.'
Here's one last example: The Trevi Fountain in Rome is fed from the Aqua Virgo, constructed in 19 B.C.E. and modified in 1453 to divert water to the famed fountain. The Fréjus aqueduct in France supplied water for nearly 500 years, fell into disuse but was partially reconstructed in the 19 th century to irrigate fields near Caillan and further reconstructed to supply water to Fréjus and St Raphael during the Great War. There are several examples of these 'built-to-last' ancient system still in service today, including those ancient constructions in the semi-arid region of what was ancient Judea. It was demand as well as politics which originally necessitated these monumental constructions and demand which kept them in service or put back into use. There were to a large extent, public works projects. Further, the technology available in ancient times required far more manual labor.
It begs the question: what is preventing the construction of more permanent solutions today?
A fund like PIO is essentially an Industrial-Utility fund, with a relatively respectable, but low distribution return. The stock price has held up surprisingly well since 2009. This ETF like most others are formulaic; it's an index tracking fund. For a water based eco-fund to have greater capital appreciation potential, more attention needs to be placed on the stand-out types of companies such as Halma, Ecolab, Veolia and Hyflux and perhaps yet unknown, smaller companies with 'out-of-the-box' thinking.
Disclosure: I/we have no positions in any stocks mentioned, and no plans to initiate any positions within the next 72 hours.
I wrote this article myself, and it expresses my own opinions. I am not receiving compensation for it (other than from Seeking Alpha). I have no business relationship with any company whose stock is mentioned in this article.
Additional disclosure: CFDs, spread-betting and FX can result in losses exceeding your initial deposit. They are not suitable for everyone, so please ensure you understand the risks. Seek independent financial advice if necessary. Nothing in this article should be considered a personal recommendation. It does not account for your personal circumstances or appetite for risk.
Editor's Note: This article covers one or more stocks trading at less than $1 per share and/or with less than a $100 million market cap. Please be aware of the risks associated with these stocks.