As artificial intelligence breakthroughs arrive on a near-monthly basis - see what Google's (NASDAQ:GOOG) (NASDAQ:GOOGL) AlphaGo system recently accomplished - Nvidia (NASDAQ:NVDA) execs have been talking to anyone within earshot about the value of its GPUs for handling AI-related computing tasks. Especially for deep learning, a branch of AI focused on using algorithms to uncover patterns within large volumes of content (e.g. text, photos, audio, video). The more data a deep learning system takes in, the smarter it becomes.
The DGX-1 supercomputer
Today, Nvidia stepped up its AI efforts by launching (at its annual GTC conference) the DGX-1, a deep learning-optimized supercomputer that relies on eight of the company's new Tesla P100 GPUs and is declared to provide the throughput of 250 x86 servers (some might beg to differ with that claim). 170 TFLOPs of performance are promised, along with the ability to deliver 75x faster deep learning training than a standard dual-CPU Intel (NASDAQ:INTC) Xeon server.
Nvidia, which already sells plenty of Tesla GPUs for third-party supercomputer and high-performance computing ("HPC") systems, is including a deep learning software suite with the DGX-1. The system supports Nvidia's NVLink high-speed interconnect (much faster than standard PCIe links), along with 10G InfiniBand networking links and a 7TB SSD-based cache. It can be yours for $129,000.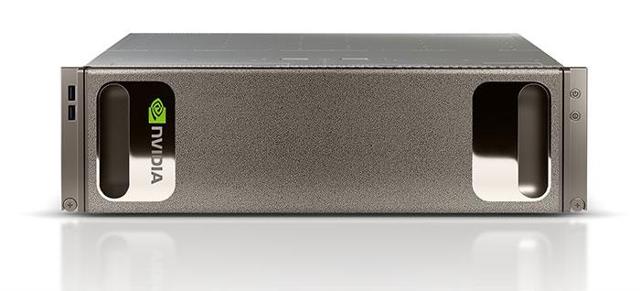 Nvidia's DGX-1. Looks a little different than your conventional supercomputer.
Microsoft (NASDAQ:MSFT) and Facebook (NASDAQ:FB) execs provided quotes for Nvidia's DGX-1 PR - Nvidia announced in December that Tesla GPUs will power Facebook's Big Sur AI computing platform. Some of Nvidia's server OEM partners might not be thrilled the company is selling its own system - just yesterday, HP Enterprise (NYSE:HPE) announced the Apollo 6500, a server meant for deep learning applications that features up to eight Tesla GPUs.
The Tesla P100 and Drive PX2
The Tesla P100 GPU is based on Nvidia's next-gen Pascal architecture, and thus manufactured using TSMC's (NYSE:TSM) 16nm FinFET manufacturing process. Nvidia claims more than a 12x increase in neural network training performance relation to a prior-gen solution based on its 28nm Maxwell architecture - other apps will see less dramatic (but still substantial) performance gains.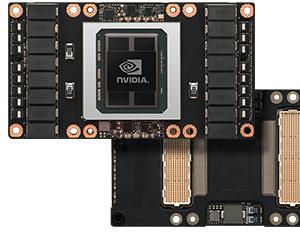 The Tesla P100
New AI algorithms are said to deliver over 21 TFLOPs of peak deep learning performance, and the use of HBM2 memory an CoWoS chip packaging a 3x increase in memory bandwidth (720GB/s) relative to Maxwell GPUs. Notably, DGX-1 systems containing the Tesla P100 will arrive in June, but systems from "leading server manufacturers" aren't due until early 2017. Nvidia is looking to keep Intel's Xeon Phi co-processor line at bay - Intel recently began shipping Knights Landing, a new Xeon Phi co-processor containing 72 CPU cores.
Nvidia has also shared more details about its Drive PX2 module (first unveiled in January) for driver-assistance and autonomous driving systems. Redundancy abounds: The PX2 features two Tegra processors, each of which contains two custom ARM CPU cores (codenamed Denver) and four off-the-shelf ARM Cortex-A57 cores. Each also has access to a discrete GPU based on the Pascal architecture, and an integrated Pascal GPU.
Nvidia reiterates the PX2, which is meant for autonomous vehicle testing/R&D work, can deliver up to 24T deep learning operations per second. Autonomous/self-driving systems rely on deep learning to learn from real-world driving experiences.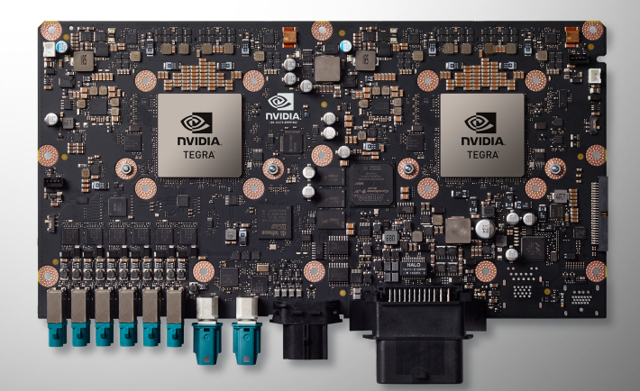 A Drive PX2 prototype board
In a recent Fortune interview, CEO Jen-Hsun Huang declared the data center could be Nvidia's largest market over the long run, and observed the number of potential use cases for GPU-powered AI applications is enormous.
"The data center is the biggest market for us. Every one of them is going to be AI-powered ... Anyone who has to deal with a lot of big data and customization of services to end users. If you want to customize a service for one user and you have a billion users, you'll never be able to provide good enough recommendations unless you use something like AI. So anybody who is making recognition of news, information, products, music-they're all going to be powered by AI."
For now, PC GPU sales (recently lifted by strong gaming GPU demand) remain a much bigger business for Nvidia than data center products: Total data center revenue, which covers both the Tesla and GRID (cloud gaming/virtual desktop GPU) platforms, was $97M in the January quarter, up 10% Y/Y but only equal to 8% of total GPU revenue. Nonetheless, with AI adoption arguably reaching an inflection point and Nvidia having bet heavily on the opportunity, there's a good chance the latter figure will rise substantially in the coming years.
Disclosure: I/we have no positions in any stocks mentioned, and no plans to initiate any positions within the next 72 hours.
I wrote this article myself, and it expresses my own opinions. I am not receiving compensation for it. I have no business relationship with any company whose stock is mentioned in this article.