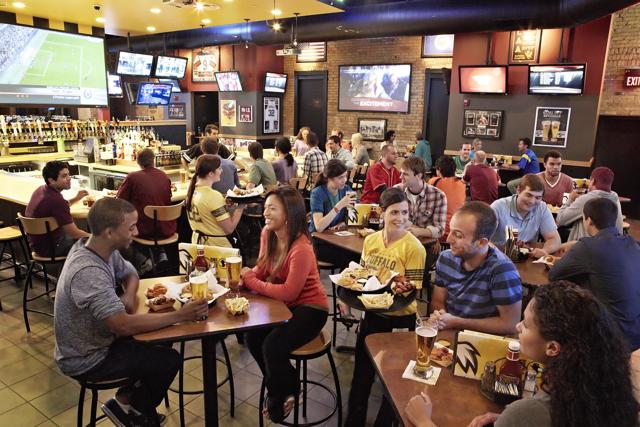 Shares of Buffalo Wild Wings (BWLD) have not done well, falling more than 25% from their 52-week high. Given the stock's struggles, I'm wondering if it's approaching a buy.
I don't want to rehash what's already out there - Seeking Alpha contributor Josh Arnold had a good piece dissecting what went wrong - but the one thing I will mention is the company's guidance.
That seems to be the biggest overhang on the stock right now, along with the norovirus investigation. The company's full-year guide for $5.95 to $6.20 in EPS vs. estimates of $6.48 weren't very encouraging, and if it has to go through the "cleanse" Chipotle Mexican Grill (NYSE:CMG) is going through over its E.coli and norovirus issues, shares could still be overpriced.
The company doesn't have much momentum as comp-store sales aren't impressive, and over the next six months, shares may still struggle.
So Why Buy?
I think the company is righting the ship, and over the next year, its share price will be higher.
B-Dubs has made a larger commitment to online ordering, which could certainly help boost comp-store sales and overall revenues. Assuming it doesn't put a dent in attendance, this could be a great addition for the company.
However, it wouldn't kill it to update the mobile app. In the Apple (NASDAQ:AAPL) Store, the "current version" of the app has a two-star rating - far from impressive. Worse, its last update came in May of 2014, almost two years ago. Please Buffalo Wild Wings, update your app.
If the company would make a stronger commitment to this segment (and it is, just slowly), I think it could have some needle-moving results. It's a really great way to expand the brand and its sales beyond the restaurant floor.
Take any big game for instance. A local B-Dubs will be packed. And maybe people are there to drink and socialize more than anything. But I would think some customers are fine with ordering wings or other meals and heading home with friends and family. Finding ways to generate additional sales via technology from customers that would otherwise leave is great for the business. B-Dubs could be at maximum occupancy, yet still drive further sales with its mobile ordering capabilities.
I think of it like Starbucks (NASDAQ:SBUX) when the company overhauled its now-brilliant mobile app. Starbucks had a throughput problem, and its app dramatically helped to reduce that issue and boost comps. Now admittedly, B-Dubs doesn't have as many take-out customers as Starbucks, but that doesn't mean fans won't make good use of it to have tasty food for the big game at home.
In the company's most recent earnings report, CEO Sally Smith said, "Online order adoption was supported by limited digital media in the fourth quarter and we intend to put more marketing behind this initiative this year." This is promising, considering that the ticket for an online order is roughly 10% higher than a typical call-in order. Not only is it more convenient for customers, but it's also more profitable for the business.
The timing is also favorable. Investors have a chance to nab this stock almost 30% off its highs during March Madness (now complete), and ahead of the NHL playoffs and NBA postseason. It also helps that the Golden State Warriors are chasing greatness, making each game all the more important for many fans across the country.
Once we get into the fall there's the MLB postseason, regular seasons for the NFL, NHL and NBA, and of course, College Football.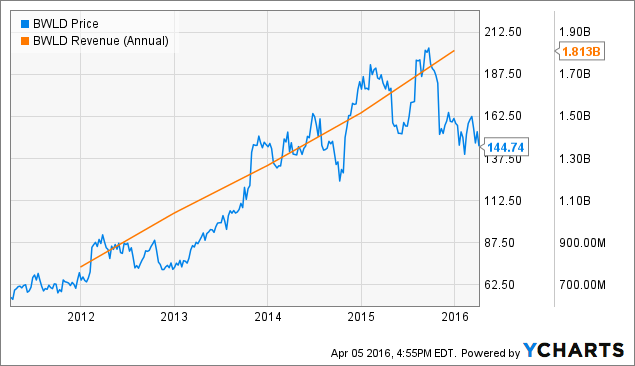 The company acquired 54 franchise locations for just over $200 million in 2015, but management expects it to boost sales and earnings in 2016. A new point-of-sales system and food deflation are positives as well, as they will help reduce some of the company's expenses in 2016.
While the stock isn't wildly cheap, I don't think it should be. B-Dubs may not be knocking the cover off the ball when it comes to comps and guidance was disappointing, but nearly 25% earnings growth and double-digit revenue growth is still very impressive going into a favorable time of the year.
For that reason, and because of the stock's sizable pullback, I have initiated a long position. I look forward to the company's next earnings report to get a more clear picture on the business and hopefully an update on the norovirus situation.
Disclosure: I am/we are long SBUX, CMG, BWLD. I wrote this article myself, and it expresses my own opinions. I am not receiving compensation for it (other than from Seeking Alpha). I have no business relationship with any company whose stock is mentioned in this article.