On March 30, CRN's Hannah Breeze wrote a story about Rackspace (NYSE:RAX) considered to be the possible takeover target by companies like Microsoft (NASDAQ:MSFT), Amazon (NASDAQ: AMZN), HP (NYSE:HPQ) and IBM (NYSE:IBM). After that, Rackspace's shares quickly appreciated in value and closed the trading week at highs. Either takeover will take place or not, the company already gained attention from the public and in my opinion, is undervalued at the current levels. So, in this article, I'll run two scenarios that could occur in the coming months and will try to convince you to add Rackspace to your portfolio.
Non-takeover scenario
Let's forget about the takeover rumors for a moment and focus on the company's fundamentals. If we look at the Rackspace's financials, we could see that it's a growing company with a lot of potential in the future. Its net income of $206.1 million for the FY'15 was higher by 14.1% in comparison with the same period last year. Its revenues and adjusted EBITDA margin for the year also showed consistent growth:

Source: Company's fillings
However, Rackspace's stock has been falling apart since 2013: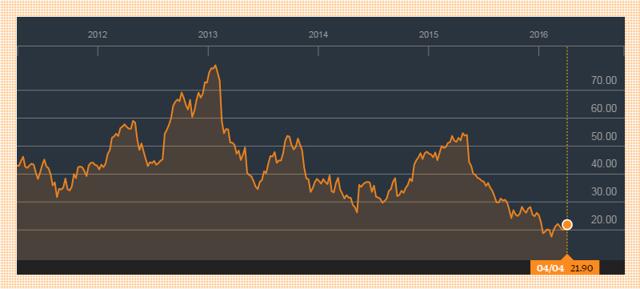 Source: Bloomberg
At first, it doesn't make any sense for the company to be trading so low, considering that it performed very well last year. So what went wrong? Another Seeking Alpha contributor explained this in his article Rackspace Elbows Its Way Back Into The Cloud. In short, the company was too slow in cloud race, when the field was only gaining traction, and failed to adapt to the new market environment. However, as the author noted, Rackspace made a number of improvements in the last few quarters and should start its way to recovery very soon.
At the moment, it has enough resources to continue to improve its financial condition. Its operating margin of 10.30% is better that the global information technology services industry's average and a P/E ratio of 24.33 is not that high in comparison with its competitors. In 2016, Rackspace plans to continue its stable revenue growth and expects its adjusted EBITDA margin in the 33%-35% range.
Most of the analysts have either "Hold" or "Buy" recommendations regarding Rackspace, and based on the facts that I described above, the company's stock should start its recovery very soon.

Source: NASDAQ
Takeover scenario
For anyone who follows Rackspace, news about potential takeover shouldn't be a surprise. Back in 2014, the company hired Morgan Stanley to "help it evaluate expressions of interest from multiple parties". With two of the possible buyers, Amazon and Microsoft, Rackspace already has deep connections.
The company has over 230 certifications from Amazon's AWS platform and more than 1000 accreditations. At the beginning of this year, Rackspace achieved a major milestone on the platform and is positive about its future growth there. As CEO and President of Rackspace noted:
We saw encouraging demand for our Fanatical Support for AWS offer, signing up our first 100 customers through the end of January. We intend to be the number one managed services provider for AWS, and we are well on our way toward that goal.
As for Microsoft, the company also made some progress on its platform:
Rackspace is a five-time Microsoft Hosting Partner of the Year, with hundreds of Microsoft Certified Professionals running over 500,000 seats of Microsoft Exchange and over 85% of worldwide hosted SharePoint licensing.
Considering their relationships, I believe that Rackspace would be a great fit for those two tech giants. At the moment, we don't have the buying price and the official release about the takeover, so if the deal will take place, it would require some time to complete the transaction. But shareholders of Rackspace should be happy that their company is finally, after years of desperation, gaining traction and could become part of a major tech player in the industry.
Overall, if Rackspace will be acquired, then shareholders of the company should expect to cash out their positions later this year. If it's just rumors, then investors shouldn't be discouraged, considering the fact that the company, based on the facts that I described in the non-takeover scenario, is on its way to recovery. It will take some time for the stock to keep the momentum and climb higher, but the downside is very limited at the moment.
Either way, for me it's a long, and I suggest that you consider this company to be part of your portfolio since it'll get a lot of attention in the coming weeks.
Disclosure: I/we have no positions in any stocks mentioned, and no plans to initiate any positions within the next 72 hours.
I wrote this article myself, and it expresses my own opinions. I am not receiving compensation for it (other than from Seeking Alpha). I have no business relationship with any company whose stock is mentioned in this article.