Last Thursday, TransCanada Corp. (NYSE:TRP) set a new national record for Canada when it announced the completion of its $3.4 billion (C$4.4 billion) bought-deal offering of 96,000,000 subscription receipts, including the over-allotment option. The deal was heavily oversubscribed, as investors stepped up to the plate - even U.S. investors who historically haven't been big fans of TransCanada.
Some 80% of the order book was sold to institutions and 40% of this was placed with U.S. institutions. The proceeds will be used to finance a portion of the purchase price of TransCanada's previously announced (March 17, 2016) acquisition of Houston-based Columbia Pipeline Group, Inc. (CPGX). Notably, Canadian dealers did not advise on the acquisition. Wells Fargo Securities served as TransCanada's sole financial adviser while Goldman Sachs and Lazard advised Columbia.
The Columbia assets complement TransCanada's existing North American footprint. Adding Columbia's operations will make TransCanada one of the continent's largest regulated natural gas pipeline companies, with a 57,000-mile natural gas pipeline system connecting one of the most prolific supply basins to premium markets across the continent, as well as to liquefied natural gas terminals for export to international markets.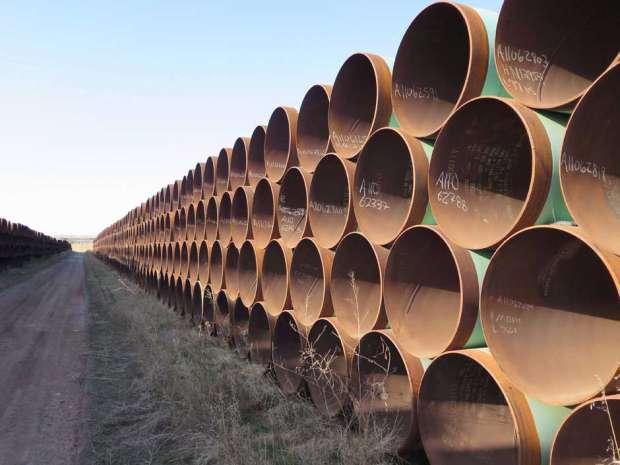 Source: The Canadian Press - TransCanada pipeline construction.
TransCanada is paying $10.3 billion in cash for CPGX, or $25.50 per Columbia share - about $13 billion in enterprise value, including Columbia's $2.8 billion of debt that TRP will be taking on). The offer represents an 11% premium to Columbia's closing stock price of $23.00 on the NYSE on March 16, 2016 (the day prior to the announcement) and a 32% premium to the average price of CPGX's stock over the prior 30 days. TransCanada expects the acquisition, net of associated financing and portfolio management, to be accretive to earnings per share in the first full year of ownership, as the combined $18 billion of near-term, commercially-secured projects enter service.
Not all energy companies can raise funds today, as investor sentiment is still tepid compared to two years ago and a recovery in energy is still fragile. TransCanada's management has an inviolable commitment to the company's A-grade credit rating. The financing strategy for this deal is structured to maintain the strength of the credit profile. The company will use portfolio management to play an important role in the permanent financing of the acquisition. In addition to the bought-deal offering for $3.4 billion, the remainder of the purchase price will come from TransCanada's asset sale program; namely, merchant power assets in the U.S. Northeast and its minority interest in a contracted Mexican natural gas pipeline business.
Citi Research analyst Faisel Khan, who covers TransCanada, estimates that TransCanada's power assets for sale could fetch upwards of $4 billion while its 49% stake in its Mexican natural gas pipelines could attract more than $2 billion. If TransCanada achieves its asset sale target, it should not need to add any additional leverage to the transaction (apart from assuming Columbia's debt).
Management's commitment to the company's A-grade credit rating is a key reason the company was able to strike this agreement in the current environment, given other companies' low relative share prices (high cost of capital) and/or limited ability to add leverage. With TransCanada using asset sales to deliver an all-cash bid, if a competing bidder were to surface, it would most likely have to present an all-cash bid at a premium to be considered a superior offer.
The transaction is expected to close in the second half of 2016 following the receipt of approvals, including Columbia shareholders, Hart-Scott-Rodino, the Committee on Foreign Investment and other regulatory and government approvals.
Good Strategic Fit Should Drive Accretive Growth Opportunities
Columbia owns one of the largest interstate natural gas pipeline systems in the United States. It operates approximately 15,000 miles of pipelines and 286 billion cubic feet of gas-storage capacity in the prolific Marcellus and Utica supply basins in the U.S. Northeast. Its Columbia Gulf Transmission unit runs a 3,400-mile pipeline system reaching from Appalachia to the U.S. Gulf Coast.
The Columbia assets are an excellent strategic fit for TransCanada. They extend TRP's gas pipeline footprint into the Marcellus and Utica gas plays. This in turn helps solve a nagging problem for TransCanada's decades-old west-to-east gas pipeline system. For decades, the company's business was built around delivering gas from remote deposits in Western Canada to eastern markets via its Mainline system. TransCanada has now snapped up a big bite of the natural gas business that has given it the most troublesome competition.
The rapid growth in the Marcellus shale formation over the past decade has undercut TransCanada's share of the remunerative U.S. Northeast market. The region now produces about 20 billion cubic feet per day of natural gas, up from 5 billion as recently as 2010. It is expected to climb to more than 30 billion by 2020. This figure dwarfs all the natural gas produced in Western Canada, where production has dropped by about 20% to 13.5 billion cubic feet per day in a little more than 15 years, and Canadian exports to the U.S. have been cut in half. Contracts for export service to the region on the TransCanada system have also been cut in half to 700 million cubic feet per day. This is expected to decline further to 200 million cubic feet per day in coming years. This is one reason TransCanada has proposed switching a portion of the west-east system to carry crude oil under its Energy East proposal.
The Canadian and U.S. natural gas markets are tightly integrated. TransCanada's existing 42,000-mile pipeline system has pipes in the U.S. Midwest (ANR) and in Eastern Canada (Canadian Mainline), adjacent to Columbia's Marcellus and Utica footprint. Columbia's pipeline system in the Marcellus has a similar role to TransCanada's extensive Alberta system - gathering and transporting natural gas from a concentrated supply region. Adding Columbia's assets in this important region is strategically attractive for TransCanada as it did not previously have any position here. It should help drive higher contracting for TRP's Mainline system and new long-term contracts for ANR.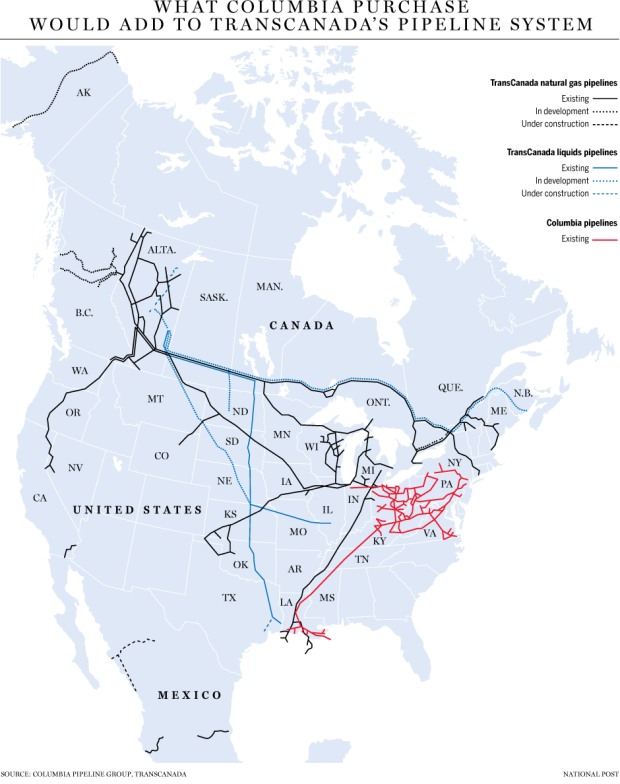 "Columbia's assets and growth plan fit very well with our overall strategy of owning and operating highly contracted and or regulated assets that generate stable and predictable earnings and cash flow streams," TransCanada CEO Russ Girling said on TransCanada's conference call announcing the transaction.
Strategically, the broader footprint presents opportunities to deploy capital into new projects at attractive returns. And Columbia's projects dovetail nicely with those of TransCanada. The acquisition provides TRP the opportunity to grow in a low-key fashion in its traditional natural gas pipeline business versus the public, prominent and politicized battle over Keystone XL. That project spent six years in limbo before finally being rejected by the Obama administration last year. And if TransCanada did not buy Columbia, someone else likely would have, and TRP would not have had the opportunity to do so.
The transaction will be accretive to TransCanada's earnings and cash flow growth rate - both from the completion of projects that both companies have scheduled for their respective pipeline systems, as well as from new synergistic opportunities resulting from the combined pipeline business. The two companies combined have $18 billion of near-term projects secured by long-term contracts or regulated cost-of-service revenue, which positions the combined company to generate significant incremental earnings growth into the next decade.
Columbia's management projects that its projects will contribute 20% average annual EBITDA growth through 2020. The majority of these projects are within existing infrastructure corridors, therefore more cost competitive and with less execution risk than comparable greenfield projects. And TransCanada's management has said that the transaction "supports and may augment" its target for 8% to 10% average annual dividend growth through 2020.
However, the greatest upside from the transaction could be that TransCanada becomes a more attractive investment to a broader community of investors, particularly in the U.S. The combined company will have a substantially enhanced natural gas infrastructure base, with the addition of the Marcellus and Utica assets. And the sale of TransCanada's more volatile U.S. Northeast merchant power business (which may have contributed to some investors avoiding the stock) enhances the stability and predictability of the "new" company's consolidated revenue stream.
Citi Research analyst Faisel Khan agrees. He upgraded TransCanada from a hold to a buy on March 30 and raised his target price on the stock to $55 from $50 because of the Columbia deal and the company signaling its willingness to divest these assets. In establishing his new target price, Mr. Khan used a $48 per share net asset value estimate, which conservatively values TransCanada's assets.
TransCanada's 2018 P/E multiple of 15.0 is one of the lower multiples among large-cap pipelines and utilities. Add to this the 2x dividend coverage from distributable cash flow and the company's 10% EPS and dividend growth through 2022, driven by a 70% EBITDA boost from the Columbia assets, and the "new" TransCanada's cleaner comparison against the premium-valued peer group, all of which should help drive multiple expansion.
Disclosure: I/we have no positions in any stocks mentioned, and no plans to initiate any positions within the next 72 hours.
I wrote this article myself, and it expresses my own opinions. I am not receiving compensation for it (other than from Seeking Alpha). I have no business relationship with any company whose stock is mentioned in this article.