Microsoft (NASDAQ:MSFT) made a ton of announcements and product reveals at last week's BUILD developer conference. If you were a developer looking to run Linux directly on Windows 10, you were in luck. The same goes if you wanted Cortana and bot services built into Skype. Or if you wanted an ad-blocker built into the Edge browser. Or if you wanted to launch new IoT-related Azure services that don't need a dedicated server.
But if you were a die-hard Windows Phone fan (there are still some out there) hoping to see fresh news about Microsoft's smartphone platform, the story was very different. Not only were no new phones revealed, Microsoft execs generally avoided talking about Windows Phone. And when Windows chief Terry Myerson was asked by The Verge about where things stand for the platform, his comments weren't too reassuring.
"We're fully committed to that 4-inch screen, there will be a time for it to be our focus, but right now it's part of the family but it's not the core of where I hope to generate developer interest over the next year. There's no lack of recognition to realize how important that form factor is, but for Microsoft with Windows and for our platform it's the wrong place for us to lead... If you wanted to reach a lot of phone customers, Windows Phone isn't the way to do it."
The Microsoft Lumia 650
And today, Windows Central reports (citing "sources close to Microsoft's plans") the company's long-rumored Surface Phones now isn't due until the spring of 2017. Author Daniel Rubino adds, "there are no new Lumias slated for release by Microsoft to my knowledge," and that it looks as if the Lumia line is being phased out indefinitely.
Rubino does add that up to three Surface Phone models could launch next year: a consumer model, a business model, and a prosumer/enthusiast model. He notes this fits with past remarks from CEO Satya Nadella about where Microsoft plans to direct its Windows Phone investments. The Surface Phones are expected to support Microsoft's Continuum technology, which lets Windows Phones be used with a PC monitor, keyboard, and mouse (with software adjusting on the fly) by connecting to a dock.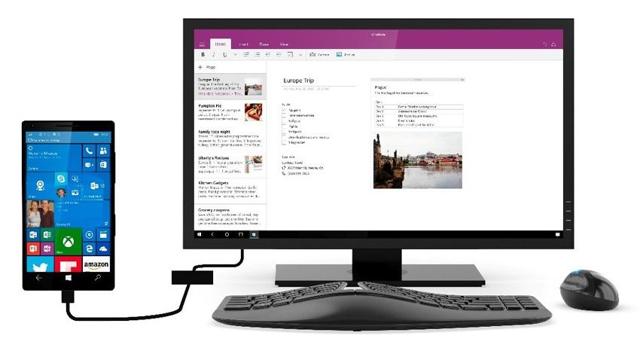 A Continuum demo
Microsoft's phone unit was hit hard during both the company's 2014 and 2015 layoffs. The latter was accompanied by a $7.6B write-down on the company's purchase of Nokia's phone unit and a promise by Nadella that Microsoft will "run a more effective and focused phone portfolio while retaining capability for long-term reinvention in mobility."
A look at the recent performance of Microsoft's phone business makes the company's decision to downplay Windows Phone quite understandable. Only 4.5M Lumias were sold in calendar Q4 (FQ2), down from 10.5M a year earlier. IDC estimates total Windows Phone shipments (95% from Microsoft) fell 18% in 2015 to 29.2M, and sees shipments dropping another 18.5% in 2016 to 23.8M, good for just a 1.6% smartphone unit share. Quite the about-face from a 2012 prediction that Windows Phone will outship the iPhone in 2016.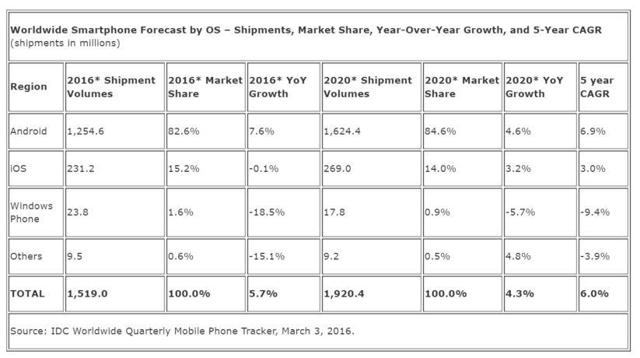 But while Microsoft's own hardware business might no longer get much attention, it would be a mistake to think the same holds for its mobile efforts in general. The company has been buying iOS/Android app developers at a brisk pace - SwiftKey and Wunderlist are among the notable recent acquisitions - and the BUILD conference was jam-packed with announcements regarding new multi-platform tools, APIs, and cloud services for mobile developers.
Arguably, the two biggest ones were the unveiling of the Bot Framework, which will let PC and mobile apps integrate automated cloud services that react to user messages, and Microsoft's plans to make the mobile app development tools provided by Xamarin (acquired earlier this year for a reported $400M-500M) a free part of its Visual Studio app development suite.
Microsoft has definitely recalibrated its mobile strategy on account of iOS and Android's dominance. But that doesn't mean mobile has become any less important to the company.
Disclosure: I/we have no positions in any stocks mentioned, and no plans to initiate any positions within the next 72 hours.
I wrote this article myself, and it expresses my own opinions. I am not receiving compensation for it. I have no business relationship with any company whose stock is mentioned in this article.