The Canadian dollar depreciated today versus the USD. The U.S. dollar gained 0.67 versus the CAD in the last 24 hours. Risk off and traders squaring positions ahead of the release of the Federal Open Market Committee (FOMC) meeting minutes tomorrow at 2:00 pm EDT favoured the USD even as the notes from policy makers will signal further patience from the U.S. central bank.
The release of the Canadian Trade at $1.9 billion deficit was almost three times from last month's figures. Imports declined 2.6 percent, but in a negative note, exports fell 5.4 percent after a record high $43.7 billion in February. The Canadian dollar did not take the release well, but analysts were expecting a slight setback to the strong start of the year.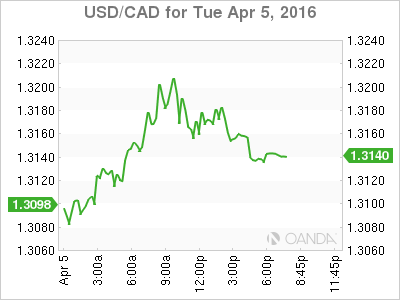 The Canadian dollar is getting little support from energy prices. Oil has been a volatile trade after the Organization of the Petroleum Exporting Countries (OPEC) members have issued statements supporting the Doha Oil Output Freeze Summit. Kuwait was the latest to say Iran's participation is not a deal breaker, but the comments of Saudi Arabia's Deputy Crown Prince Mohammed bin Salman who said if Iran did not agree to a freeze output, it would pull out of the deal.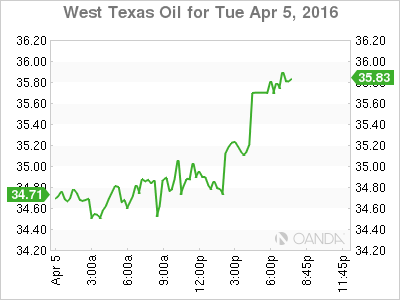 Oil has recovered from the lows experienced in February with the oil output freeze agreement playing a big part in energy finding some stability. The fact remains that producers continue to pump at near record levels, so it is unlikely a freeze at those production levels will have much of an impact without a significant uptick in global demand.
CAD traders will be awaiting the release of oil inventories in the U.S. and will later tune in to the publication of the March's Federal Open Market Committee (FOMC) meeting minutes. The Fed's dovish stance is set to be explored further with more points of view from policy makers available to investors. Comments from Federal Reserve Bank of Kansas City President Esther L. George will be actively searched as she was the only dissenter on the vote to hold interest rates unchanged.
Fed facts and official statements have stressed the caution with which the central bank will approach the decision to raise rates in the future. That patient stance has made the market punish the USD versus other pairs as it is unlikely there will be more than two rate hikes in 2016, when at the end of 2015 the expectation backed by Fed forecasts was double that.
USD/CAD events to watch this week:
Wednesday, April 6
10:30am USD Crude Oil Inventories
2:00pm USD FOMC Meeting Minutes
Thursday, April 7
8:30am USD Unemployment Claims
5:30pm USD Fed Chair Yellen Speaks
Friday, April 8
8:30am CAD Employment Change
8:30am CAD Unemployment Rate
*All times EDT
For a complete list of scheduled events in the forex market visit the MarketPulse Economic Calendar.