It's been a while since I wrote on Community Healthcare Trust (NYSE:CHCT), and in case you forgot, I was less than excited about the new kid on the block in the Healthcare REIT sector (as I explained in my previous article).
In May 2015, CHCT priced its IPO of 6.225 million shares at $19.00 per share, and the shares began trading on the NYSE on May 21st. The company contributed the net proceeds from the offering and the concurrent private placements to its operating partnership, and it used roughly $114.5 million of funds to acquire the initial properties and fund corporate overhead.
CHCT considers itself a "capital source for non-urban healthcare providers", and the company focuses on "smaller ancillary properties in non-urban markets - generally not a hospital or even a large on campus medical office building". It seems CHCT has a wide net focus, as the company states in filings:
If a property is important to providing healthcare to a stable or growing population base - we are interested.
It focuses on properties "in an area with a population of 8,000... or properties with "a population of 5,000". The new REIT even boasts that it will invest in a "small assisted living facility in a rural area".
Yikes!
CHCT says the properties it owns "have historically been tough to separately finance since they are of a type and in areas that most financing sources are not looking to provide financing".
So let me get this straight. CHCT is a REIT that finances deals in small towns that nobody else will finance. Isn't that like sub-prime lending?
Isn't this new REIT simply wanting the shareholder to shoulder the risks that banks and private lenders are running from. I'm sure there's strong demand, as many of the small-town docs are struggling to survive, and by monetizing the real estate, it seems the doctors are getting the better end of the stick.

The 11-Month Checkup
As I said, CHCT went public in May 2015, just around 11 months ago, and it appears that the IPO was a "blind pool" offering in which the company had properties under contract to purchase, and so, there were no closings announced (at the time of the IPO).
However, upon review of the Q4-15 results and following the completion of the IPO, CHCT has invested in $143.9 million (40 real estate properties) and one mortgage note located in 18 states, with approximately 789,500 square feet. The real estate properties were approximately 94.3% leased at December 31, 2015, with a weighted average remaining lease term of approximately 5.6 years.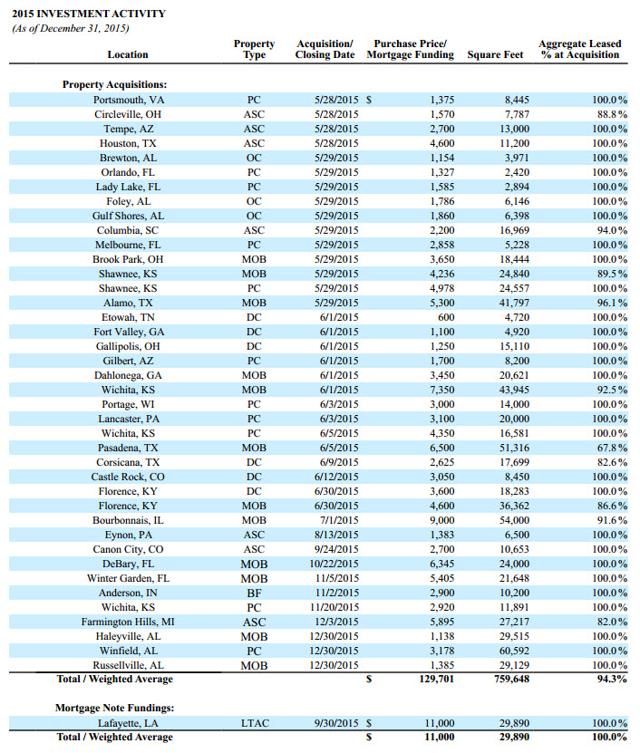 CHCT focuses on individual acquisition opportunities of $10 million or less in off-market or lightly marketed transactions, and the company seeks to acquire either from third-party owners of existing healthcare facilities or directly from healthcare providers through sale-leaseback transactions.
Approximately 42.1% of the company's annualized revenue as of Q4-15 was derived from properties located in Kansas (16.9%), Texas (13.9%) and Florida (11.3%).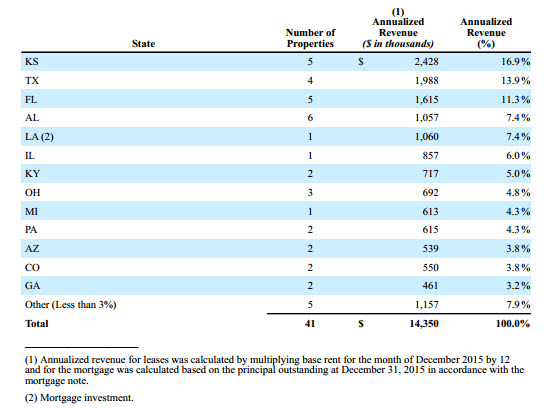 As of December 31, 2015, the weighted average remaining years to maturity pursuant to the leases with CHCT's tenants was approximately 5.6 years, with expirations through 2030. The table below details scheduled lease expirations as of December 31, 2015 for properties for the periods indicated.

At December 31, 2015, CHCT had no customers that accounted for more than 10% of its consolidated revenues. Here's a snapshot of its top 10 tenants: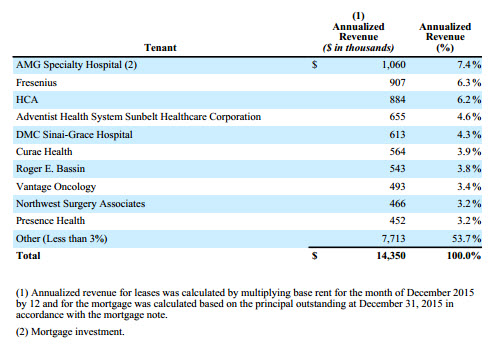 The REIT has a diversified portfolio that includes medical office buildings, physician clinics, ambulatory surgery centers, dialysis clinics, long-term acute care centers, oncology centers, and behavioral centers.
The Small-Town Consolidator
As of Q4-15, CHCT had Total Assets of around $142 million, and as of January 31, 2016, the company had borrowed $21 million under its credit facility to fund acquisitions and mortgage notes, resulting in $38 million outstanding under its credit facility.
As of December 31, 2015, its total indebtedness represented approximately 11.9% of Total Assets. The company's current financing policy prohibits incurring debt (secured or unsecured) in excess of 40% of total book capitalization. To grow the business, CHCT will likely utilize a combination of equity, debt, and OP units.
During the fourth quarter, the company acquired eight properties and its new corporate office for a total purchase price of $29.9 million. The eight properties located in five states total approximately 214,000 square feet and were 97.7% leased upon acquisition. Also, during the fourth quarter, CHCT generated Normalized FFO of $0.37 per diluted common share.
The company reported net income for the fourth quarter of approximately $121,000. Here's a snapshot of its historical operating FFO per share:

Also, CHCT declared a quarterly common stock dividend of $0.3775 per common share on February 8, 2016. This dividend was payable on March 4, 2016 to shareholders of record as on February 19, 2016. Here's a snapshot of the company's brief dividend history:

An Important Foot: An Alignment of Interest
One other interesting nugget I found in the S-11 regarding management compensation:
During the initial terms of their respective employment agreements, all of our officers have elected to take 100% of their salary, bonus and long-term incentive compensation in the form of restricted stock, subject to an eight-year cliff-vesting period, which we believe creates a significant alignment of interest between management and our stockholders.
It's a good sign pointing to an alignment of interest, and CHCT even added the following carrot:
Mr. Wallace, our Chairman, Chief Executive Officer and President, has committed to buy $2,000,000 in shares of our common stock and certain of our officers and director nominees have committed to purchase an aggregate of $350,000 in shares of our common stock in concurrent private placements, in each case at the same price offered to the public pursuant to this prospectus, which we believe further aligns our management's interests with our stockholders.

Finally, we have adopted stock ownership guidelines that require our officers and directors to continuously own an amount of our common stock based upon a multiple of such officer's annual base salary or such director's annual retainer, as applicable.
It adopted this Incentive Plan to attract and retain qualified persons to motivate the participants to achieve long-term company goals and to more closely align the participants' interests with those of other stockholders by providing them with a proprietary interest in growth and performance.

Sizing up the Risk
First off, and as I already explained, I view CHCT's business platform as a higher-risk model due to its tertiary market focus. However, I also believe that there's a placemat for owning healthcare assets in small towns. Everyone has to visit the doctor, and that means there is always demand for physicians' care. But there's more risk, beyond small-market risk, and it's called small-cap risk.

In short, there's volatility to consider, and the fact that there is very little research coverage. It only takes one block trade to cause shares to spike or crater.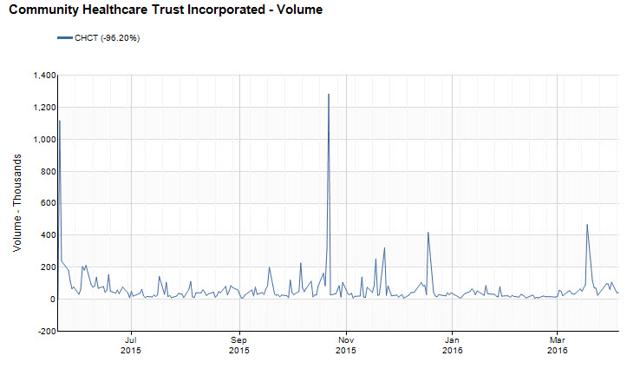 In terms of valuation, CHCT appears to be trading at sound value with a P/FFO multiple of 11.7x:

In terms of dividend yield, the REIT is seemingly attractive, with a current yield of 8.3%.

It appears that dividend is not fully covered, but the company has modest leverage. It appears that CHCT is acquiring properties at cap rate of around 9-10%, and even as CHCT pushes leverage closer to 40%, the payout ratio should fall in line with that of other healthcare REITs at around 85%. Since the IPO, CHCT shares have fallen by around 6%.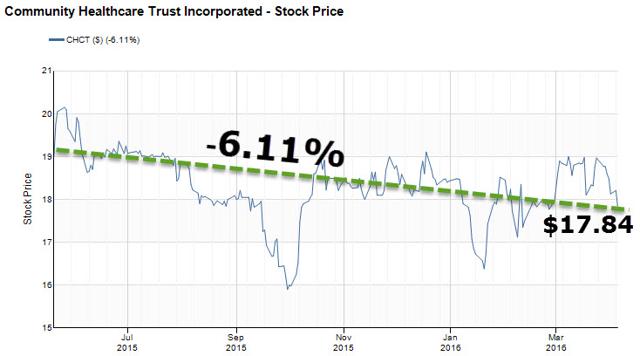 There are four analyst estimates included in the consensus estimates for the company (below). This forecast suggests CHCT will easily cover its dividend in 2016 (88%) and improve the payout in 2017 (83.5%).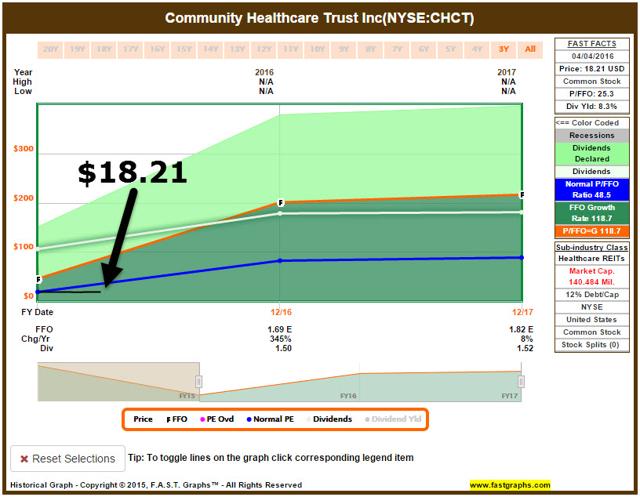 My conclusion: CHCT has been flying under the radar for eleven months. Although the small-town risk and small-cap risk are obvious signs of caution, I believe the shares are attractive, based on valuation and strong inside ownership. In fact, I'm quite relieved to see a REIT that is truly putting investors in front of management interests. I'm tired seeing so many investment bankers dressed up as REIT managers, and what I like about CHCT's management team is that they are actually rolling up their sleeves and working to build a business.
In my last article on CHCT, I mentioned its lousy website, but you can see that the company has since upgraded its site. Also, keep in mind, it's much cheaper to run a business in Cleveland, TN, than in New York City.
For all reasons outlined, I believe Community Healthcare Trust is poised to profit. I will be adding CHCT to my Small Cap REIT Portfolio (to be included in the next edition of the Forbes Real Estate Investor), and I will initiate a recommendation when the shares hit $20 (likely by Q3-16). (I would like to see a few more quarters of earnings history.)
Author's Note: I'm a Wall Street writer, and that means that I am not always right with my predictions or recommendations. That also applies to my grammar. Please excuse any typos, and I assure you that I will do my best to correct any errors if they are overlooked.
Finally, this article is free, and my sole purpose for writing it is to assist with my research (I am the editor of a newsletter, Forbes Real Estate Investor), while also providing a forum for second-level thinking. If you have not followed me, please take 5 seconds and click my name above (top of the page).
The only guarantee that I will give you is that I will uncover each and every rock I can, in an effort to find satisfactory investments that "upon thorough analysis promises safety of principal and satisfactory return. Operations not meeting these requirements are speculative." (Ben Graham).
REITs mentioned: New Senior Investment Group (NYSE:SNR), Sabra Health Care REIT (NASDAQ:SBRA), Care Capital Properties, Inc. (NYSE:CCP), Omega Healthcare Investors, Inc. (NYSE:OHI), Ventas Inc. (NYSE:VTR), Welltower Inc. (NYSE:HCN), Healthcare Trust of America (NYSE:HTA), Senior Housing Properties Trust (NYSE:SNH), Medical Properties Trust, Inc. (NYSE:MPW), HCP, Inc. (NYSE:HCP), National Health Investors (NYSE:NHI), LTC Properties (NYSE:LTC), Physicians Realty Trust (NYSE:DOC), and Healthcare Realty Trust (NYSE:HR).
Disclaimer: This article is intended to provide information to interested parties. As I have no knowledge of individual investor circumstances, goals, and/or portfolio concentration or diversification, readers are expected to complete their own due diligence before purchasing any stocks mentioned or recommended.
Disclosure: I am/we are long O, DLR, VTR, HTA , STAG, GPT, ROIC, HCN, OHI, LXP, KIM, WPC, DOC, EXR, MYCC, BX, TCO, SKT, UBA, STWD, CONE, BRX, CLDT, HST, APTS, FPI, CORR, NHI, CCP, WSR, CTRE, WPG, KRG, SNR, LADR, HCP.
I wrote this article myself, and it expresses my own opinions. I am not receiving compensation for it (other than from Seeking Alpha). I have no business relationship with any company whose stock is mentioned in this article.