I first began covering CorEnergy (NYSE:CORR) back in January 2015 (see my article HERE) shortly after the energy infrastructure company became a viable REIT alternative. Formerly, CORR was a business development company (or BDC) and opted to restructure to REIT in 2012.
Although energy infrastructure is comparable to other real estate asset classes (cash flow is a high component of total return), the unique characteristics is that the asset class also enjoys a resilient inflation hedge - the distribution that you get with CORR includes underlying contractual features that give visibility over the long run to inflation-based returns (1% to 3% is a reasonable expectation).

CORR primarily owns midstream and downstream U.S. energy infrastructure assets subject to long-term triple net participating leases with energy companies. The amount of infrastructure assets necessary to support the upstream growth in the U.S. generates ripple effects on asset development needs. By structuring sale/leaseback deals, CORR has minimal operational and/or maintenance risk and the benefits offer tremendous value for the capital-constrained owner/operators.
This niche infrastructure REIT sector is a small untapped category that is often overlooked by the MLPs, and yields are too skinny for the BDCs. By modifying the capital structure to a REIT model, CORR provides a compelling opportunity for companies that need financing to grow their businesses in the energy sector.
Of course, monetizing real estate using a sale/leaseback structure is nothing new. W.P. Carey (NYSE:WPC), arguably the pioneer of the sale/leaseback model, began financing deals for free-standing property owners over 15 years ago and has since morphed into a globally-recognized financier of standalone buildings.
However, CORR does not own buildings per se. Instead, the externally-managed REIT owns midstream and downstream U.S. energy infrastructure assets including pipelines, storage tanks, transmission lines and gathering systems.

The Portfolio
As of the latest quarter, CoreEnergy's tenant base included six companies: Pinedale Natural Gas, MoGas Pipeline, Portland Terminal, Black Bison, Omega Pipeline, and Energy XXI (EXXI). CORR's largest revenue sources include EXXI (38%), Pinedale (30%), and MoGas (17%).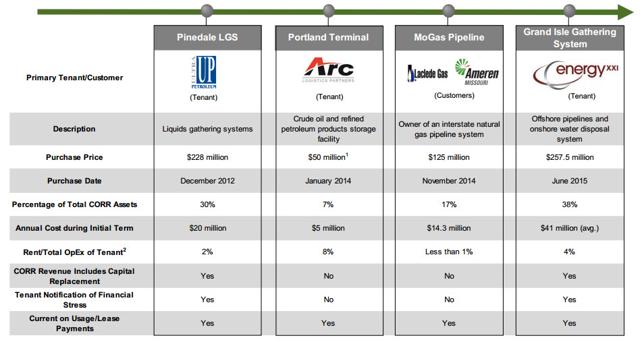 Since 2013, CORR has grown assets to over $675 million while increasing the annual dividend payout to $3.00 per share.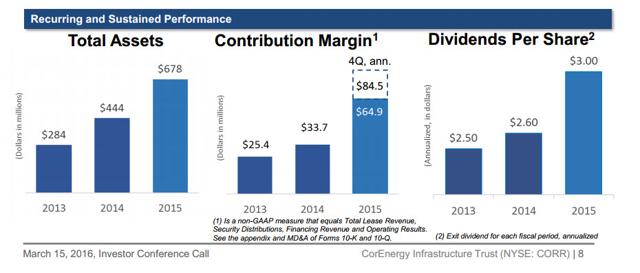 Normally, when you see a company growing earnings and dividends, you suspect that the share price would follow. That hasn't been the case for CORR as evidenced by the chart below (each of the numbers represent a date that I wrote on the company).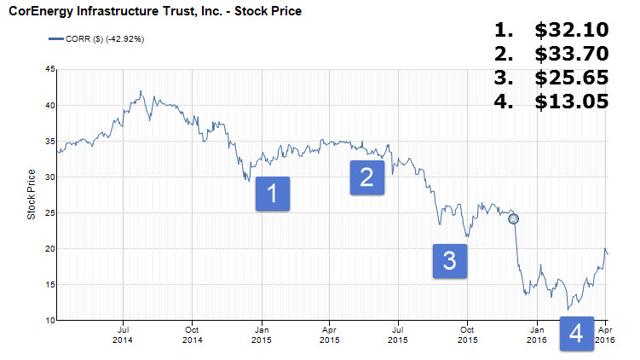 As a result of growing concerns related to several of CORR's tenants, the share price has become highly volatile. I'm glad to see that since my last article (February 18, 2016) shares have begun to rebound.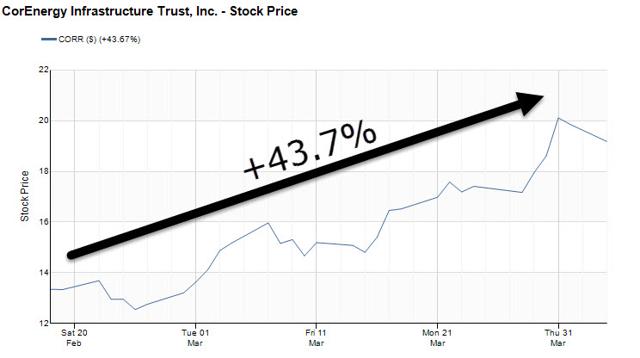 The Latest Earnings Results
On March 14th, CORR released fourth-quarter earnings. Included in the earnings release were the following highlights:
AFFO for 2015 was $40.3 million, or $3.77 per share (basic) and $3.56 (diluted). On January 1, 2016, the base rent of Pinedale LGS increased by 0.19% to approximately $20.7 million annually. During the fourth quarter of 2015, CorEnergy completed the $10 million in planned capital improvements in the Portland Terminal Facility, resulting in a total increase in base rent of approximately $96,000 per month. Salt Water Disposal Financing Notes: CorEnergy's financing revenue did not reflect any interest payments from the Black Bison Loan for the third or fourth quarters of 2015. Effective February 29, 2016, the Company foreclosed on 100% of the equity of the borrower of the Black Bison financing notes. In addition, SWD Enterprises recently advised CorEnergy that it has experienced a covenant default. The Company is in discussions to resolve the covenant default on approximately $4.9 million of financing notes.
Most importantly, the company reiterated:
CorEnergy expects its energy infrastructure portfolio - the GIGS, Pinedale LGS, MoGas Pipeline, Portland Terminal Facility and Omega Pipeline - to continue to produce stable, recurring revenues. The Company believes these cash flows will support sustainable quarterly dividend payments of $0.75 ($3.00 per share annualized) through the end of 2016. Although CorEnergy has historically targeted dividend growth of 1-3% annually from existing contracts through inflation escalations and participating rents, the company is not expecting significant inflation-based or participating rents in 2016. Contained within their earnings release was the following table:

Rolling up from net income to AFFO, we get the typical add-backs of depreciation and amortization as well as the 2015 "one off" of the provision for loan losses. The provision, net of taxes, includes the provision for loan loss of ~$13.8 million and income tax benefit of $1.3 million attributed to the Black Bison Loans. That is why the difference between FFO and AFFO was greater in 2015 than prior years. (the salt water disposal wells includes multiple counterparties, not just Black Bison).
The REIT is beginning to get more granular in its releases due to the concern (and thus valuation adjustment) regarding its largest tenants. The following chart was included in its presentation to show the impact of its leases with the tenants on the tenants cost: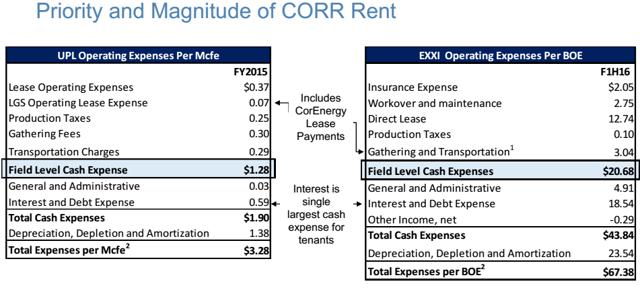 As the chart above shows, the lease expense of Ultra Petroleum (NASDAQ:UPL) and EXXI is one of the smaller factors in the cost basis of the companies. As well, the company continues to maintain, and we continue to believe, that leases are field level, operating expenses for tenants.
As a result, leases are held to a higher priority by tenants than other expenses, including debt service.
In fact, the $20 million received from Pinedale represents only approximately 2% of the operating expenses of Ultra Petroleum. That's about the same percentage for Energy XXI represented by the Grand Isle Gathering units.
The best way to understand "field level" costs is by the simple explanation given by the company:
Payment of field level cost is governed by each company's Joint Operating Agreement or JOA with other commodity owners in their fields. Expenses governed by the JOA are necessary to pull the commodity from the ground prior to payment of royalties to other partners. Direct operating expenses such as ours are withheld from the JOA partners, illustrating that our lease payments are more like utility bills. It is the post royalty cash flows that are available to contribute to corporate overhead and interest expense of the tenant.
If we look at the magnitude of the costs to the tenants, and the way the costs are categorized, we can get a better appreciation of why the company calls them "mission critical" to the tenants - They are required to lift/transport product, have a priority status and are not significant enough to the tenants (in terms of overall costs) to play a game of "chicken" in a restructuring to reduce the amounts being paid on the leases.
The Bottom Line is that we expect CORR to sustain its $3.00 dividend during 2016 (absent a lease rejection in bankruptcy) before having to ponder the magnitude of that payment. The company faces what appears to be a hard choice right now - it can buy back its equity (common and/or preferred) at a higher rate than it has stated it can invest in assets.
The choice then comes down to shrinking the company by share repurchases ($10m left on the authorization) or growing/diversifying the company via lower yielding asset acquisition. CORR has expressed the view that it is focused on growing the company rather than shrinking it and that current acquisitions at lower rates is more compelling (long term) than shrinking the company by repurchasing shares.
We tend to agree with this assessment as we would prefer to be long-term investors in a viable and stronger REIT than make a couple bucks upfront. One must understand that if the REIT gets much smaller, fewer will follow it and liquidity will be reduced. This can force the hand of a company into making worse decisions.
Of course, no discussion about CORR would be complete without an update on its financially shaky (okay, shaky might be an understatement here) tenants Energy XXI and Ultra Petroleum. We do not follow these companies in depth, but we stay abreast of developments in order to better understand the outlook for CORR. A brief summary of events and thoughts follows.
EXXI
March 15, 2016 - Energy XXI announced that it has made the interest payment due on its EPL Oil and Gas, Inc. 8.25% Senior Notes. This follows the Company's decision to defer this interest payment originally due on February 16, 2016, commencing a 30-day grace period.
The company has elected not to make interest payments due on Energy XXI Gulf Coast, Inc.'s ("EGC") outstanding 11% Senior Secured 2nd Lien Notes and EGC's outstanding 6.875% Senior Notes due on March 15, 2016, commencing a new 30-day grace period. In addition, the Company has obtained an extension on the waiver to certain requirements under its Second Amended and Restated First Lien Credit Agreement (provided pursuant to the Thirteenth Amendment and Waiver dated February 29, 2016) until April 15, 2016, unless terminated earlier pursuant to the terms of the waiver.
In conjunction with the waiver, the Company has agreed to reduce its borrowing base from $500 million to $377.7 million and unwind certain hedging transactions and use the proceeds therefore to repay amounts of outstanding loans to EPL under the Credit Agreement, with the repayments resulting in a further reduction in the borrowing base of EGC and EPL.
EXXI 11% 3/15/20 (2nd lien) trade 13.25 or 109%.
UPL
3/3/16 - S&P cut UPL Corp. to CC/NEG from CCC-/NEG
3/4/16 - Moody's Investors Service changed Ultra Petroleum Corp.'s (NYSE: UPL) (Ultra) Probability of Default Rating (PDR) to Ca-PD/LD from Ca-PD. Concurrently, Moody's affirmed Ultra's Ca Corporate Family Rating (CFR), C senior unsecured notes rating and the SGL-4 Speculative Grade Liquidity Rating. The outlook remains negative.
The appending of the PDR with an "/LD" designation indicates limited default, reflecting the recent announcement by the company that it had entered into waiver and amendment agreements covering certain of its debt obligations and would defer interest and principal payments due March 1, 2016.
Missing an interest or principal payment according to the terms of the original debt agreements, after the applicable grace period, is a default under Moody's definition of default.
UPL 6.125 10/1/24 trade 7.5 or 84%.
Small Cap Risk: I frequently point out the small-cap risk associated with CORR. I maintain modest exposure in this REIT (around 1%) and I would not recommend over-weighting shares given the extreme volatility of the security.
Author's Note: I'm a Wall Street writer, and that means that I am not always right with my predictions or recommendations. That also applies to my grammar. Please excuse any typos, and I assure you that I will do my best to correct any errors if they are overlooked.
Finally, this article is free, and my sole purpose for writing it is to assist with my research (I am the editor of a newsletter, Forbes Real Estate Investor), while also providing a forum for second-level thinking. If you have not followed me, please take 5 seconds and click my name above (top of the page).
The only guarantee that I will give you is that I will uncover each and every rock I can, in an effort to find satisfactory investments that "upon thorough analysis promises safety of principal and satisfactory return. Operations not meeting these requirements are speculative." (Ben Graham).
Sources: SNL Financial and CORR Investor Presentation & Supplement.
Disclaimer: This article is intended to provide information to interested parties. As I have no knowledge of individual investor circumstances, goals, and/or portfolio concentration or diversification, readers are expected to complete their own due diligence before purchasing any stocks mentioned or recommended.
Disclosure: I am/we are long O, DLR, VTR, HTA , STAG, GPT, ROIC, HCN, OHI, LXP, KIM, WPC, DOC, EXR, MYCC, BX, TCO, SKT, UBA, STWD, CONE, BRX, CLDT, HST, APTS, FPI, CORR, NHI, CCP, WSR, CTRE, WPG, KRG, SNR, LADR, HCP.
I wrote this article myself, and it expresses my own opinions. I am not receiving compensation for it (other than from Seeking Alpha). I have no business relationship with any company whose stock is mentioned in this article.
Editor's Note: This article covers one or more stocks trading at less than $1 per share and/or with less than a $100 million market cap. Please be aware of the risks associated with these stocks.