Two Harbors Investment Corp. (NYSE:TWO) previously delivered great returns to shareholders, but lately the mREIT has been struggling. The result is fairly interesting given the macroeconomic events that have transpired over the last few months. Two Harbors Investment Corp. trades at a substantial discount to their Q4 book value. As of the end of the first quarter, they were trading at a 22.85% discount to trailing (Q4 of 2015) book value. They also had a fairly weak quarter compared to several of the agency mREITs. Their total return to shareholders (using price fluctuation rather than book value changes) was about a negative 1%. TWO takes on some significant credit risk, but the growth in share prices for agency mREITs was dramatic. The market has rallied substantially and investors are showing significantly less concern regarding risks of almost all manner.
The TWO Portfolios
The following chart demonstrates the rough composition of the portfolio at the end of the last few quarters:

The allocation to interest rate sensitive instruments has declined in favor of those that are sensitive to credit risk. Earlier in the quarter that would have been a fairly substantial problem, but the market has rallied substantially over the last couple months. If we were to assume that the S&P 500 (NYSEARCA:SPY) is reflecting investors' beliefs about the economy, then we would have to say that the marginal investor is dramatically more bullish now than they were previously.
Market Perceptions
The S&P 500 bottomed out (using close values) on February 11, 2016. I pulled the dividend adjusted closes for several securities. I included several other mREITs:
Annaly Capital Management (NYSE:NLY)
American Capital Agency Corp. (NASDAQ:AGNC)
CYS Investments (NYSE:CYS)
Orchid Island Capital (NYSE:ORC)
ARMOUR Residential REIT (NYSE:ARR)
American Capital Mortgage (NASDAQ:MTGE)
For comparison, NLY holds a small amount of assets that are non-agency RMBS. AGNC, CYS, ORC, and ARR are primarily agency mREITs. MTGE would probably be the best direct comparison, but their portfolios are still materially different.
I put together the following chart showing the gains by investors in each security if they purchased at the market close: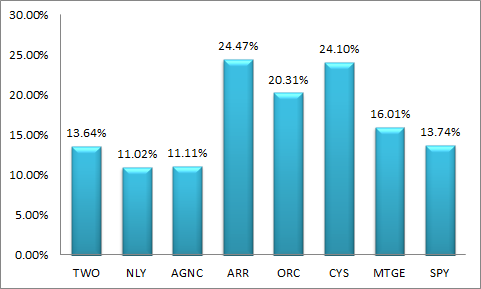 It is interesting to note that the best returns by a substantial margin went to the small to mid-sized agency mREITs. That shouldn't be too surprising since the smaller mREITs can often see larger failures in market prices. However, it is worth recognizing that a flattening yield curve creates a significant challenge for agency mREITs. Because TWO includes credit sensitive assets, the portfolio has substantially higher yields and management can use significantly lower levels of leverage. The following chart demonstrates the asset yields, cost of funds, and resulting spread.

Positive Signs
There has been further progress in lowering the unemployment rate, and the low long-term rates should provide support for home prices. When mortgage rates are low, it means potential home buyers are able to sign larger deals. I still believe most potential home owners are assessing affordability through the monthly payment. The low rates on the longer end of the yield curve are reflective of a strong expectation for rates to remain lower for longer. The presence of other developed countries demonstrating substantially lower treasury yields reinforces the pressure on domestic treasury securities to remain at low yields. For instance, the 10-year rates in Japan have now reached negative levels. This is something economists believed was entirely impossible prior to a few years ago, but it is happening.
The weak treasury yields translate into weaker yields on MBS. For mREITs that is a challenge because it hurts their yield on assets, but the mREITs with an emphasis on non-agency MBS should experience materially less of that challenge.
Dividend
I foresee several mREITs slashing their dividends during 2016, but Two Harbors Investment Corp. already got the cut out of the way. Since mREITs tend to get punished after announcing the cut, it is one negative event that investors don't need to spend as much time thinking about. It already happened and it was priced in. The dividend currently stands at $.23.
Conclusion
Two Harbors Investment Corp. has occasionally been on my radar, but the mREIT is large enough and old enough that the market is often substantially less inefficient. I'm still heavily concerned by the flattening of the yield curve and what it means for agency MBS. TWO's portfolio of agency RMBS is focused on the 30YR with coupon rates of 4.0 and 4.5. Those securities are particularly exposed to refinancing risk. They also hold positions in IOs (interest only strips) and IIOs (inverse interest only strips), which are extremely sensitive to prepayments. On the other hand, their non-agency MBS portfolio could benefit from higher refinancing rates since non-agency MBS generally trade at a material discount to par value.
I still want an effective method for performing full book value estimates on TWO the way I can perform them on the typical agency mREIT. Despite that, I think right now TWO is looking better than Annaly Capital Management or Orchid Island Capital based on my estimates of the discounts using rough book value estimates on NLY and ORC for March 31st and the share prices from the end of trading on April 5, 2016. At that time share prices were:
TWO - $7.73
NLY - $10.29
ORC - $10.43
Disclosure: I/we have no positions in any stocks mentioned, but may initiate a long position in ANY OF THE PREFERRED SHARES over the next 72 hours.
I wrote this article myself, and it expresses my own opinions. I am not receiving compensation for it (other than from Seeking Alpha). I have no business relationship with any company whose stock is mentioned in this article.
Additional disclosure: Information in this article represents the opinion of the analyst. All statements are represented as opinions, rather than facts, and should not be construed as advice to buy or sell a security. This article is prepared solely for publication on Seeking Alpha and any reproduction of it on other sites is unauthorized. Ratings of "outperform" and "underperform" reflect the analyst's estimation of a divergence between the market value for a security and the price that would be appropriate given the potential for risks and returns relative to other securities. The analyst does not know your particular objectives for returns or constraints upon investing. All investors are encouraged to do their own research before making any investment decision. Information is regularly obtained from Yahoo Finance, Google Finance, and SEC Database. If Yahoo, Google, or the SEC database contained faulty or old information it could be incorporated into my analysis.