Introduction
McDonald's (NYSE:MCD) is a company that consumers love and its share price continues to ascend to new heights. But given its current lofty valuation, I'm definitely not loving it.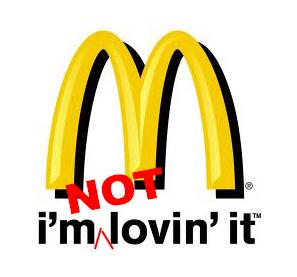 Seeking Alpha contributor Brad Kenagy published an article earlier this month in which he asked contributors for their best short or long idea for a company trading on the S&P 500. For his contest, I gave a short write-up about why I think McDonald's will experience a correction in the near term.
Following publication, Seeking Alpha contributor David Pinsen highlighted my short thesis in an article that presented investors with a way to hedge a potential McDonald's correction.
But given the brief nature of my comments, neither article provided a full explanation for my rationale of an upcoming correction in McDonald's share price. Although most investors will scoff at the idea of shorting a blue-chip company that is currently in the midst of a successful all-day breakfast campaign and is continuing to expand into China, taking a closer look at what has propelled McDonald's earnings and share price growth paints a more pessimistic picture.
This piece will explain why I think McDonald's is headed for a correction in the near term and why long-term investors should take a closer look at their holdings in the company.
Inflated Valuation
To understand my argument, it is critical to look back at McDonald's massive share buyback program.
Back in 2014, McDonald's set an aggressive target of returning $20 billion in cash to investors in dividends and share buybacks. In 2014, McDonald's spent $3.2 billion each on buybacks and dividends, which is the equivalent of 134% of its net income. This followed up an extended period of share buybacks already executed since 2007.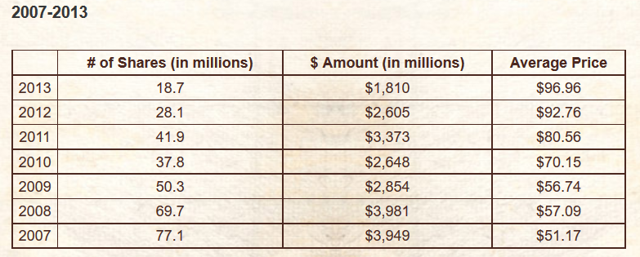 Source: AboutMcDonalds.com
The big issue with its current share buyback program is that it is mostly being financed by taking out long-term debt. In fact, it issued nearly $12 billion in long-term debt over the past three years.

Source: gurufocus.com
Above I've highlighted how its long-term debt stood at only $8.3 billion in December 2006 and jumped significantly between December 2014 and December 2015.
But debt-financed share buybacks do not really change the underlying strength of the company. Although McDonald's is the largest fast food chain in the world with over 36,000 (mostly franchise) locations in 119 countries, share buybacks do not provide money to help the company grow or improve. Instead they serve to artificially inflate its share price while its long-term debt has reached an all-time high.
The market will eventually recognize this artificial inflation and price this into its share price. For a company like McDonald's that has been on the markets for years, its P/E ratio actually provides a pretty good indication of its valuation. Looking at its TTM P/E, it now stands at around 26.5 which is well above its average of 18.9 for the past 5 years.

Source: Ycharts.com
Its forward P/E is at around 21.5, which is near a five-year high.

Source: Ycharts.com
Using a P/E valuation method, it is clear that McDonald's is overvalued from a historical perspective. But say that McDonald's deserves to be trading at a higher multiple to account for its successful all-day breakfast campaign and further expansion into China. If we assign it a P/E of 20 and multiply this by its 2015 EPS of $4.81, this would still give it a share price of only $96.2. Given that its share price is trading around $127, this indicates a significant disconnect. This large disconnect helps to explain why short interest continues to grow and is one reason why a correction is likely.
Conclusion
Given the above, I believe it would be wise for investors to reevaluate their holdings in McDonald's. However, I also recognize that a lot of retail investors are seeking flight from momentum stocks to blue chip stocks because of market volatility. This is part of the reason why other giants like Johnson & Johnson (NYSE:JNJ) continue to set new 52-week highs.
The problem with McDonald's is the fact that a lot of its apparent growth in value can be chalked up to share buybacks that have both inflated its earnings per share and performance. Sure McDonald's has been around for decades, provides a decent dividend and has seen its share price jump over 40% since last August. However, this rally will not continue as the market wakes up to McDonald's actual performance. Long investors should reevaluate their holdings in the company while contrarians should consider long-dated puts.
Disclosure: I/we have no positions in any stocks mentioned, but may initiate a short position in MCD over the next 72 hours.
I wrote this article myself, and it expresses my own opinions. I am not receiving compensation for it (other than from Seeking Alpha). I have no business relationship with any company whose stock is mentioned in this article.
Additional disclosure: I may initiate a short position using long-dated puts. Positions may change at any time and investors are reminded to complete their own DD before investing.