Eaton Corp. (NYSE:ETN) has been stunning investors with a growth in its share price over the last two months. Several investors and traders were worried about the negative impact from several factors: the strengthening dollar, gloomy economic environment, slowing Chinese growth and falling prices on Eaton's overall performance.
These concerns have slashed ETN's share price from a 52-week high of $73 a share in the mid of last year to around $47 in the time frame of only 6 months. After dipping to $47 a share in the first month of this year, the company's stock price has soared over 30% in the last two months. The company's stock price has been surging on several positive reports that have helped in repelling negative sentiments.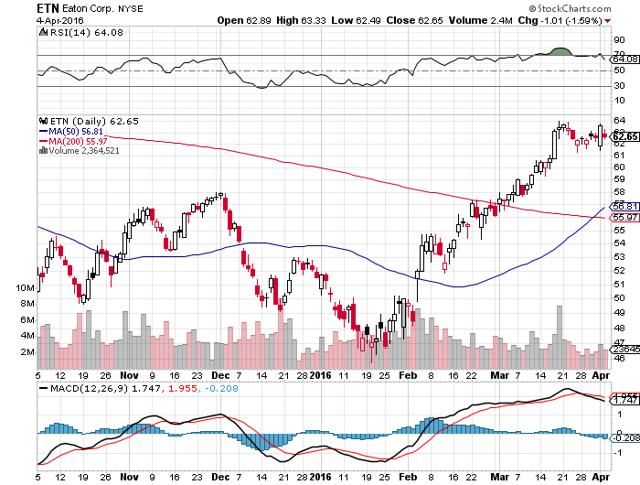 At the moment, Eaton's stock is trading around $62 a share, which is still well below its recent high of $73 a share. Some investors are seeing the latest rally in its share price as a tasty selling opportunity. They believe that investors can capitalize on over 30% price appreciation by selling the stock at its current level. Yes, this is a good strategy for short-term investors who bought the stock at the recent sell-off with the principle of "buy low and sell high" clearly applicable on Eaton Corp. On the other hand, long-term investors can make more gains by holding this stock along with stable dividends.
The company's business fundamentals are strong and its end markets are not depressed. Eaton's business model has very low exposure towards volatile energy and mining sectors. It is a power management company and its business model is focused on five core areas including aerospace, vehicles, hydraulics markets, Electrical Systems and Services and Electrical Products.
Eaton's end markets are not impacted by the current volatility of commodity prices, but negative currency translations declined its sales. For fiscal 2015, the company generated sales of $20.9 billion, which represents a decline of 7%, due solely to the blow of currency translations. In 2015, the company's business segments continued to generate positive margin growth.
Nevertheless, its existing restructuring plan and strategy of investing in high margin areas allowed it to generate a record growth in its operating margins. It posted record segment margins of 16% in the final quarter of 2015. This growth is an indication that Eaton's portfolio moves for margins and lowering costs are working.
Despite a depressed macroeconomic environment, Eaton has generated earnings a share of $4.23 in fiscal 2015 compared with $3.76 a share in 2014. In addition, the company anticipates its earnings to stand around $4.45 a share in 2016, a considerable increase over 2015. The company's anticipated earnings growth for this year shows that the company has potential to generate sustainable growth even in depressed environment.
Final Thoughts
Trading at 15 times earnings and well below its 52-week highs, Eaton shares look significantly undervalued with massive buyback plans and anticipated growth in earnings. Thus, this stock looks like a safe haven for the long-term investors. Most importantly, Eaton offers a divided yield of around 3.5% and its dividend growth also appears safe.
In 2015, it posted free cash flow of $1.8 billion, when dividend payments accounted for only $1 billion. Its balance sheet also looks strong as it has reduced its debt by $1 billion in the last year and the company repurchased almost 2.5% of its outstanding shares. Moving forward, Eaton plans to buy back about $3 billion of shares in the following two years. Thus on several optimistic signs and strong fundamentals, its share price could continue its current momentum in this and the next year.
Disclosure: I/we have no positions in any stocks mentioned, but may initiate a long position in ETN over the next 72 hours.
I wrote this article myself, and it expresses my own opinions. I am not receiving compensation for it (other than from Seeking Alpha). I have no business relationship with any company whose stock is mentioned in this article.