Welcome to the April 6th edition of Seeking Alpha's Eye on Tech newsletter.
Eye on Tech Coverage
Twitter Gets The NFL For Peanuts
A report states Twitter is paying less than $10 million for the rights to a 10-game NFL Thursday night package.

One catch: CBS and NBC will also broadcast the games and hold onto most of the digital ad inventory.

The deal highlights Twitter's strategic value to content owners and gives the company a cheap tool to boost engagement, especially in the U.S.
Nvidia Doubles Down On AI By Launching A Supercomputer
Nvidia has unveiled the DGX-1, a supercomputer optimized for deep-learning artificial intelligence applications.

The company has also rolled out new Tesla GPUs that will power the supercomputer and third-party servers, and shared more details about its Drive PX2 autonomous driving module.

With deep learning adoption nearing an inflection point, Nvidia's AI investments leave it well-positioned to rapidly grow its data center sales.
Microsoft's Phone Business Is Now An Afterthought
Microsoft's BUILD developer conference was absent of major announcements regarding Windows Phone and a new report indicates the company's rumored Surface Phones won't arrive until 2017.

In addition, remarks from Windows chief Terry Myerson suggest Windows Phone won't be a 2016 priority.

While Microsoft is de-emphasizing phone hardware, much attention is being given to creating cross-platform mobile apps, developer tools and cloud services.
Noteworthy Tech News
Intel overhauls its reporting structure - Notably, Intel's (NASDAQ:INTC) flash memory sales will now be separately broken out, rather than grouped into an "All other" segment that also covers things like one-time charges and divested businesses. The move comes with Intel continuing to ramp its SSD business and making big Chinese NAND flash manufacturing investments.
Security software/services revenue will also be broken out - it was previously grouped with other software/services revenue - as will recently-acquired FPGA developer Altera's sales. Also getting broken out is a newly-formed New Technology Group, which consists of "Intel's perceptual computing efforts and products designed for wearables, drones and other market segments."
All in all, the new structure represents a major improvement in financial transparency. One remaining shortcoming: PC and mobile chip sales are still grouped together through the Client Computing Group - Intel's PC CPU business is quite profitable, while its mobile chip ops have been in the red in recent years.
Also: Intel is buying Yogitech, an Italian firm that provides semiconductor functional safety products. Intel plans to use Yogitech's products within solutions for self-driving cars and IoT devices, both to protect its chips and make sure users are aware of when they fail.
WSJ: Amazon is releasing a Kindle with a rechargeable protective case - The inclusion of a separate case is said to allow the new Kindle to be thinner than prior models. Amazon (NASDAQ:AMZN) is also reportedly prepping a separate Kindle case with a battery than can be recharged via solar power. However, a source says it's unlikely this product will be launched soon.
Jeff Bezos recently said a new Kindle is about to launch. With a large chunk of e-book reading having shifted to tablets and even smartphones, e-readers are firmly a niche market. But it's a market Amazon firmly dominates, and by doing so helps maintain its dominant e-book position.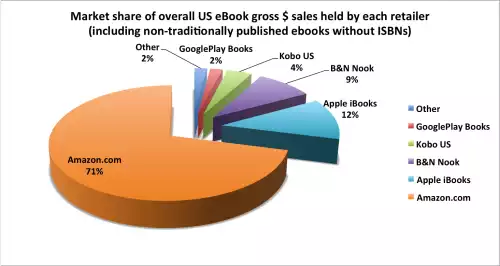 Source: The Digital Reader
Also: Bloomberg reports Amazon bought Orbeus, a startup using A.I. to analyze images, last fall. Facebook and Google are also fans of using A.I./machine learning to analyze and tag photos.
Ericsson buys data center management software firm NodePrime - The acquisition furthers Ericsson's (NASDAQ:ERIC) efforts to grow its data center and software/services exposure, and in doing so lower its dependence on a slow-growing mobile infrastructure market. NodePrime provides tools for deploying, managing and collecting/analyzing data from data center hardware - Ericsson declares the software allows data center owners to easily migrate to hyperscale architectures (beloved by Internet giants and increasingly others).
The software is already integrated with Ericsson's HDS 8000 servers for hyperscale data centers. The HDS 8000 is aimed partly at carriers looking to deploy network functions virtualization (NFV - allows many networking functions to be handled by standard servers), and is among the first systems to use Intel's Rack Scale Architecture, which lets many server components be upgraded/swapped out independently.
Etsy launches a website-building service for sellers - The service, called Pattern, lets Etsy's (NASDAQ:ETSY) 1.6 million active sellers quickly set up websites to market their wares. The company is touting integration with Etsy's marketplace - a seller's content/inventory gets automatically imported and synced - as a differentiator relative to site-building tools from the likes of Wix.com (NASDAQ:WIX) and GoDaddy (NYSE:GDDY).
Etsy's sales mix has been increasingly shifting to value-added services. Seller services revenue rose 53.9% Y/Y in Q4 to $47.2 million, while marketplace revenue (transaction-based) rose 19.5% to $97.9 million.
Sony lets PS4 users stream games to PCs and Macs - For gamers, the PC is far from dead, as Nvidia (NASDAQ:NVDA) can vouch. Sony's (NYSE:SNE) move comes after Microsoft allowed Xbox One users to stream games to Windows 10 PCs (reviews have been good). It also follows reports Sony is prepping a "PlayStation 4.5" supporting 4K gaming and PlayStation VR enhancements. For now, PS4 games streamed to PCs support a max resolution of 720p.
WhatsApp adds end-to-end content encryption - WhatsApp's move drives home the company and parent Facebook's (NASDAQ:FB) pro-privacy stance amid the Apple-FBI dispute: WhatsApp now won't be able to grant law enforcement access to private communication on its platform even if a warrant exists. It comes with a few weeks after rival Telegram, which has emphasized its encryption features, said it has topped 100 million active users (WhatsApp topped 1 billion a couple months ago).
HP launches an ultra-thin high-end notebook - HP Inc.'s (NYSE:HPQ) latest Spectre notebook is just 10.3mm thick, or 2.8mm thinner than Apple's 2015 MacBook. It sports a 13.3" 1080p display (no ultra-high-res options for now), runs on an Intel Core i7 CPU, weighs 2.45 pounds and promises 9.5 hours of battery life. Pricing starts at $1,170.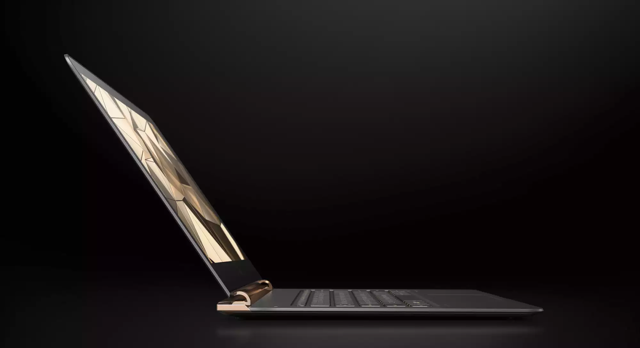 The latest HP Spectre is quite thin. Source: Engadget
A nice-looking notebook, one that arguably shows how larger PC makers are using their engineering resources (along with their scale) to grab share. But the $1,000+ Windows laptop market remains something of a niche.
Splunk updates its machine data analytics software - Splunk (NASDAQ:SPLK) is now providing better interactive visualization tools for both the on-premise and cloud-based versions of its software, as well as an open library for creating/sharing custom visualizations. Query performance, security and management improvements are also provided, and Splunk promises a major reduction in storage costs for analyzed data. Though private Sumo Logic and other rivals have made some noise, Splunk continues growing rapidly and has built a sizable ecosystem for its analytics tools.
Polycom and Mitel are reportedly in advanced merger talks - Activist Elliott Management (has stakes in both companies and has called for a merger) apparently wins again. Their track record in tech over the last few years is quite impressive.
Polycom (NASDAQ:PLCM) and Mitel (NASDAQ:MITL) could engage in more M&A following a deal: Elliott has called for a broader "industry consolidation strategy" involving mid-tier unified communications product firms, and has said it "would be willing to provide financing for Polycom's acquisition of targets in the space." ShoreTel (NASDAQ:SHOR), which Mitel once made a failed bid for, could be targeted.
Cree issues a calendar Q1 warning; shares plunge - The company blames weak lighting product sales, which in turn is blamed on multiple factors. The company's lighting division chief has stepped down.
Cree's LED product (chip/component) sales have been weak for a while amid tough Asian competition, but lighting sales have held up relatively well. Is competition from the likes of GE and Philips now weighing?
Marvell's CEO and President step down; shares jump - The departing CEO is married to the departing President. In addition, the CEO's brother used to be Marvell's (NASDAQ:MRVL) CTO. This "family-friendly" management structure has naturally produced its share of criticism over the years … and that criticism became more intense following recent accounting issues.
The departures come after activist Starboard Value took a near-7% stake, and are fueling speculation the struggling chipmaker could be up for sale. The NY Post reported last month Marvell is now open to a sale; dozens of other chipmakers have been acquired/merged over the last three years.
Noteworthy Tech Commentary and Reports
UBS: 41% of Netflix's subs wouldn't accept a price hike - As UBS observes, this is actually a positive figure for Netflix (NASDAQ:NFLX), as it's much less than the 68% who say they wouldn't accept any pay-TV price hikes. Needless to say, the percentage of people who actually stop using a product/service following a price hike is inevitably much lower than the percentage who say they will. A recent BuzzFeed column voiced a similar opinion.
Also: Netflix app download activity in many of the 130+ countries the company recently entered is solid. Netflix's content library for many of the new markets is relatively limited.
The HTC Vive VR headset gets decent reviews - It looks like the Oculus Rift has credible competition - Sony should provide more later this year via the PlayStation VR. The Vive's graphics, motion controls and related gaming experiences get high marks (the Rift's motion controllers arrive later this year), as does its support for full-room sensing (enables a much larger field-of-play than the Rift).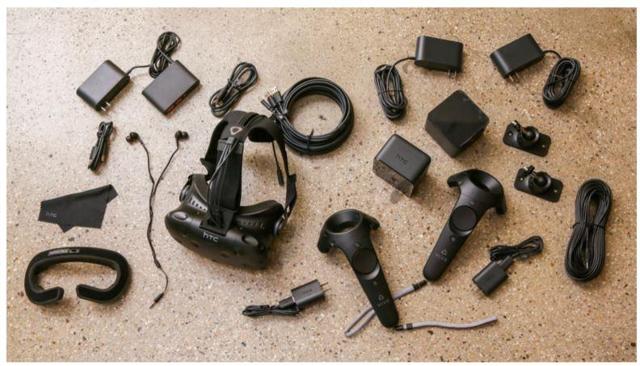 The Vive is powerful, but can be a little difficult to set up. Source: CNET.
Reactions to the Vive games provided by online gaming service/HTC partner Steam are mixed - game selection is considerable, but many titles haven't been fully optimized for VR. Steam's UI and the general user-friendliness of the Vive also get some criticism. At $799, HTC's (OTC:HTCXF) headset costs $200 more than the Rift, and (like the Rift) needs to be paired with a high-end PC. More reviews: The Verge, Fortune.
Internet Retailer: Lessons from innovative Chinese mobile apps - A look at how firms such as Tencent (OTCPK:TCEHY) and Alibaba (NYSE:BABA) have led China to have sky-high mobile payments adoption rates by integrating payments within their apps, turning shopping into a social activity, and merging online and offline payments. Could be a sign of things to come for Facebook Messenger, which is gradually expanding into payments reach and is led by ex-PayPal CEO David Marcus.
An interview of Microsoft CEO Satya Nadella - Includes some interesting comments about the potential for Cortana to differentiate from other personal assistants by taking in data from many different platforms, and for Azure's hybrid cloud support to act as a selling point relative to the likes of AWS. Nadella: "[T]here's going to be an edge to the cloud. It's not like all compute is going to be only in the cloud and there is no edge compute." Microsoft (NASDAQ:MSFT) gaming chief Phil Spencer also recently gave an interview.
Disclosure: I/we have no positions in any stocks mentioned, and no plans to initiate any positions within the next 72 hours. I wrote this article myself, and it expresses my own opinions. I am not receiving compensation for it. I have no business relationship with any company whose stock is mentioned in this article.
Editor's Note: This article discusses one or more securities that do not trade on a major U.S. exchange. Please be aware of the risks associated with these stocks.