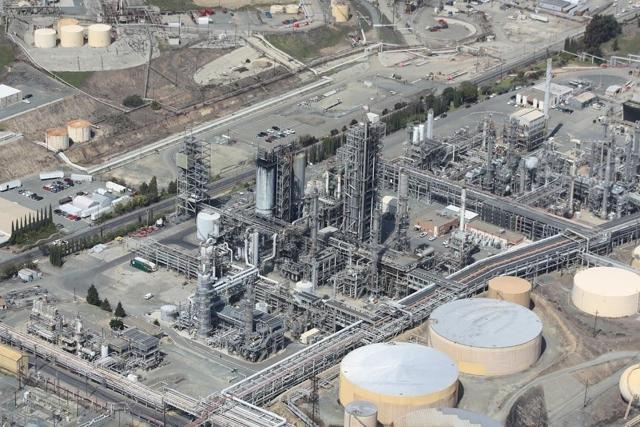 Source: Stock Photo
Storage levels at Cushing are one of the most-watched metrics to gauge the price of oil, and with it approaching near capacity, it's renewing concerns the price of oil could come under immense pressure - far beyond what it has been over the last couple of years.
The reason Cushing storage levels are so important are they represent the worst-case scenario for oil prices if there is no more room for crude. Producers would have to find alternatives to Cushing, which would not only add to costs, but force excess supply to be priced lower in order to move it quicker. That is the nightmare the industry has been concerned about for some time. This is where the price of oil could plummet into the teens.
If that's the case, then why have recent reports in some outlets that decreases at Cushing have relieved the glut concerns? According to a Reuters report, Genscape's director of oil markets, Brian Busch, said the decline in storage levels was only an operational variance. The market on the other hand, has interpreted the decline as an increase in demand.
Assuming Busch is correct in his assessment, the price of oil could be about to plummet to much lower levels. It's not time to panic, but oil investors need to take the appropriate steps to defend against this very real possibility.
Full as we've ever been says Enbridge
According to Enbridge (NYSE:ENB) manager Mike Moeller, "We are fuller than we have ever been." Enbridge is the largest Cushing operator.
Moeller differs some with the U.S. government on the operational limits of the overall storage capacity of storage space. The government says limits are at about 83 percent, while Moeller says it's probably closer to 85 percent.
The reason that's considered full is storage companies must keep room for emergency storage situations.
While it appears rising demand has been the cause of recent decreases in storage, it is more likely it has come from using various methods to shift crude around to temporarily relieve the glut. One of the ways that can be done is to move as much as 500,000 barrels per day in internal pipelines to make it happen.
Genscape confirms there have been some declines in storage levels at Cushing over the last few weeks. It keeps up to date on Cushing storage levels by flying over the tanks two times each week. As mentioned earlier, Genscape doesn't view it as the result of increase in demand but "an operational variance."
Importance of Cushing to oil price
Cushing is important because the bulk of shale production is sent there for refining, and because it has fewer options than other refineries, it isn't able to move product in the way other storage facilities can. For example, Gulf refineries can use different markets to alleviate excess inventory in a way Cushing can't.
Since most of the increase in U.S. oil supply comes from shale production, Cushing represents a major component for the price of oil if it were to reach crisis proportions, which it apparently is close to doing.
For this reason, Cushing is an indicator for the price of oil on the low side. If it can no longer accept oil delivery, it would bring about the much-feared worst-case scenario, which some have predicted would drive the price of oil down to a range between $10 per barrel to $20 per barrel.
As of March 23, the U.S. government said storage tanks at Cushing were filled to close to record levels of 66.23 million barrels.
Conclusion
It's amazing to me this story doesn't have a lot more traction, as it is as important in regard to the price of oil as any there is. I think the reason it hasn't been considered as such is because of the assumption demand was why storage levels were declining.
From the period between March 26, 2015, and March 29, 2016, Cushing storage levels dropped by 807,496 barrels, according to Genscape.
For the week ended March 25, 2016, the U.S. Energy Information Administration said stocks at Cushing were down by 0.27 million barrels to 65.9 million barrels. Total capacity at Cushing is about 73 million barrels. To keep things in perspective, even with the decline, Cushing storage levels are still up by about 15 percent year over year for the same period.
Overall U.S. oil inventories from March 18, 2016 and March 25, 2016 jumped by 2.3 million barrels to 534.8 million barrels. That's the highest since data has been collected.
If it is operational variance as Genscape asserts, the market could be caught by surprise and the price of oil would plummet. At that point, those in oil for the short term would have as much difficulty as trying to catch a falling knife. Many traders would be heading for the exits as quick as they could.
The question isn't whether or not inventory at Cushing is falling, the question is what is behind the decline. How that question is answered will determine the strategy employed in the sector.
My thought - after the financial media attempted to prop up the price of oil by making it appear a production freeze was imminent, which could be followed by a production cut - is I'm going with Genscape on this one. I believe they have a much clearer handle on what's going on than the general financial media.
I believe oil traders need to be much more cautious than ever, now that the idea oil levels are being lowered at Cushing, even if it's more from moving and diverting oil to pipes in order to provide more room in the tanks. Since the majority of the market believes it's coming from demand, it could be an extraordinarily negative catalyst most aren't prepared for. Invest accordingly.
Disclosure: I/we have no positions in any stocks mentioned, and no plans to initiate any positions within the next 72 hours.
I wrote this article myself, and it expresses my own opinions. I am not receiving compensation for it (other than from Seeking Alpha). I have no business relationship with any company whose stock is mentioned in this article.