This article is apprising investors about the upcoming SBP decision that will have a material impact on (NYSE: PAK) ETF.
SBP (State Bank of Pakistan) is due to announce its MPS (Monetary Policy Statement) on April 9, 2016. I expect the status quo to prevail due to following reasons:
· Unemployment rate is higher than average, clocking in at 5.8%
· Inflation is at its lowest, settling at 2.64% on YTD (year-to-date) basis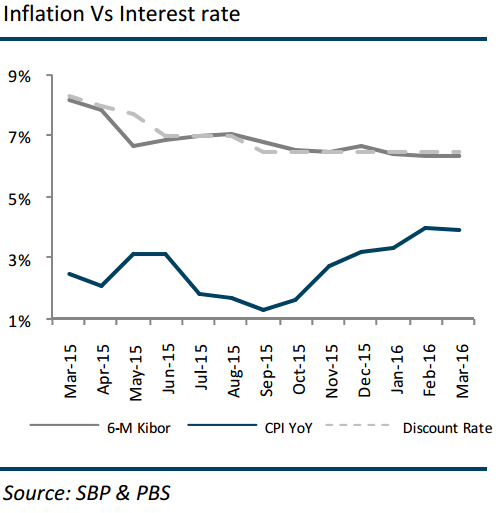 Though SBP has adopted expansionary policy by trimming the discount rate to a historical low at 6.5%, the economic activity has not picked up as expected. The government forecast GDP to expand in the range of 5%-5.5% per annum in FY16, but conservative analysts estimate it to grow at a slightly lower rate at 4.5-5%. Though corporate sector margins are 60% above the 5-year average, Pakistan's economy is constrained by two factors: electricity and gas load shedding coupled with a turbulent law and order situation. Both of these problems are solvable and the government is putting its best foot forward to address these issues.
Further, as Pakistan's economy is connected with the world through trade, decisions made by central banks of other countries also affect the policy making of SBP. America is a major trading partner of Pakistan with ~18% of Pakistan's export going into American markets. However, the recent depreciation of dollar against some of the major currencies following the Fed's recent policy on interest rate hike does not bode well for Pakistan's semi-manufactured goods as their demand is highly price elastic.
In conclusion, keeping in view the state of the economy along with subdued inflation figures, I expect the status quo to prevail. However, discount rates might start to inch up in the third quarter of the current year.
Disclosure: I/we have no positions in any stocks mentioned, and no plans to initiate any positions within the next 72 hours. I wrote this article myself, and it expresses my own opinions. I am not receiving compensation for it (other than from Seeking Alpha). I have no business relationship with any company whose stock is mentioned in this article.