Over the past two-and-a-half months, Anadarko Petroleum (NYSE:APC) has staged an impressive recovery on the stock market as its shares are up over 40%. This remarkable comeback in Anadarko shares is a result of the upswing in crude oil prices witnessed since the last week of January. But, even if crude oil prices were to remain weak, I think that Anadarko would make for a good bet for the long run as it has been able to reduce its cost structure remarkably.
So, in this article, we will take a closer look at the strategies adopted by Anadarko to counter a weak oil price environment, as they will enable it to improve its return profile in the long run.
Focus on higher margin areas
Anadarko is focused on improving its production in areas where it can generate more returns even in a low oil price scenario. This is the reason why the company is looking to improve production from Ghana and Algeria.
For instance, Anadarko expects the Ten Complex oil unit in Ghana to deliver its first oil in the second half of 2016. This will increase the oil volumes from Ghana for Anadarko, which is a good thing since this asset has higher margins at the prevailing market price. In fact, the Ten Complex and the Jubilee Unit in Ghana can together deliver a rate of return of up to 30% at current crude oil price levels.
Meanwhile, Anadarko expects its sales volumes from the Algeria Unit to remain flat in 2016 as compared to last year. However, the important thing to note here is that the asset will be able to keep its production consistent as compared to last year despite lower capital expenses. For instance, the Jubilee Unit in Ghana can generate over 20 MBOPD this year with a reduction of $50 million in capital, while Algeria can produce more than 40 MBOPD with a reduction of $40 million in capital expenses, as shown in the chart below.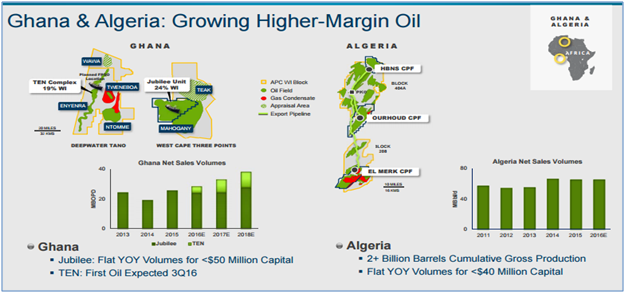 Source: Anadarko Petroleum
Additionally, Anadarko sees robust tieback opportunities at its assets, believing that it can generate rates of return ranging from 30% to 100% at the current price environment. The company is planning to do this by taking additional leverage from the infrastructure that it plans to bring to the above-mentioned oil units going forward. More specifically, a tieback is a "connection between a new oil and gas discovery and an existing production facility," which means that Anadarko is using its existing assets to generate more oil without substantial additional investments.
At present, Anadarko is tapping these tieback opportunities at various other locations such as the Lucius, the K2 Complex, Heidelberg, and Caesar/Tonga. The company has nearly 15 to 30 development well inventories at these oil units.
Moreover, Anadarko Petroleum has organically replaced approximately 130% of its production with reserve additions at a cost of about $14 per BOE at the end of fiscal year 2015. As such, its percentage of reserves and proved reserves has increased significantly to 80% at the end of 2015 as compared to 69% at the end of 2014. More importantly, since the company has managed to replace its reserves at a very low cost, it should be able to improve its return profile in the long run.
A disciplined cost structure is another positive
Anadarko Petroleum has taken aggressive steps to lower its cost base to offset the weakness in oil prices. For instance, Anadarko has reduced its well costs, including drilling, completion, and exploration, at Delaware by over 38% to $7.2 million last year. Similarly, at the DJ Basin, the company reduced its well costs by over 16% to $3.7 million in 2015. These moves have allowed Anadarko to reduce the break-even levels to a range of $25-$35 per barrel of WTI price in these two areas, as shown in the chart below:

Source: Anadarko Petroleum
What's even more important to note is that Anadarko believes that it will be able to reduce costs further this year, which will allow the company to lower the break-even levels even more. More specifically, Anadarko expects its well costs at the Delaware Basin to drop by 6% to $6.8 million this year, while at the DJ Basin, it expects well costs to decrease by more than 27% in 2016.
At present, its new wells in the Delaware basin carry a PV-10 break-even level of $35 WTI crude oil price, while IDUC (intentionally drilled but uncompleted) wells remain profitable at a PV-10 breakeven of $30 WTI oil price per barrel before tax. Meanwhile, DJ Basin's new wells have a PV-10 breakeven of $30 WTI crude oil price, while IDUCs hold a PV-10 breakeven of $25 WTI crude oil prices before tax.
Conclusion
Thus, Anadarko Petroleum has made the right move by lowering its cost base by substantial margins so that it can continue to improve its performance even in a weak pricing scenario. This is the reason why investors should continue to hold the stock in their portfolios since Anadarko's rally is not being driven by just the improvement in oil prices, but also by a strong operational base.
Disclosure: I/we have no positions in any stocks mentioned, and no plans to initiate any positions within the next 72 hours.
I wrote this article myself, and it expresses my own opinions. I am not receiving compensation for it (other than from Seeking Alpha). I have no business relationship with any company whose stock is mentioned in this article.