Weighing the positives and negatives, the upside and downside, I see an imbalance of risk for oil, and unfortunately, it is to the downside. The price of oil has already come back a good deal since my report from March 23rd, Why Energy is in Serious Danger, and it is down significantly even since I theorized this article a few days ago. But the situation can get worse, and I expect it will.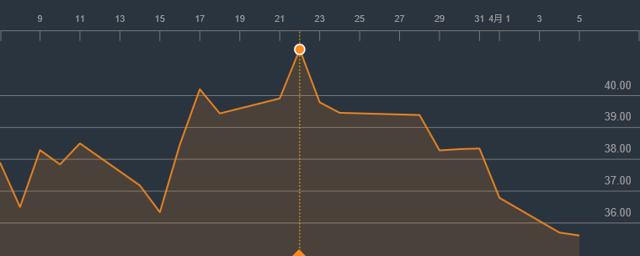 1-Month Chart of WTI Crude Futures at Bloomberg
The chart of WTI Crude Oil Futures shows they peaked around the 22nd of the month, and they've been coming back down since. Over the last five days, the decline seems to have accelerated.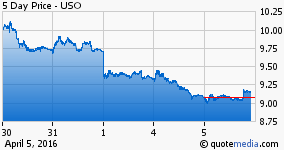 5-Day Chart of USO at Seeking Alpha
Why I expect it will get worse
The European Central Bank (ECB) has its non-monetary policy meeting today Wednesday April 6th. Given recent events in Brussels, it's the perfect opportunity for the ECB Chairman, Mario Draghi, to speak about the potential impact of terrorism and the refugee crisis on the eurozone economy.
I continue to expect the European economy to bear scars from the events in Brussels and Paris, and on future events, as there is a tangible cost to bear from terrorism and from fear of it. Security spending increases for both businesses and governments as they seek to safeguard society and assets. But, consumer and tourist traffic is impeded by relative fear, as heavily armed guards and news reports of bomb cache discoveries hardly serve to comfort people. Europe is also bearing the costs of its refugee crisis simultaneously.
If European economic recovery is stymied by these costs, it should impact energy prices. I believe anticipation of this will do the same. The global market for energy cannot bear a blow to demand given the current imbalance with supply. The eurozone, as a region, is a cornerstone of the global economy and of energy demand. While there were some, I hesitate to call them green, shoots out of China's PMI data (still below 50 and contracting) last week, that cornerstone economy remains vulnerable and in a state of flux. It is also tied to the European economy, and so at risk as well.
But, skeptics will argue, the United States economy is still doing okay and there are signs it is doing even better than that. We can look to the latest labor data and even manufacturing sector indication for those. Our economy is also tied to Europe, but it has proven resilient.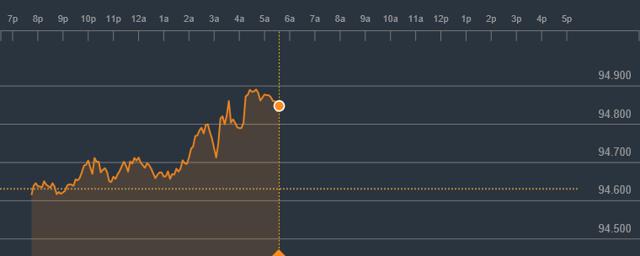 Dollar Index 04-06-16 at Bloomberg
Still, the immediate result of the European crisis is a strengthening dollar, and a strong dollar prices down oil. So while the first reaction of investors is to sell off securities and penalize the dollar on the economic tie to Europe or the resulting decline of the price of oil, soon a weakened euro will lift the dollar due to its relative strength.
| | |
| --- | --- |
| Energy Relative Shares | March 22nd to April 5th |
| SPDR S&P 500 (NYSE: SPY) | -0.2% |
| United States Oil (NYSE: USO) | -13.4% |
| iPath S&P Crude Oil (NYSE: OIL) | -13.8% |
| United States Natural Gas (NYSE: UNG) | +0.6% |
| Energy Select Sector SPDR (NYSE: XLE) | -4.3% |
| SPDR S&P Oil & Gas E&P (NYSE: XOP) | -5.4% |
| Market Vectors Oil Services (NYSE: OIH) | -5.6% |
| Exxon Mobil (NYSE: XOM) | -2.3% |
| Chevron (NYSE: CVX) | -3.0% |
| BP (NYSE: BP) | -6.5% |
| TOTAL S.A. (NYSE: TOT) | -5.2% |
| ConocoPhillips (NYSE: COP) | -6.9% |
| Phillips 66 (NYSE: PSX) | -5.9% |
| Occidental Petroleum (NYSE: OXY) | -3.1% |
| Schlumberger (NYSE: SLB) | -1.3% |
| Baker Hughes (NYSE: BHI) | -15.2% |
| Halliburton (NYSE: HAL) | -4.4% |
The United States Oil ETF, which tracks WTI Crude, is down 13.4% since its March 22nd close and a little less from our March 23rd warning on oil. But it could drop another 16% if it were to retest its 52-week low. I am concerned it could mark a new low given this serious demand weight, and WTI could move to the low $20s, since the Saudi oil minister pulled the OPEC put away by outright stating Saudi Arabia would never cut production. I follow the energy market closely and recently also advised investors to sell energy at the fringe of risk. I invite relative investors to follow my financial column here at Seeking Alpha for my regular updates.
Disclosure: I/we have no positions in any stocks mentioned, and no plans to initiate any positions within the next 72 hours.
I wrote this article myself, and it expresses my own opinions. I am not receiving compensation for it (other than from Seeking Alpha). I have no business relationship with any company whose stock is mentioned in this article.