Background
Conn's (NASDAQ:CONN) operates as a retailer that offers durable consumer goods and related services in addition to a proprietary credit solution for its core credit constrained consumers. The company operates its business through retail stores and website. The company operates through two segments:
Retail - includes retail product categories such as branded home appliances, furniture and mattresses, consumer electronics and home office products.
Credit - provides access to multiple financing options to address various customer needs, including a proprietary in-house credit program, a third-party financing program and a third-party rent-to-own payment program.
At the time of this article, CONN's stock price was $11.49 - slightly above its 52 week low of $11.36 with a current PE of 9.34, a forward PE of 7.09 and a market capitalization of $352.26 million.
This analysis is based on information from CONN public SEC filings, press releases, earnings calls and investor presentations for the period in scope (4Q14 through 4Q16).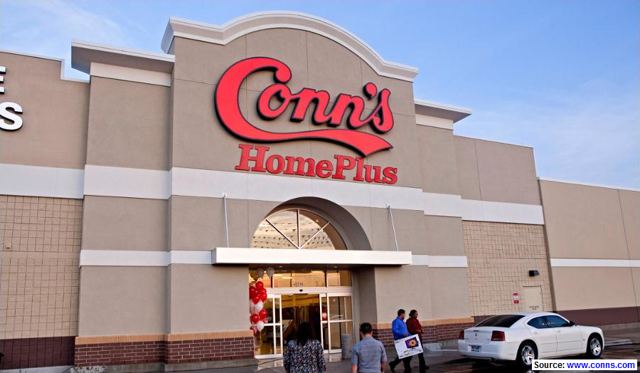 The metrics for the centerpiece credit portfolio are rapidly deteriorating
CONN's provides a significant amount of information about its centerpiece credit portfolio. For this exercise, the latest "Combined Portfolio Summary by Quarter" will provide the source material.
The majority of the data in the referenced document utilizes percentages for monthly comparisons to either the "Total outstanding balance" or "Average customer balance". While these are useful, the percentages can be misleading as these baselines change. A more useful comparison is to calculate the amounts based on the percentages and baselines to have a better understanding of the trend of several important attributes. The resulting summary is illustrated here: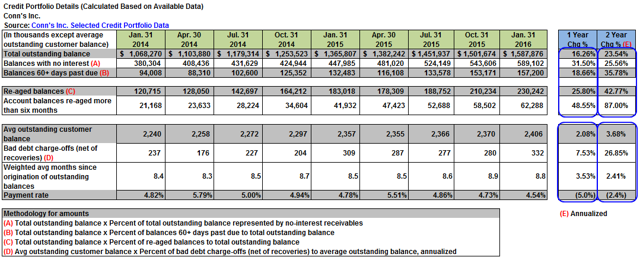 Several disturbing trends are noteworthy for each baseline.
For example, the growth rate for "Balances greater than 60 days past due", "Re-aged balances" and "Account balances re-aged more than six months" are all increasing at a faster rate than the "Total outstanding balance". These indicate that the customer is facing difficulty making payments and the company has responded by relaxing the payment schedule through the re-aging of the account.
In addition, the growth of "Bad debt charge-offs" has increased much more rapidly than the growth in the average customer balance. This is further evidenced by the deceleration in the payment rate of customers.
Based on this evidence, Conn's does not appear to have their credit portfolio under control. The increase in the re-aging of accounts in conjunction with the decelerating payment rate of customers indicates more write offs are looming.
Revenues and cash flow divergence suggest poor quality of earnings
While Conn's revenue has been increasing fairly consistently through the period in scope, net income has been choppy. As illustrated in the table below, Conn's has managed to maintain quarterly profitability for the majority of the period in scope.

However this trend is not apparent when reviewing the statement of cash flows. After breaking down cash flows by quarter, it is apparent cash flows from operations are diverging from net income and the majority of quarters have experienced cash outflows from operating activities.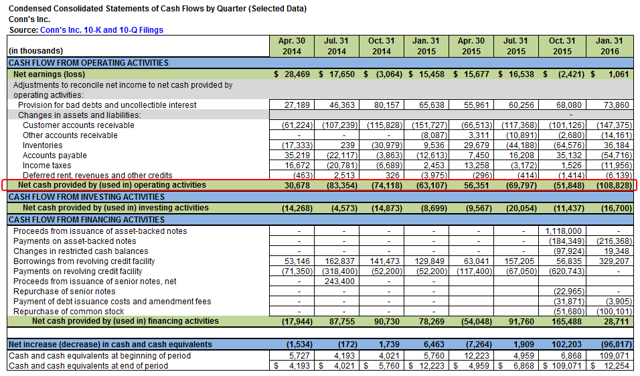 It appears that Conn's is aggressively booking revenues from customers that ultimately do not pay. This statement is further supported by an analysis of Conn's credit segment. Selected financial data for the credit segment is illustrated here: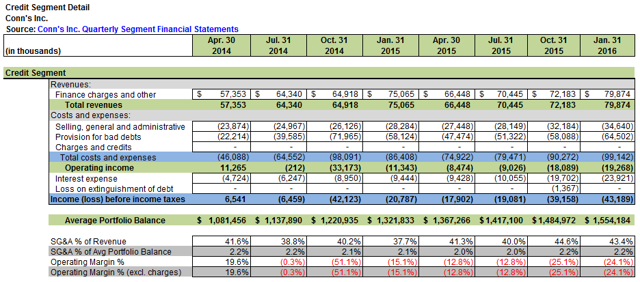 The credit segment has shown consistent and increasing losses each quarter through the period in scope while SG&A costs as a percentage of revenue are increasing. In addition, increasing interest costs as a result of the securitization transaction are compounding the losses.
Based on the evidence, Conn's seems to be booking revenues that are rarely converted into cash. In addition, customers appear to be unable to make payments even after extensive counseling with the collections department. Finally, interest expense related to securitization of accounts receivables are crowding out any profitability realized in the retail segment. This deterioration of revenues and cash flows will likely continue.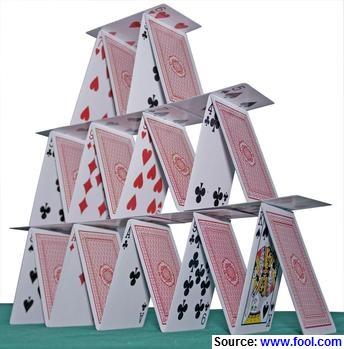 The business model is unsustainable
Evidence obtained from review of Conn's SEC filings indicates that the current business model is unsustainable. As sales associates are commission based, they are more likely to encourage a customer to purchase and warranty as many consumer goods as the subprime (below 600 credit rating) customer credit limit allows.
Since these consumer goods purchased by the customer rapidly depreciate or stop functioning before the payment terms complete, it is likely the customer simply stops making payments on the purchase.
If the customer has not lost their job, credit letters and calls will likely result in re-aging before the account is written-off. Repossession is unlikely as it would likely be cost ineffective or impossible to repossess this type of item unless the customer voluntarily surrendered it.
While over-simplified, a similar history is likely behind many of the outstanding accounts on Conn's credit portfolio and the data evidenced here supports that premise.
Conclusion
Conn's is likely in the final chapter of its long retail history. Catering to subprime customers with a generous line of credit and impossible ability to recoup debts has created a perfect storm for this retailer. In addition, the business cycle is heading into a recession and the first casualty of this will be the working class that is the core of Conn's customer base.
Even though Conn's is near a 52 week low it will be going much lower. A short position would be warranted for those so inclined, but Conn's is definitely not a stock that should be in anyone's long-position portfolio.
Disclosure: I/we have no positions in any stocks mentioned, and no plans to initiate any positions within the next 72 hours.
I wrote this article myself, and it expresses my own opinions. I am not receiving compensation for it (other than from Seeking Alpha). I have no business relationship with any company whose stock is mentioned in this article.