The country and its stock market is a special case. A deep understanding of how things are going is needed in order to make investment decisions. Since 2013, when I wrote my first article about Greece on Seeking Alpha, I have been saying that the Greek economy and Greek shares are driven by politics. Furthermore, the motto was that Greek stocks are not opportunities.
A year before Alexis Tsipras' rise to power, I was worrying about the political risk, and I was pointing to the fact that indices tracking the price levels of Greek stocks are misleading. After Syriza's rise to power, in the second article, I was feeling that the political and social situation was very dangerous, and the margin of safety was not enough. I also said that Grexit would probably be avoided at the last minute. How is the situation now?
The Background
In 25 Jan of 2015, Syriza, a radical left party, won the election, bringing Alexis Tsipras to power. The Greek people had been promised that Troika (IMF, EU) would be ousted and that most measures and previous decisions according to the Memorandum of Understanding (MoU) would be taken back. Following the victory, the government found it very difficult to act on the promises and expectations of the Greek people, with the country's obligations towards its creditors and the true needs of an economy that had just started to recover after years of recession.
Trying to balance the situation, Tsipras was brought into a long course of negotiation. With an aggressive verbal strategy and in the absence of movements, he just let the sand out of the hourglass. The country came close to the verge of collapse when Grexit and capital controls took place after a meaningless referendum. Then, surprisingly, the government turned its back on "no" referendum supporters, who initially backed and signed a hard agreement. In order to justify this action, Tsipras led the country to a new election. His promise was that he would implement a hard and unwanted agreement, but in a better way than his so-called "pro-creditor" political opponents. He won the vote for the third time!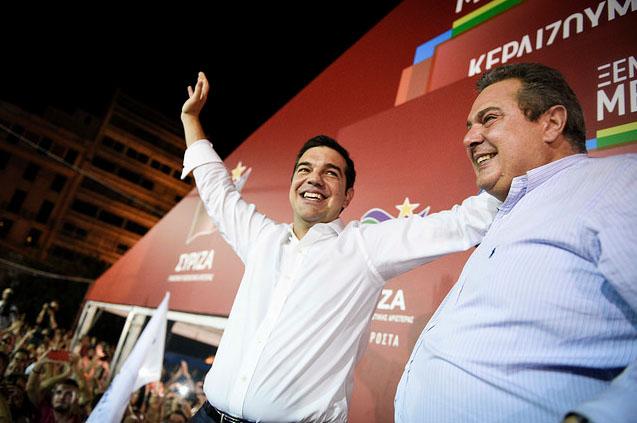 Photo: Prime Minister Tsipras with his political ally Kammenos.
Where We Are Now
Creditors are in a dilemma regarding how to manage reforms and generally how to tackle the issues. If you impose austerity on a country in order to make it more responsible, you kill its economy. If you give it money, it will not find any reason to reform itself. If you give it money and demand reforms, you will be told that you intervened and democracy is abolished. So, it seems that creditors follow a policy that affords some freedom to Greeks for choosing their policies, provided that the balanced budget criteria are met.
The Europeans, who generally love postponements, stand strong with this logic, since they do not want to open a new front with the Brexit issue at the forefront. Finally, it is hoped that Greeks will understand the obvious, that higher taxes are just a dead end if you don't cut unproductive public spending. So the big question is about a shift in Greek decision-making. The possibilities of such a successful transformation is what investors should consider.
Incorrect Speculation From Most Investors
Nevertheless, investors debate and speculate about whether the government is going to get a positive evaluation from Troika. This is a trivial point in the big picture. It can only affect investors' moods in the short term. This is because, as most business cycles in Greece can confirm, this government cannot understand and does not believe in pro-growth reforms avoiding the reduction of public spending at all costs.
It advertises that implementation of the program is just a needed compromise and that, in order to avoid reducing wages and pensions, stronger taxation for enterprises and wealth is needed. As an example, their proposals to reform the Social Security system are not viable and completely contrary to common sense. They prefer to raise insurance contributions that kill the economy, productive sectors and young generations, rather than cutting expensive pensions (3-4 times higher than basic wages).
Thus, positive or negative creditor evaluations will not work to gain investors' trust and help the economy. Only a new pro-European, pro-reform government can take the country out of this very dangerous situation. Yet, even a new government is not a panacea. It can succeed only if this logic is understood and supported by a large portion of the society. In a few words, both political leadership and social reversal are sought.
For the moment, we have two important and hopeful elements towards this process. First, in January, a true pro-reform supporter, Kyriakos Mitsotakis, was surprisingly elected as the leader of the main opposition party, New Democracy. Second, there is an increasing frustration in public opinion about present decisions. What remains is dissatisfaction to be expressed and transformed to support the reformist camp.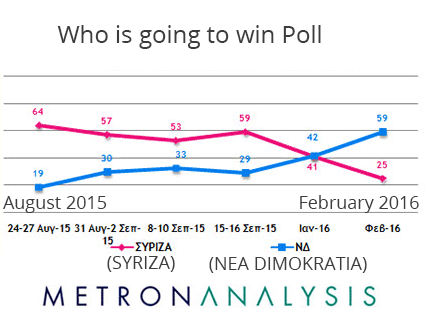 Source: MetronAnalysis
The Dangerous Transition Ahead
Nobody wants to leave power. In addition, ruling party executives, holding a far left ideology, have already proved that they are ready to risk a lot in order to achieve their goals. When their political survival is in question, populism and anti-heroism are going to be brought to the forefront. Using these means can be very harmful for the country and its economy.
Worse scenarios include bankruptcy, Grexit and total collapse. I don't say that this is the most probable outcome, but try to think of a situation that resembles last year's capital controls incident. Even if we avoid Grexit, it won't be an easy situation. In brief, the biggest risk is that we don't know if the transition is going to be successful, and then it seems that at least a season of turmoil is almost inevitable.
The Opportunity
If one side of the coin is risk, the other is opportunity. We have an underutilized economy, and it is the political situation that prevents "the spring from expanding." In the presence of a new political environment, the economy will bounce, driven by strong forces. A virtuous cycle of GDP expansion > lower unemployment > GDP expansion will bring the economy to levels last seen in 2008 in just a few years from now. The next graph describes the image I have for the country's future and the two very basic scenarios, which I have named "HELL" and "PARADISE."
The Global X MSCI Greece ETF (NYSEARCA:GREK) As An Investment In This Environment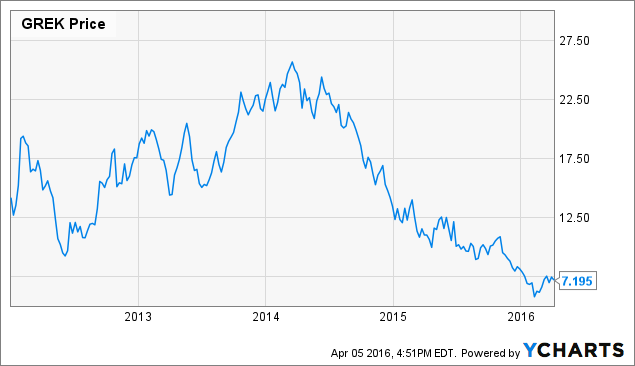 Volatility:
For long-term decisions, risk is associated with the real risks that companies that consist of GREK face, instead of short-term past volatility. As you can assume, HELL and PARADISE means a lot of volatility ahead. If you add that 34% of GREK is weighted by banks, the most leveraged companies, which are traded with low P/BV, imagine the huge volatility and risk ahead. I could say that GREK = Greek Politics = Volatility.
Valuation:
In such a condition, forget analyzing on the basis of forward P/E that would be suitable in a normal situation. Just for informational purposes, for the moment, GREK shows in their site a 2016 P/E of 9.18 and a P/BV of 0.85. In the next table, I present the basic fundamentals of its Athens Stock Exchange (ASE) holdings.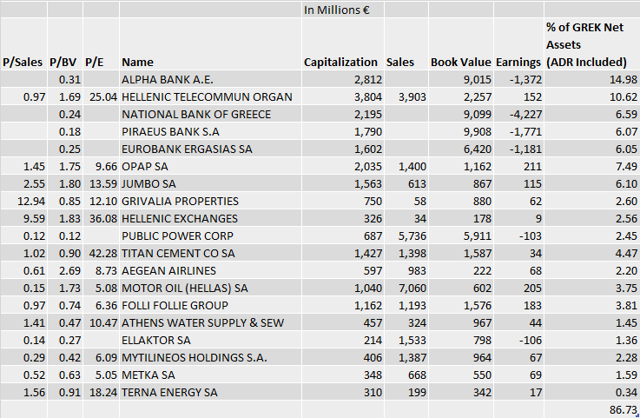 % Net Assets

Banks

33.69%

Others ASE (+ADR)

53.05%

Weighted P/BV

Banks

0.26

Others ASE (+ADR)

1.35

Weighted P/Sales
Others ASE (+ADR)
2.06
Since we discussed the two extreme scenarios, HELL and PARADISE, I would forget earnings and instead focus on P/Sales and P/BV metrics. I would consider banks (34% of net assets) as a special case. Due to leverage, they would go to almost zero in the HELL scenario. Instead, in the PARADISE scenario, P/BV could climb higher. For the other ASE holdings (53% of net assets), I would not expect higher P/Sales in PARADISE, but lower than 0.5 in HELL. Then, there are some holdings not based in Greece that are not affected by either case. According to the above, there is not a lot of upside in PARADISE, but a lot of downside in HELL.
You could better play Greece through buying specific smaller outward-looking enterprises. See some basic fundamentals for Thrace Plastics or Kleemann (OTCPK:KLEEF).

In my opinion, if you want to hedge these buys, you might consider shorting a more expensive stock of an inward-looking enterprise, like Jumbo (OTCPK:JUMSF).
Summary
The meaningful speculation for GREK is about the question of successful political transition in Greece. It is a dangerous process that will cause fear in the markets. So, a lot of turbulence is ahead, which could result in either a good or bad scenario. Even if you believe in the good scenario, take into account that you don't buy a great opportunity and that you may face short-term losses. Buying specific companies would be a better option. On the other hand, if you are not optimistic about the Greek political transition, stay away from GREK. I would consider buying GREK only in much lower valuations in the future or after a new pro-reform government is in place.
Disclosure: I am/we are long KLEEF.
I wrote this article myself, and it expresses my own opinions. I am not receiving compensation for it (other than from Seeking Alpha). I have no business relationship with any company whose stock is mentioned in this article.
Editor's Note: This article discusses one or more securities that do not trade on a major U.S. exchange. Please be aware of the risks associated with these stocks.