Introduction: Oil Prices Looking Attractive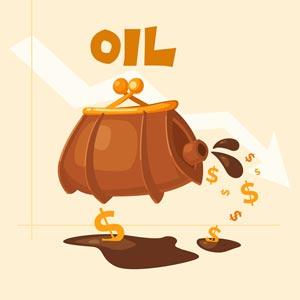 Since the summer of 2014, oil prices are down about 60%, despite the most recent bounce from the February lows. An abundance of research suggests that prices will stabilize at a minimum level of $50 per barrel within two to three years. Compared to current prices around $36, that equates to something like a 40% potential gain. In a world of near-zero interest rates and stagnant bull markets, shouldn't we all be diving in?
Unfortunately, something called "contango" in the oil futures market makes it brutally costly to invest in oil over the long term. It has an extremely adverse effect on stocks like the United States Oil Fund (NYSEARCA:USO), which can incur a drag as high as 10% in one month. This means that unless you can time a bounce quite precisely, you are usually out of luck. Until you read this article, that is!
Instead of using oil futures, we use an intelligent algorithm to select an equally-weighted portfolio of ten oil stocks, rotated monthly. These companies have a very low risk of bankruptcy, solid balance sheets, and a high natural exposure to the spot price of oil. We've been running a live portfolio using this methodology since mid-February, and the results have been fantastic.
Performance of Dynamic Portfolio, WTI Oil Spot Price, and USO, February 22 - April 5, 2016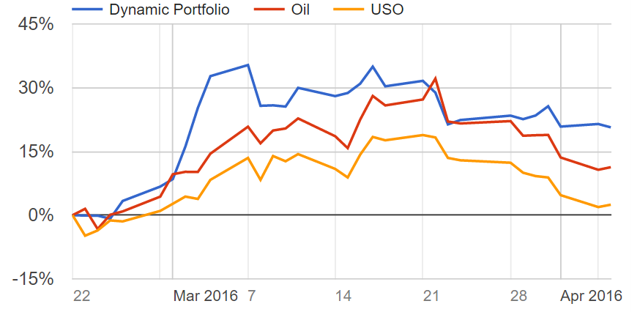 Source: Yahoo Finance, EIA, Hedgewise Client Portfolios
A Brief Case For Buying Oil Now
Of course, many investors are worried the oil rally is already over, and that we may see prices in the low $30's, or worse, in the near future. Even if that were true, it wouldn't change the case for buying a long-term portfolio at all. Here's why.
Take a walk down memory lane and revisit late 2008, when Lehman Brothers was in the midst of disappearing and government bailouts were all the rage. Imagine you had the chance to invest a bunch of cash in November or December of that year, knowing that we wouldn't hit the very bottom until the next spring. Still a great idea, right? With stocks, it's especially easy to see that buying cheap works quite well, even if you can't get in at the absolutely best price possible.
It should be the same with oil, and there's almost no doubt that our current prices will look amazingly cheap at some point in the future. In the past, it's been difficult to apply this logic because of the short-term nature of the oil futures market, but our methodology helps to remove that obstacle.
If you are still not convinced, we'll also be doing a follow-up piece exploring where current oil prices fit in history, and why it is so likely that a substantial recovery will eventually occur (Be sure to "follow" us for access).
How These Stocks Are Selected
The stocks in our portfolio come exclusively from the "Independent" and the "Drilling & Exploration" Sectors of the oil industry. These sectors tend to be less vertically integrated and more sensitive to changes in the spot price of oil. Our algorithm then runs a number of analytics to identify companies with a very low risk of bankruptcy. This increases the chance that they will be able to weather any additional pullback in oil prices. As the industry consolidates, we want companies that are likely to be the 'last men standing', with enough cash reserves that they might even gobble up competitors on the cheap.
If you'd like more detail on the model, check out our longer post here. Note that the portfolio changes monthly, and the performance in the chart above assumes that rebalancing happens immediately each month.
Without further ado:
Top 10 Oil Stocks To Buy In April
Disclosure: I am/we are long ATW, ESV, HP, RIGP, KOS, RSPP, GTE, RDC, HES, RIG.
I wrote this article myself, and it expresses my own opinions. I am not receiving compensation for it (other than from Seeking Alpha). I have no business relationship with any company whose stock is mentioned in this article.
Additional disclosure: Hedgewise is a portfolio manager which develops products that systematically outperform typical benchmarks. We identify fundamental inefficiencies occurring in the marketplace and turn these into higher and more predictable returns for our clients. This information does not constitute investment advice or an offer to invest or to provide management services and is subject to correction, completion and amendment without notice. Past performance is no indicator or guarantee of future results. This document is for informational purposes only. Investing involves risk, including the risk of loss.