If it seems that few stocks have done 20+% or better so far this year, you may not have seen Pier 1 Imports (NYSE:PIR) go to work. The home décor and furnishings company with more than 1,000 stores in the US and Canada had a 2015 to forget, plummeting nearly 70% from highs around $17/share to a low below $5. With the S&P nearly flat during that time, you could be right by saying that PIR vastly underperformed. Pier 1 has been dogged by poor revenue growth for the better part of three years, with net income dropping precipitously in that time as well. The company may be trying to turn things around, but with most analysts recommending a hold, it may be a wait-and-see story.
PIR has rebounded sharply in 2016 up nearly 30% YTD. March, a month that saw the company issue preliminary results for the quarter that were not as rubbish as may have been expected, saw the stock up 40% alone. It reports earnings next week on April 13th, 2016, so we are going to investigate some statistics and momentum behind Pier 1.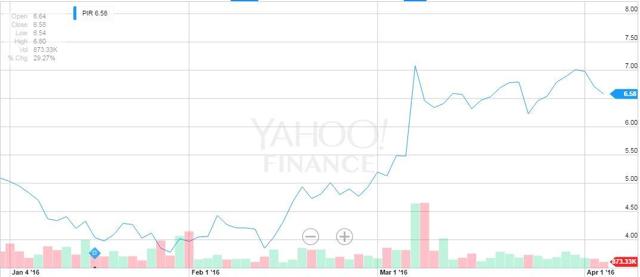 The performance this year has been respectable, with peers like Restoration Hardware (NYSE:RH) down 45% YTD and Williams-Sonoma (NYSE:WSM) down nearly 5%. Though it has done well in the recent past, we are now curious about its ability to continue its upward march for more. A point worth making in this space is how segmented the home décor market actually is; e-commerce retailers, Costco (NASDAQ:COST), even Wal-Mart (NYSE:WMT) all compete for the consumers' dollar for decorating and furnishing a dwelling. Home Depot (NYSE:HD) and Lowe's (NYSE:LOW) participate in this space as well. Analysts followed on Yahoo! Finance are concentrated at a "hold":

Moving Averages May Turn Bullish
The stock has been on quite a ride this year, however. Looking at momentum with the simple moving averages may give us a peek into the timing of Pier 1's desired turnaround: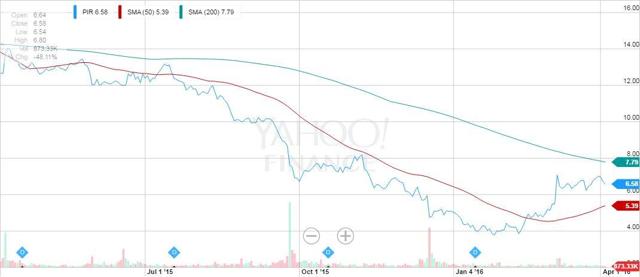 When the 50-day moving average bullishly crosses ahead of the 200-day, this can be a signal to buy. We do not see it yet for Pier 1, but it does appear that the bottom is in, and it may only be a matter of time for the 50-day to pierce above. Indeed it looks as though the trend indicates as much.
Cash & Dividend Yield
Currently PIR is yielding 4.26%, above WSM's 2.65%. In fact Restoration Hardware and Bed Bath & Beyond (NASDAQ:BBBY) do not currently offer a dividend. In this regard, PIR is paying you pretty well to hold, while it continues to navigate the choppy waters of home retail. The payout ratio is a relatively alarming 43% though, with almost $50 million in cash and could definitely be stunted or slashed to free up more capital for the business. If the shopping season went well, and the market's reaction to the preliminary results in March indicate it has, we can expect some fattening up of the cash pile.
Last Quarter's Conference Call
The last conference call began with an utterly optimistic CEO Alex Smith remarking that "one of the more pronounced changes we've been observing for several quarters now within our business and throughout the broader retail sector is the decline of casual store visits."
Not exactly a vote of confidence on the trends germane to the success of your company. If that is the case, the Pier 1 strategy going forward needs to be a good one.
The bright spot comes soon thereafter, when Smith explains that "our investment in the mobile redesign last year has translated to substantial increases in traffic demand and conversion..." e-commerce at Pier 1 grew by almost 30% in the last quarter, but the company is far from backing down on brick-and-mortar, since e-commerce "will never displace stores on the experience they give our shopper." Investments in segmentation tools helping the company understand customer behavior and preferences will need to pay off for Pier 1 but appear to be steps in the right direction.
Management guided for EPS of $0.42 to $0.46 for the year, with capital expenditures approximately $55 million. They also guided comparable store sales to decline 2-4%; when they announced in March a few weeks later that these numbers were only -0.7% the stock reacted quite favorably. Finally, they guided for EPS for this quarter to be somewhere between $0.18-$0.22. We will see how the market views this later, but suffice it to say they would like to be at the high end of that range.
Conclusion: What Does the Future Hold?
If Pier 1 can show that the comparable store sales number, still a negative 0.7%, helped deliver on the top and bottom line, we believe the stock can react very well. Given the momentum behind the 50-day on its way to a bullish cross over the 200-day, a positive earnings report can help it along.
We would also like to hear some commentary on the advent of virtual reality; retailers are beginning to embrace it for virtual showrooms. Can Pier 1 incorporate VR given its strong devotion to brick-and-mortar?
With gas prices down, wages growing and consumer confidence high, we believe retailers will continue to benefit in 2016. Pier 1 can stand to benefit from the broader economic trends if it can execute.
Disclosure: I/we have no positions in any stocks mentioned, and no plans to initiate any positions within the next 72 hours.
I wrote this article myself, and it expresses my own opinions. I am not receiving compensation for it (other than from Seeking Alpha). I have no business relationship with any company whose stock is mentioned in this article.